Today, we share a special song featuring two very important LOUIEs of the 20th Century – Louis Armstrong and Louis Jordan!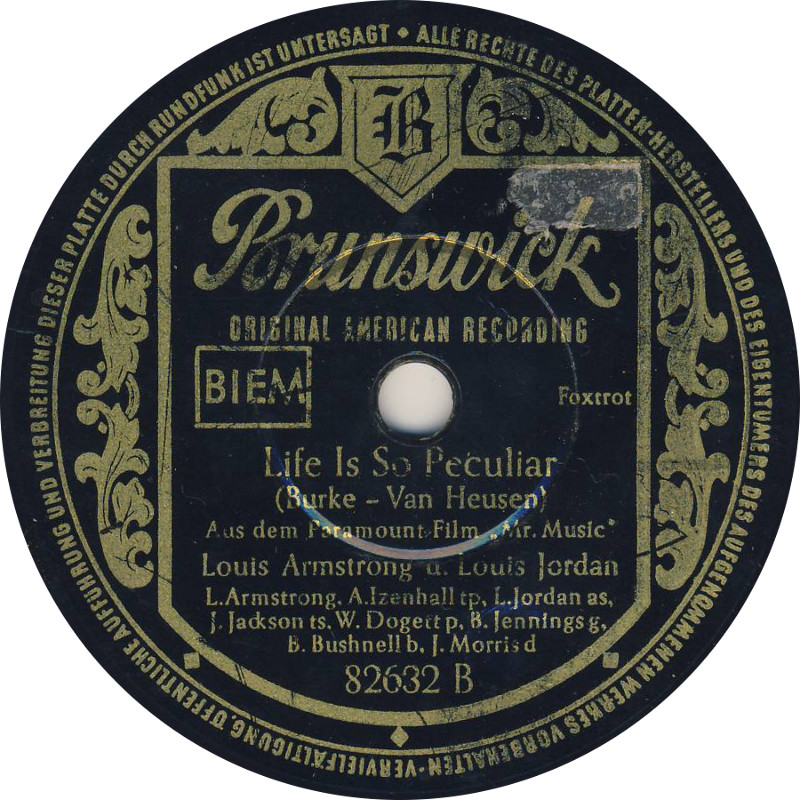 The song is "Life is So Peculiar," recorded by two musical superstars of 1950 – trumpeter Louis Armstrong and alto saxophonist Louis Jordan for the Decca label in August 1950.
This was their second recorded duet. Their first duet was the song "You Rascal You" recorded in 1932, when Jordan was part of the Armstrong band's sax section.
This second recording came about almost 20 years later, when they were both very successful solo recording artists that happened to be signed to Decca Records.
Marc Myers wrote glowingly of this this collaboration for his JazzWax.com website:
The two sing, swing and engage in vocal repartee, with Jordan at one point doing an imitation of Armstrong's scatting on Life Is So Peculiar, which was written by Johnny Burke and Jimmy Van Heusen. On You Rascal You (written by Sam Theard), Armstrong and Jordan have a knee-slapping time exchanging lyrics. Armstrong blows beautiful harmony lines behind a singing Jordan while Jordan blows cool lines when it's Armstrong's turn to "talk about it for a while." The joy is relentless and infectious.
ENJOY!
Big thanks to Marc for writing about this ditty. Be sure to check out his original article at:
http://www.jazzwax.com/2016/01/armstrong-and-jordan-two-sides.html