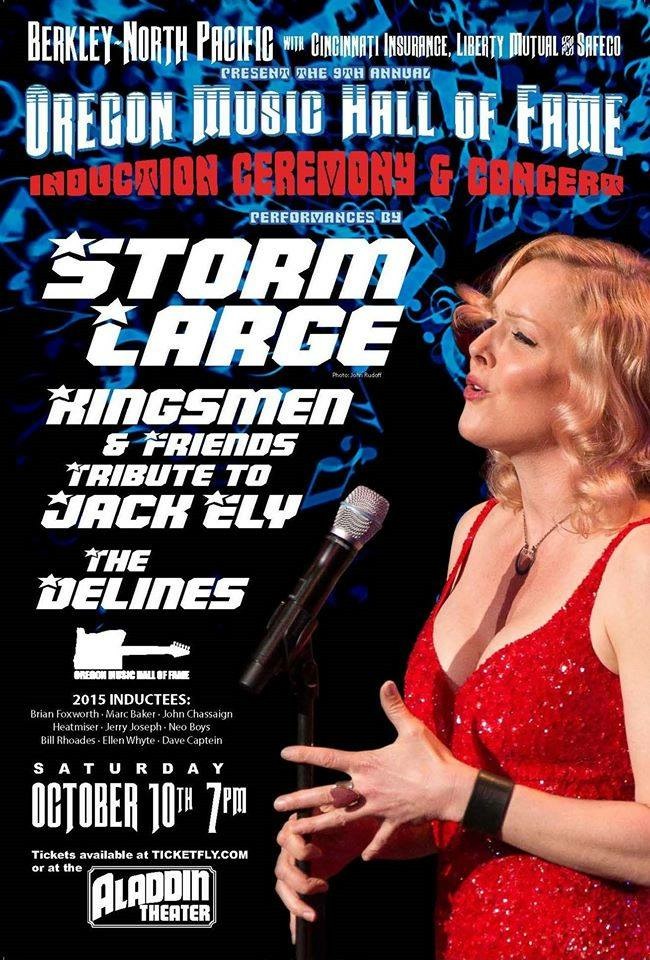 On Saturday, October 10th, there will be the 9th Annual Oregon Music Hall of Fame (OMHOF) Induction & Concert will be held at the Aladdin Theater in Portland, Oregon.
At this event, there will be a big tribute to Jack Ely, the original vocalist for the Kingsmen, who passed away earlier this year. While Jack had not been a member of band since 1963, and there had not been any full-fledged musical reunions of the original players during their 50+ year run, the surviving Kingsmen are planning to pay tribute to their original band member that night.
The Kingsmen will also be joined by Phil "Fang" Volk, Jim "Harpo" Valley and Keith Allison – former members of Paul Revere & the Raiders.
As you may or may not know, The Kingsmen and Paul Revere & the Raiders both recorded LOUIE LOUIE in April 1963 at the Northwestern Inc. recording studio in Portland, with respective record releases shared nationally by Wand/Sceptor and Columbia Records. Paul Revere & the Raiders was the first rock 'n' roll band signed to Columbia Records (largest record label in the world during 1960s), and LOUIE LOUIE was their first record on that label. In this particular case, the smaller label that signed the Kingsmen wound up with the hit record.
This event should be a lot of fun. Storm Large, a singer from San Francisco that moved to Portland in 2002, then became very successful with an appearance on the "Rock Star" TV show and a whole slew of several critical acclaimed albums, will be receiving OMHOF's Artist of the Year Award. A lot of other great musicians will also be there, and there will an auction of 15 autographed guitars from such folks as Robert Cray, The B-B2's, Steve Earle, Chicago, Willie Nelson, Cheap Trick, to name a few. Proceeds from this event help support our music education and scholarship programs.
I'm not sure I'll be there, but it sounds like a blast!
You can learn more about the Oregon Music Hall of Fame by visiting the official website at:
http://www.omhof.org
Ticket information for this event can be found at:
http://www.aladdin-theater.com/event/907125-9th-annual-oregon-music-hall-portland/