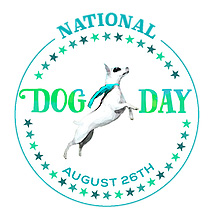 Today is National Dog Day. Nationaldogday.com has the details about how this event came to be…
National Dog Day is celebrated August 26th annually and was founded in 2004 by Pet & Family Lifestyle Expert and Animal Advocate, Colleen Paige (also the founder of National Puppy Day, National Mutt Day and National Cat Day …to name a few).

National Dog Day serves to help galvanize the public to recognize the number of dogs that need to be rescued each year, and acknowledges family dogs and dogs that work selflessly each day to save lives, keep us safe and bring comfort. Dogs put their lives on the line every day – for their law enforcement partner, for their blind companion, for a child who is disabled, for our freedom and safety by detecting bombs and drugs and pulling victims of tragedy from wreckage.
As I searched for a likely connection between this topic and the theme of this very website, I found something from the Give Back News YouTube channel that seemed that felt like a natural fit:
This Give Back News update is about LOUIE, an American Bulldog rescued by Pet Orphans. He needs a forever home, but he's not alone. Check him or other rescues our at PetOrphans.org and help us make a difference one story at a time! Thanks for watching GiveBackPR's positive community news update.
So there you go… a rescued dog named LOUIE that needs a home, with some catchy music that feels so very familiar. . .
PLEASE – if you can adopt a rescued dog, I would encourage you do so!
Today is a very good day to do that sort of thing!
Maybe YOU could be the one to adopt LOUIE the American Bulldog??
If so, feel free to drop me a line, OK?
. . . . and in the meantime, if we're going to talk about dogs and LOUIE LOUIE, I might as well recycle an old image from the past – my beloved friend Bubba the Dog (R.I.P.), posing with a Chewy LOUIE dog bone package!