I found this one on Facebook…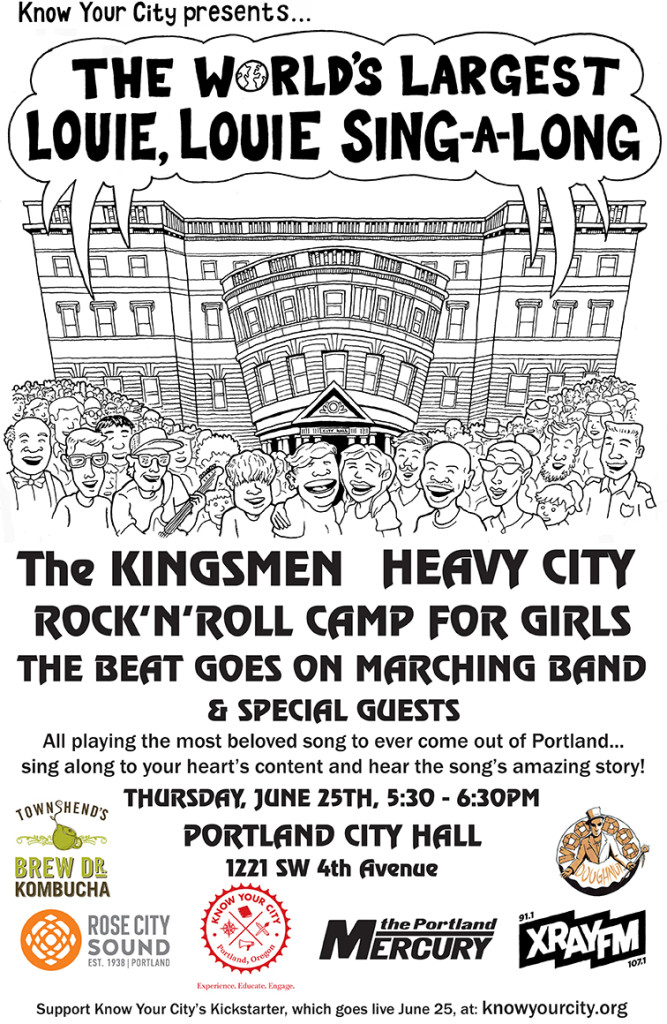 The official webpage for this event provides more details…
The World's Largest Louie, Louie Sing-A-Long
Thursday, June 25th 5:30PM-6:30PM
Portland City Hall
1221 SW 4th Ave

On Thursday, June 25 from 5:30pm-6:30pm Know Your City(KYC) will host The World's Largest Louie, Louie Sing-A-Long, an event to promote the music tour, Sing a Song of Portland and to launch a new summer fundraising drive, on the steps of Portland City Hall. The event will be led by Master of Ceremonies, Tres Shannon, of Voodoo Doughnuts, and feature performances from local bands, Rock 'n' Roll Camp for Girls Band with special guests – the original surviving members of The Kingsmen, reggae band Heavy City, and The Beat Goes On Marching Band, with more special guests to be announced.

The World's Largest Louie, Louie Sing-A-Long is also the launch of a summer fundraising drive to support KYC's highly regarded placemaking programs which engage the public in arts and social justice. KYC programming appeals to locals and visitors, with the goal to educate through experiential projects, such as youth programs, walking tours and publications. Louie, Louie is featured on the Sing-A-Song of Portland walking tour – a trip through Portland's musical past, giving tour-goers the opportunity to hear – and sing! – songs featured on the tour. KYC's summer fundraising drive is necessary to ensure the organization can continue to develop innovative projects that take risks and celebrate creative placemaking in Portland.

Everyone knows the song, Louie, Louie. It's considered to be one of the greatest rock and roll songs of all time, and is known around the world. The familiar opening riff is played by high school marching bands at every parade, every hometown football game. What many people don't know is that the most famous version was recorded here in Portland by local band, The Kingsmen, in 1963, right off SW 13th and Burnside. Although recorded more than 1600 times, this version of Louie, Louie has been the most enduring and the most controversial from the hard-partying guitars to the hard to distinguish lyrics the FBI thought were obscene. A fact that only added to its allure!

The program for KYC's World's Largest Louie, Louie Sing-A-Long will include:

– Tres Shannon as Master of Ceremonies to introduce the festivities and bring his special Blouie, Louie Voodoo Doughnuts made exclusively for the event with proceeds donated to KYC!

– Terry Currier, from Portland landmark Music Millennium and Roger Hart, former radio announcer and manager of Paul Revere & the Raiders, will tell the history of the song and provide personal anecdotes from Portland's musical past.

– Commissioner Nick Fish will read an official declaration June 25th Celebrate Louie, Louie day, by proclamation of the City.

And more bands, as they confirm!

Help us set the world's record! RSVP to the Facebook event and receive up-to-the-minute info about new bands added and special guests!
Only one day before the event??? A shame I didn't know about this one sooner….
Good luck, Portland!!
Reference Links
KnowYourCity.org official webpage