On Friday as I began my day checking email and info feeds via social media, I was alerted to the sad news of the loss of legendary actor Leonard Nimoy.
One of the first things I saw was the Facebook posting of George Takei, a fellow Star Trek alumni.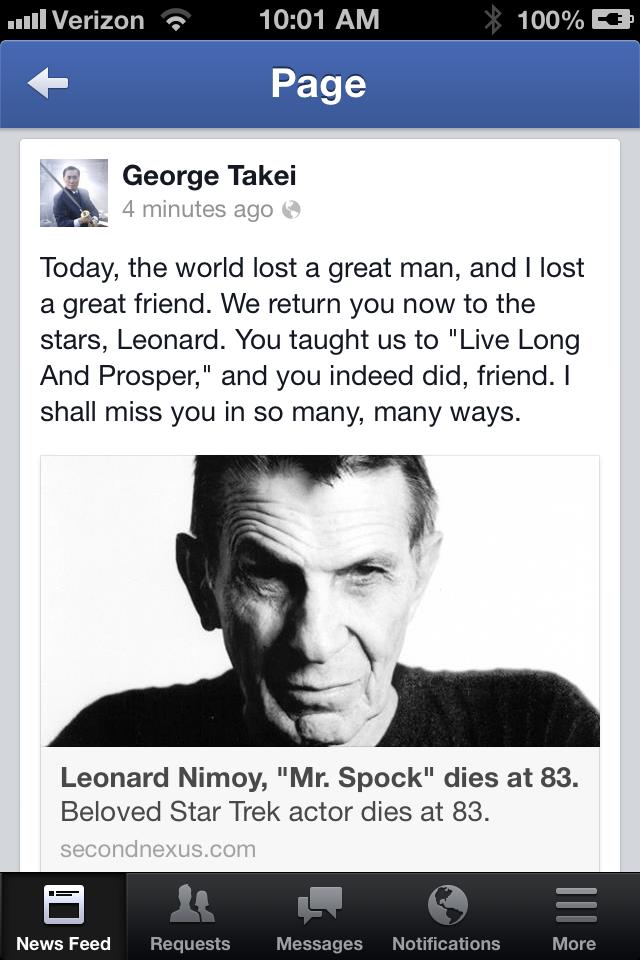 I saw a lot of love shared this man that so many of us grew up with. Friends shared impressions of his impact on their lives .. not unlike a virtual parent, providing clarity, common sense and an endorsement for that often-ignored concept of "logic."
Within the LOUIE LOUIE online forum, I received an email from my pal Stretch Riedle, asking the question that needed to be asked…
OK, I don't think there's a connection to Louie Louie, but I'll mention that Leonard Nimoy left us today.

Anyone know if there IS a LL connection?
With this in mind, I took the challenge and applied the "Five Degrees of LOUIE" principle to Leonard Nimoy. Here's what I came up with:
LOUIE Connection #1
The Sandpipers appeared on American Bandstand (season 10) on December 17, 1966 to perform "Louie Louie." On the same show, Tina Mason (future wife of Phil Fang Volk of Paul Revere & Raiders) sang "Any Way That You Want Me."
Eight months later, Leonard Nimoy appeared on American Bandstand TV show (season 10) on August 26, 1967 to perform "Bilbo Baggins."
LOUIE Connection #2
Leonard Nimoy appeared with Paul Revere & the Raiders on Happening '68 TV show on January 13, 1968
LOUIE Connection #3
Thanks to various compilations assembled by Rhino Records, LOUIE LOUIE and the music of Leonard Nimoy were exposed to a new audience 20+ years after their initial releases.
OK, that's the best I can for now. Perhaps there's more connections I don't know about. Maybe SOMEBODY has a super-rare recording of Mr. Nimoy performing LOUIE LOUIE? Hey, crazier things have happened, right?
Anyways, here's a few things about Nimoy that I found especially interesting / not generally shared in the usual articles about the man …
My friend Mark Arnold obtained this ultra-cool photo of Leonard Nimoy performing live at the Braille Institute in Los Angeles in December 1967. He paid some ridiculously low price for this photo that I've NEVER seen anywhere else….
Here's really funny music video by Bruno Mars that featured Leonard Nimoy.
Nimoy explained it in his own blog posting:
Here's the deal: I am married to Susan Bay Nimoy and she has a son named Aaron Bay Schuck. His father is John Schuck who played the Klingon ambassador for me when I worked in Star Trek IV.
Aaron who's been in my life since he was 4 1/2 is now an executive at Electra and Atlantic Records. So he brought Bruno Mars to the label and started recording Bruno.
And Bruno asked Aaron whether I would perform in this music video for him. So that's how it came about. I think it is very funny I hope, you enjoy it.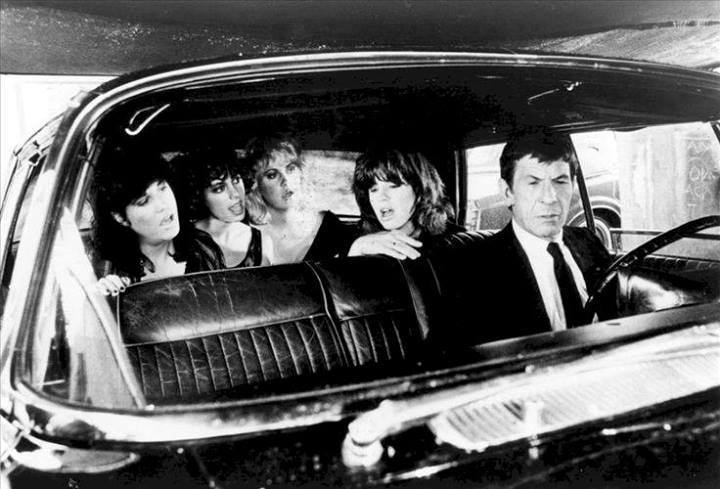 Did you know that Leonard Nimoy also directed and starred in a music video with the Bangles?
My friend Thanayi Jackson found out about a 1962 telegram Leonard Nimoy sent to President John F. Kennedy, pleading for a planet free of nuclear weapons and testing…. years before Nimoy became a popular actor with the Star Trek series.
… and some cool statements spoken by Mr. Spock:
Top Ten Spock Quotes:

10. Spock: I object to you. I object to intellect without discipline. I object to power without constructive purpose.

09. Spock: It is curious how often you humans manage to obtain that which you do not want.

08. Spock: (Explaining to Kirk how the mirror versions were so quickly spotted) It was far easier for you as civilized men to behave like barbarians than it was for them as barbarians to behave like civilized men.

07. Spock: Those who hate and fight must stop themselves, Doctor, otherwise it is not stopped.

06. Spock: Change is the essential process of all existence.

05. Spock: Humans smile with so little provocation.

04. Dr. Miranda Jones: The glory of creation is in its infinite diversity.

Spock: And the way our differences combine to create meaning and beauty.

03. Spock: Virtue is a relative term.

02. Spock: I've noticed that about your people, Doctor. You find it easier to understand the death of one than the death of a million. You speak about the objective hardness of the Vulcan heart, yet how little room there seems to be in yours.
McCoy: Suffer the death of thy neighbor, eh, Spock? You wouldn't wish that on us, would you?
Spock: It might have rendered your history a bit less bloody.

01. Spock: Live long and prosper.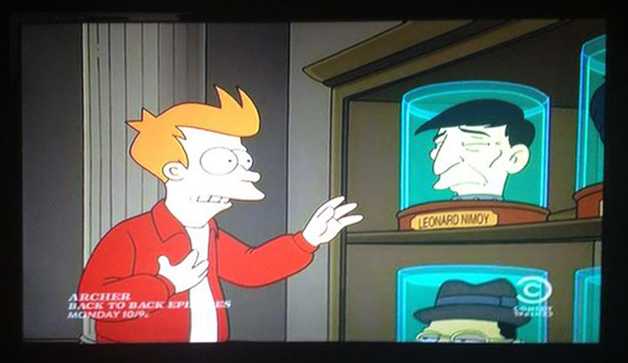 When I turned on the TV on Friday, would you believe the Futurama* episode with Nimoy was the first thing that popped onto the screen?
INcredible!!
In closing, I thank Leonard Nimoy for being a great inspiration for many of us.
Rest in peace, my friend.
Reference Links:
The Musical Touch of Leonard Nimoy
American Bandstand -Season 10 – TV.com
Happening '68 – TV.com
Leonard Nimoy introduces The Kinks – Milwaukee 6/12/1978
* * * * *
* LOUIE Connection #4
Some folks have noted that the Futurama theme song sounds remarkably close to LOUIE LOUIE.
.
.
.
* * * * * *
UPDATE March 6th, 2015:
LOUIE Connection #5
From Tommy Dunbar of the Rubinoos – This week's LOUIE Mutant:
You asked if there was any link between Leonard Nimoy and Louie Louie. Well, it may be a stretch, but…..in a Kevin Bacon sort of way…….

Thanks again for the Mutant award! – Tommy
The original Star Trek theme done in the style of surf music.