Today marks the 75th birthday for one of the first performers to ever cover Richard Berry's immortal LOUIE LOUIE.
Happy Birthday to Bill Engelhart – aka Little Bill of Little Bill & the Blue Notes as well as Little Bill with the Adventurers and the Shalimars.
Little Bill's recording of the song was released in 1961, four years after Richard Berry's initial release on Flip Records in Los Angeles. Bill's version came out around the same as another version was released by Rockin' Robin Roberts with the Fabulous Wailers, another local band from Tacoma, Washington. As fate would have it, Rockin' Robin was actually an early member of Little Bill & the Blue Notes, as was bassist Buck Ormsby, who joined the Wailers and formed the record label that released Rockin' Robin's version… all of which happened a few years before the Kingsmen or Paul Revere & the Raiders released their versions…..
(One of many interconnected pieces of this LOUIE puzzle…)
In case you hadn't heard it or need a reminder, here's that original 1961 Little Bill recording, which someone posted to YouTUbe…

http://www.youtube.com/watch?v=G4pgL1ctSNA
… and here's a 2008 clip I shot of Bill doing a more contemporary version of THE SONG.

http://www.youtube.com/watch?v=nB63C7i5LV8
Here's a graphic of an ultra-rare Little Bill album I hope to pick up someday…
Anyways, as today is Little Bill's birthday, I'd like to encourage folks to celebrate by playing lots of Little Bill music.
if you're in Seattle on April 7th, there's going to be a big 75th birthday celebration for Bill at the Triple Door.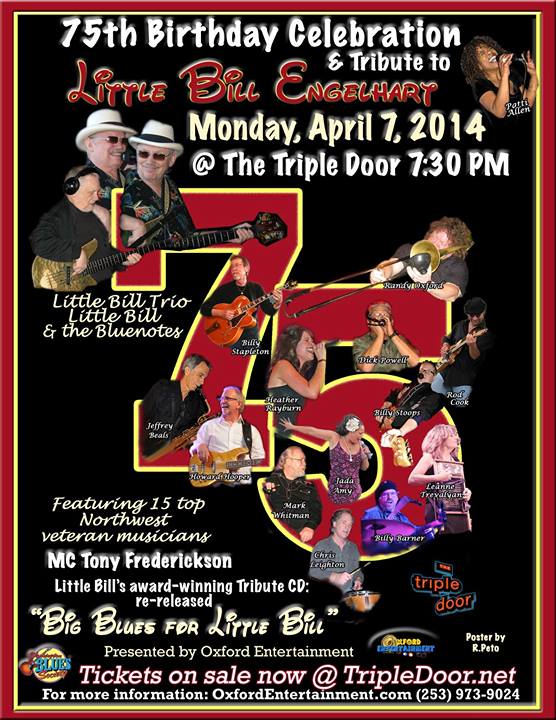 More details at the official Little Bill webpage at
http://www.littlebill1959.com/