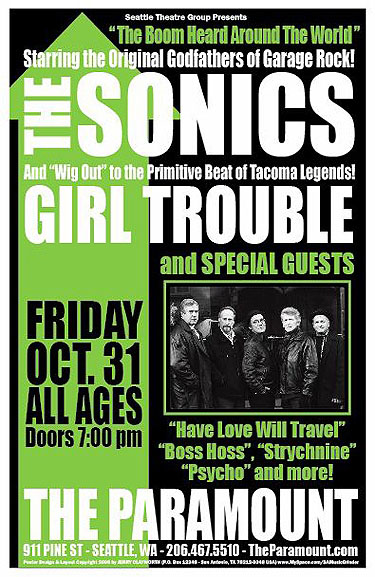 In about 12 hours from now, I'll be on my way to Seattle to witness one of the most anticipated events in Northwest musical history. The Sonics are doing their first show in Seattle in something like 30+ years. Within the past year, they've sold out shows in New York and London. Up until this point, nobody ever thought these shows would ever happen. Everybody I've talked to that attended these reunion shows told me that these guys sounded amazing.
Now it's time for me to see these guys at this very special homecoming show. This time, I'm not shooting any video at this event. I'll just be a fan, loving the music…
I'm also looking forward to seeing the opening band, Girl Trouble, who I used to see all the time whenever they played San Francisco and San Jose. I miss the old days when these guys used to play at my favorite dive, a little hole-in-the-wall bar known as Marsugi's… (sigh)… the memories….
As it is Halloween, I'll be probably be wearing something unique for the occasion. if you happen to attend this, and see some guy wearing an ugly suit in section MF 1 row R, grinning like a big cheshire cat….. it may just be me…. Feel free to say "Hiya!" and you may get a special LOUIE treat…