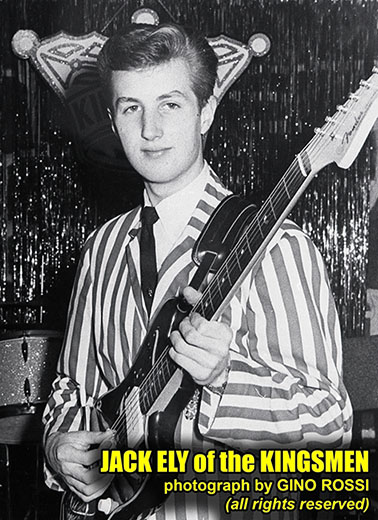 Today – September 11 marks a birthday for Jack Ely, original lead singer for the Kingsmen, who created the iconic version of the song heard around the world.
Jack has certainly recorded more than just LOUIE LOUIE. In fact, Jack recently recorded an original composition for his upcoming album.
I'll let Jack explain what he's been up to…
When I'm not shouting "Louie Louie" or screaming, "Oo-Poo-Pah-Do" this is what I do…

Here is a link to the final mix of the title track to my new CD titled, "Love Is All Around You Now."

This is a song I wrote after my mom came and visited me when I was living up next to the Mt. Hood National Forrest on the way up to Goat Mountain, southeast of Estacada, OR We had a fun horseback ride on some remote trails and the memories of this ride and mom's exuberant love floods this song. I'm told it has inspired many to more grace. Hope you like it.
Here's a little video clip of this new song:
http://www.youtube.com/watch?v=wt3SRuQpLYA
You can download this music at the official Jack Ely Bandcamp page at:
http://jackely.bandcamp.com
* * * *
If you need a reminder of Jack's version of LOUIE LOUIE, here's some alternatives to the original 1963 recording of the Kingsmen with Jack on lead vocals…
First, we'll shared Jack's "Louie Louie '66," which is a new video created for Jack's 1966 re-do, shared exclusively on Jack's YouTube page.
Second, we'll post a 2008 performance of the song with the Courtmen, captured live in Las Vegas by my pal Andy Martello.
Lastly, we'll share my own video of Jack singing LOUIE to one of his horses, which is a good demonstration of Jack's voice with any extra musical accompaniment.
These versions make up this week's LOUIE of the Week. Play 'em individually or all at once… you can't go wrong!