This is very sad. Less than two weeks ago, I posted information about a fund raising effort for Chris Gaffney, a musician that played with the Hacienda Brothers and Dave Alvin & the Guilty Men. Chris had liver cancer, no health insurance, and needed to raise $60,000 to cover extensive chemotherapy. A HelpGaff.com websitewas established to help him out.
Chris Gaffney died on April 17, 2008. I chatted with him a few times, and seemed like a real decent guy. I even shot video of him performing at a Johnny Paycheck tribute show in San Francisco. Originally, it was planned as a fundraiser for Johnny Paycheck, but then Johnny died right before the event happened. On March 19, 2003, which also happened to be the day the Iraq invasion began, the tribute took place at the Elbo Room. Originally, I wanted to shoot video of the event with 3 cameras, but one of the cameras got broken, which was a complete volunteer effort to begin with.
I sat on the video footage for a few years, as it wasn't up to my usual standards. I released one of the Red Meat song peformances from this show on YouTube, and tonight, I'm unveiling two clips to honor the legacy of Chris Gaffney. I just spent a good part of the evening pulling this all together.
First, here's Chris Gaffney and Dave Alvin, backed by Red Meat, performing "She's All I've Got."
Second, a performance of Chris with Red Meat, performing "Pardon Me, I've Got Someone to Kill." It's an odd choice to honor someone that just died, but it's the song that Chris chose, so I'll let him sing it.
Another musician that passed away on April 17th was Danny Federici, who used to perform with Bruce Springsteen & the E Street Band. Like Chris, he was another victim of cancer.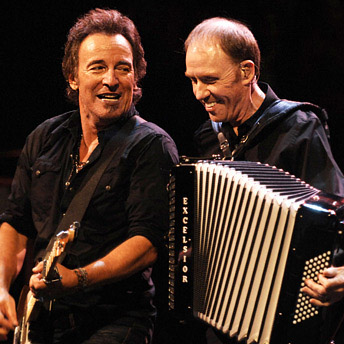 The Danny Federici Melanoma Fund was established for the research and development of new and effective treatments for melanoma. You read all about it by going to to TheDannyFedericiMelanomaFund.com.
Sadly, there's too many musicians struggling with cancer. Far too many musicians in the USA can't afford health care, and even those with the finances to pay for such things are often powerless against such a complicated disease.
I've lost my share of friends and family to this terrible disease. Right now, I'm worried sick about a good friend of mine that will be undergoing an operation next week to remove some very large tumors from her body. She tells me that her condition is absolutely treatable, and I pray that she's going to be OK. I feel so damned powerless, and I absolutely hate it.