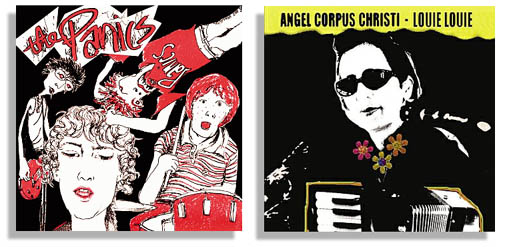 A few weeks ago, I did a little mention about a version of the SONG by the artist known as Angel Corpus Christi. I hadn't actually heard it yet, but I dropped a line to the folks at Gulcher Records to let 'em know that I mentioned it at the blog, and find out if they wanted to donate a copy of this CD for the LOUIE LOUIE archives.
Last week, I did indeed receive a nice gift from Gulcher, featuring not one, but TWO CDs that feature this fine song. I received a copy of the Angel Corpus Christi CD, and a CD entitled "I Wanna Kill My Mom" by the Panics.
The Panics were a fun little punk band that came together in Indiana (home of the late Governor Matthew Welsh) in 1980. As they explained in their rather entertaining liner notes, "we weren't very proficient, but we felt attitude was everything and even sneered at the very idea of 'talent'." This CD collects their entire output from their first 45 all the way up to their 2000 reunion. Their version of THE SONG came from a live recording at an Indianapolis club known as Third Base. They use what could be considered the "FBI- Hoover lyrics," or the "Iggy Pop- Metallic KO lyrics." In other words, this is not the sort of music you'd want to play on the radio, or in the prescence of young impressionable minds. It's naughty music for naughty minds. I enjoyed it, but it's definitely not for everybody.
The Angel Corpus Christi CD is an interesting concept for a tribute album to Lou Reed. One particular track features a spoken word monologue about a night she actually met the man himself. Among Lou Reed cover songs in this collection, there's a version of the Velvet Underground track "Femme Fatale" that I really enjoyed. Did I tell you that LOUIE LOUIE is the first song on this thing? This is another fine addition to the archives, and I thank Gulcher for providing me with both of these fine CDs.
You can get both of these CDs directly from the Gulcher Records website.