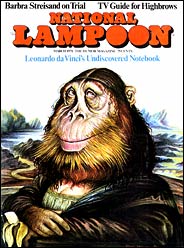 Back in my youth, National Lampoon was one of the most subversive humor magazines I'd ever seen. I loved MAD magazine, but National Lampoon dug deeper with a no-holds barred approach, creating acidic parody that wasn't afraid to utilize strong language or female nudity. As a pimple-faced adolescent with runaway hormones, this was the sort of the thing that I fully appreciated, and I eagerly devored every single issue I could my grubby little hands on. There was some incredible talent in the magazine, featuring many authors and illustrators that went on to even bigger heights.
The National Lampoon empire changed when it got into the business of movie making. A hilarious high school yearbook parody was transformed into an outrageous motion picture starring one of the actors on the National Lampoon radio show. John Belushi was unleashed like a wild creature gone amuck in "Animal House," and the movie audiences responded in part, making this movie one of the most successful comedies in the history of the motion picture.
Certainly, the re-introduction of LOUIE LOUIE to the pop culture vocabulary should give credit to this very important movie. The success of this production inspired a renewed interest in THE SONG, as well as toga parties, fraternities, and food fights.
The National Lampoon empire went on to produce other movies, notably the "Vacation" series with another Nat Lamp radio alumi, Chevy Chase. There were also some excellent comedy albums, and more paper parodies. Eventually, the empire fizzled out, and it became a shadow of its former self.
On Sunday, the New York Times provided an interesting article on this once great empire, and what's going on with it in 2005.
The official National Lampoon website is, naturallly, at NationalLampoon.com.