Last week, I announced a new feature called the "LOUIE of the Week" award. We had the Cafe Blues Band, a fun band from Russia, take the first honors for what should be a regular feature. This week, we'll acknowledge the Toga Kings, a fun band from Bellingham, Washington.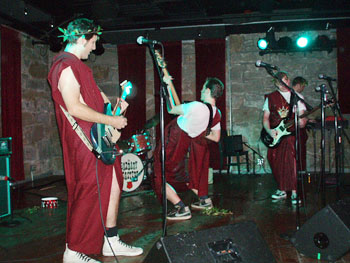 Here's what their official webpage had to say about this band:
THE TOGA KINGS are Bellingham's newest beer swilling sensations. Taking inspiration from The Kingsmen, The Sonics, The Trashmen and the film Animal House, this crazy combo performs a set of tunes that will get bar hoppers dancin' from coast to coast.
You can hear their version of LOUIE LOUIE by visiting their MySpace page. Even though their official webpage is on the Double Crown Records page, there's no plans for any actual recordings. Your best bet is find out where they're playing, and experience them live!
Big thanks to Mike Hintze for tracking these guys down!