From the very first time I discovered YouTube, I wondered how long it would take before the major copyright owners would make some serious noise to stop the unauthorized distribution of their video programming. From what I could see, at least 50% of the material didn't come directly from actual filmmakers, but collectors that just wanted to share video clips of their favorite TV shows. When YouTube was sold to Google, I could forsee that copyright clearances would only become an even bigger issue as YouTube solidified its position as the number one website on the internet for video clips.
As an archivist, I've discovered some absolutely amazing videos at YouTube, many of which I had no idea even existed until I saw them on YouTube. I continue to use YouTube for research purposes, and I've also had a lot of fun sharing old videos with friends I haven't seen in many years.
YouTube is truly one of the great cyberspace pioneers that's revolutionized the way people use the internet.
Like most dedicated users of YouTube, I've saved my list of favorites. This week, I took a closer a look at my list, and discovered many of favorites were no longer available.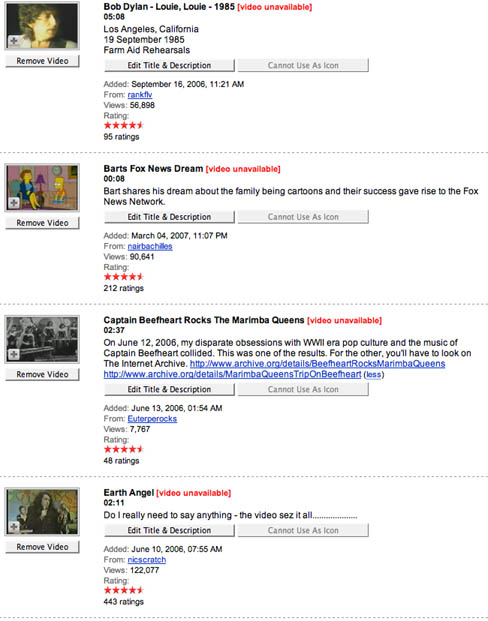 What's an archivist to do?
I recommend that one learns how to download clips from YouTube, and other flash-video-based websites. I wrote about how to do such a thing back in March 2006. Despite what some folks may believe, downloading these clips isn't that difficult, but it does take some time.
I also encourage folks to buy the legitimate video products if they actually exist. As a video producer that's been ripped off by illegitimate traders, I don't appreciate thievery. On the other hand, if you cannot buy the official products at any price, then it's up to the archivists to preserve the good stuff.