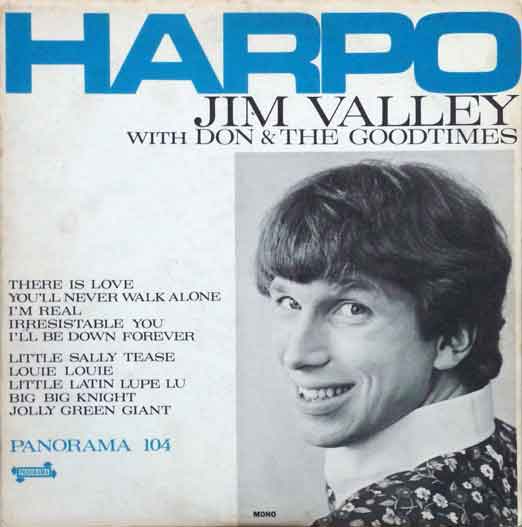 Jim Valley is what you'd call a "Northwest LOUIE LOUIE veteran." Born in Tacoma, Washington, Jim joined the Viceroys during high school, playing guitar on the 1963 regional hit "Granny's Pad." In 1965 Valley joined Don & the Goodtimes, a Portland band formed by Don Gallucci, the original keyboardist for the Kingsmen. In 1966, he was invited to play with Paul Revere & the Raiders when guitarist Drake Levin was drafted into the military. As member of the Raiders, Jim performed on Dick Clark's daily TV series Where The Action Is as well as The Smother's Brother Comedy Hour, The Hollywood Palace, The Milton Berle Show, The Lloyd Thaxton Show and a lot of other television shows.
A few years after joining the Raiders, Jim Valley left the band. Frustrated by the empty promises of seeing his music recorded with the band, Jim was inspired by the success stories of all the other musicians he'd known in the Laurel Canyon area. Jim decided to embark on a solo career and signed with Dunhill Records.
Over the years, Jim had a diverse career playing with such bands as Sweet Talking Jones, The Shoestring Orchestra and Choir, and various musical theatrical ventures around the world.
Sometime in the late 1970s, Jim got involved with teaching music to children. In 1983, Jim recorded his first children's album, which was titled "Rainbow Planet." One thing led to another, and Jim wound up creating an organization of the same name, focusing on using music as means of positive change for inspiring young human beings.
This week, the LOUIE of the Week award goes to Jim for this video performance of him with students in Indonesia. This is a medley of "Johnny B. Good," "Wild Thing," and of course "LOUIE LOUIE."
Other links to check out:
Jim Valley's Rainbow Planet page
(PS: See that album cover up there? Yes, it's a super-rare record ….)