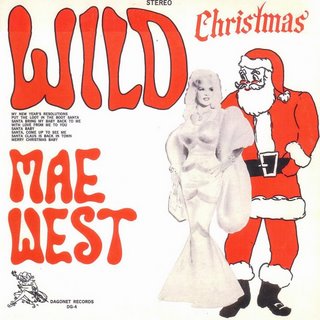 For those of you that need some inspiration for the new year's resolutions you haven't made yet, here's a song about new year's resolutions, with a LOUIE LOUIE beat to it…
In 1966, comedian-actress-movie-icon Mae West recorded an album called "Wild Christmas, featuring a special ditty called "New Year's Resolution," which has been named LOUIE of the Week.
Finding a copy of this particular record is not an easy task. This record was on a small label with limited distribution. In 1980, the record was re-released on a small label with the new title of "Mae in December."
From what I can tell, both of these records are completely out-of-print, and not available on CD. I saw a mention of one of the records being sold for $200 on Amazon.
Luckily, there's some people out there that like to share, and one of these people posted a YouTube clip that features Mae singing "New Year's Resolution," which has been declared this week's LOUIE LOUIE.
Here it is….
http://www.youtube.com/watch?v=WrXVGs0sqP8
For those you that would like to find out more information about this album, I found a couple of of interesting links you might enjoy….
http://maewest.blogspot.com/2007/12/mae-west-wild-christmas.html
http://maewest.blogspot.com/2010/12/mae-west-mae-in-december.html
http://christmasyuleblog.blogspot.com/2006/11/mae-west-wild-christmas.html