On Sunday night in California, Monday afternoon in Australia, a very special interview took place for the LOUIE documentary project.
For years, I've been in touch with Ross Wilson. I knew about his history with him being one of, if not THE first musician in Australia to record Richard Berry's now-iconic melody. Ross was 16 years old at the time in 1965, and he not only had the foresight to not only record the song, but also create his own record label, releasing his unique rendition of LOUIE LOUIE with the Pink Finks on his own Mojo record company. Since that pivotal moment in time, Ross has a substantial musical career as a singer, song-writer, and producer in Australia.
Over the years, he's fronted a handful of bands as well as Pink Finks, including The Party Machine, Procession, Sons of the Vegetal Mother, Daddy Cool and Mondo Rock. With his band Daddy Cool, he scored a nationwide #1 hit in Australia in mid-1970 with the single "Eagle Rock" and their debut LP, Daddy Who?, Daddy Cool, also set a new record as the biggest selling Australian album to that time. In 1974, Wilson took time off from Daddy Cool and worked with an up-and-coming band known as Skyhooks, producing their debut album Living in the Seventies, which overtook Daddy Cool's spot as the biggest-selling Australian LP of the time.
Ross was individually inducted into the Australian Recording Industry Association (ARIA) Hall of Fame in 1989 and again as a member of Daddy Cool in 2006. Ross Wilson was also featured as a judge on the Seven Network celebrity reality singing competition television show "It Takes Two" in both 2006 and 2007 series.
As I was fascinated by Ross' career, and Ross is a big fan of Richard Berry music, we connected via cyberspace about ten or so years ago. I've never been able to make it to Australia, and his visits to the United States seemed few and far between, but I've always had full intentions of conducting a proper interview with Ross.
Last night, we finally did our interview, thanks to my friend/co-collaborator Alison Victor, and the ingenious web service known as SKYPE. A couple of years ago, Alison and I actually co-produced a short documentary on a blind sailor that used SKYPE services to "see," which turned out to be a film that was showcased on the Oprah Winfrey TV show.
Alison was visiting Australia, so we thought…. "Why not interview Ross via Skype?"
And so we did…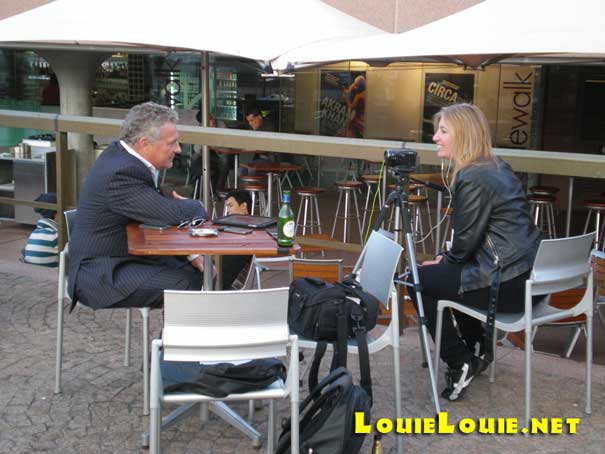 It was pretty darned exciting, being able to interview Ross, on the other side on the world, using SKYPE technology to do a teleconference, using pre-existing broadband connections on our respective laptop devices. I was able to talk with Ross, and see images of what Alison was shooting. I continue to blown away by this modern technology, and how easy it's become to use on a regular basis.
With all the tools in 2010, it's so easy to share things around the world. Sharing video is where it really gets exciting. Back in the day, if I wanted to see Ross' latest video, I'd have to get a Betacam or VHS dub, which would have to be converted from PAL to NTSC so I could watch it in the United States. Now anybody can post their video to one of the various video-sharing services, and see it instantly.
It's such a treat to see stuff like Ross' latest video "I Come in Peace," featuring a message I never get tired of….
Thank you Ross!
Thank you Alison!
I think we've made some serious history today, and I'm feeling quite good about that!
For more information about these talented people that have contributed a unique chapter this ambitious LOUIE project of mine, please visit their websites at:
RossWilson.com.au
AV Multimedia
… and if you want to see Alison perform a killer mash-up of "Smells Like Teen Spirit" and "Godzilla" with her old band, please click here.