Back in 1963, LOUIE LOUIE by the Kingsmen was very close to becoming a #1 Billboard hit. There was one song that stopped LOUIE LOUIE from reaching that special destination.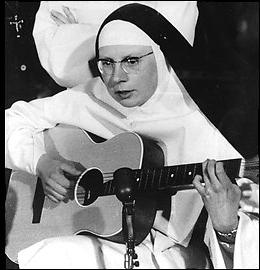 "Dominique" by the Singing Nun was the big roadblock that stood in the way of LOUIE LOUIE.
As it turns out, there's now a new film about her life.
The (UK) Guardian had a nice write-up about this project:
She was the bespectacled nun who beat the Beatles to the top of the US charts, sparking a worldwide craze for singers in wimples before either the Sound of Music or TV's the Flying Nun.

Now the tragic story of Jeannine Deckers, known as the Singing Nun, has been reclaimed by her native Belgium.

A new film, released tomorrow, tells the painful tale of the naive young sister from a Brussels suburb who eventually left her convent and took her own life.

The story of her rise from an awkward convent novice to the Grammy award-winning guitar-strummer known as Belgium's "Elvis Presley in a habit" inspired numerous stage and screen interpretations.

In 1966, at the height of Deckers' success, Debbie Reynolds starred in a saccharine, Oscar-nominated Hollywood musical version of her life story.

The producers weren't to know how things would later end: with Deckers depressed, destitute and dependent on alcohol and tranquillisers, killing herself with her lesbian partner in 1985.

New York stage plays, a British radio play and a cameo in the Simpsons followed in later years.

The author of a French fictional autobiography, published this year, compared Deckers' life to that of a true rock star rollercoaster story such as that of Nirvana's Kurt Cobain.

The new Belgian film, Soeur Sourire – Sister Smile – faced an almost decade-long battle for funding and was finally made as a French co-production.
For more information about this project, you can visit the MVD SeaofSound.com page, where you can pre-order the DVD.