There are some things in life that are absolute joy. They entertain, inspire, and recharge the essence of the human experience. It can be something as simple as visiting a beautiful place that inspires your inner child, or connecting with an old friend that makes you laugh. Every person has something that really makes them feel absolutely euphoric.
For me, it was attending this year's Hardly Strictly Bluegrass Festival this past weekend.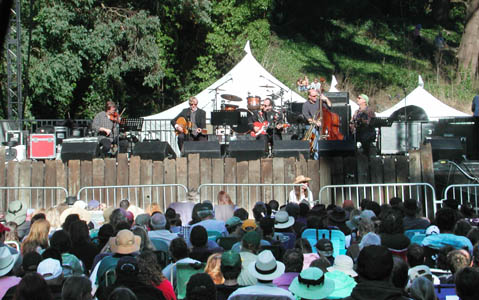 An estimated crowd of 300,000 people gathered at Golden Gate Park in San Francisco in this weekend for the annual Hardly Strictly Bluegrass Festival. Normally, I'm not one for massive crowds at music festivals, but this was not your ordinary music festival. For six years, investment banker Warren Hellman has invested some serious money to put on some of the finest music festivals I've ever attended. Unlike other music festivals, this event does not have major corporate sponsorship, yet provides an abundance of stellar musical talent for three days, spread out over five different stages. What makes this event so incredibly wonderful is the fact that this event is FREE to the public.
If there's any recurring themes to this festival, it's that peace and harmony can co-exist with minimal security, and that recycling all disposables is really a good thing. Too many music events seem to disrespect their audience, over-charging for every little creature comfort, treating the audience as cattle. COMMUNITY is the key concept for the Hardly Strictly Bluegrass Festival.
If I had any complaint about this event, it would be that it was impossible to watch every musical group that I wanted to. I regret that I missed performances by Hazel Dickens, Chip Taylor & Carrie Rodriguez, Poor Man's Whiskey, Hot Tuna, Earl Scruggs, and various others. As luck would have it, I wound up at the Rooster Stage for most of the event, providing some professional support, so to speak.
For the past couple of years, I've been trying to catch a show by Todd Snider. I've had a handful of people tell me all about his song entitled "The Ballad of the Kingsmen," which is a very entertaining musical interpretation of the story of LOUIE LOUIE. I should have seen him sooner, as this guy is a brilliant musical satirist singer-songwriter. What I love about Todd is that he's not trying to preach to anyone, or change their mind with his opinions. He's just a storyteller that talks about things as he sees them. which actually makes pretty good sense to a tree huggin', peace lovin', barefootin' filmmaker like me. I'm definitely gonna keep my eyes for this guy in the future. In the meantime, there's over 20 video clips of him on YouTube (soon to be GoogleTube?), including an appearance on David Letterman's TV show.
The biggest crowd at the Rooster Stage was the Sunday appearance of the Coward Brothers, a couple of very talented musicians that have a remarkable resemblance to Elvis Costello and T-Bone Burnett. The very first (and perhaps only) recording released by this band was an obscure single entitled "The People's Limousine" released free of charge with the Elvis Costello "Don't Let Me Be Misunderstood" UK and Japanese single in 1985. Coincidentally, T-Bone produced The Elvis Costello album "King of America" around the same time in 1985. Something did seem fishy about these particular characters, as I don't think "Elvis" and "T-Bone" were their original birth names….
Anyways, this show featuring Henry and Howard Coward was a phenomenal show, with vocal harmonies reminiscent of the Louvin Brothers and the Everly Brothers, borrowing a little bit of Marx Brothers for their onstage banter. They did a handful of originals, including some "supposedly stolen originals" that were "later claimed to have been written by" Merle Haggard, George Jones, and some songs that were actually released in the 30's….. before the Coward Brothers were even born!! Some of their unlikely covers were renditions of Scott McKenzie's "San Francisco (Be Sure to Wear Some Flowers in Your Hair) and the Byrds' "So You Want to Be a Rock and Roll Star." They were also joined by their long-lost sister EmmyLou Coward, who joined them for a few songs, and talked about how proud they all were to be "Cowards" during these challenging times.
The REAL Elvis Costello did a great performance for Friday, the first day of the event, acknowledging all of those that decided to play hooky, rather than go to work that day. After playing solo, and then performing with The Hammer Of The Honky-Tonk Gods, an all-star group that included Bill Kirchen, Davey Faragher, Austin de Lone and Pete Thomas, he was then joined by Emmylou Harris (who looked just like EmmyLou Coward), Fats Kaplin, Gillian Welch, and David Rawlings. There were some incredible moments in this set- "God's Comic," "Loser" (a Grateful Dead song), a rather moving duet with Emmylou on "I Still Miss Someone" (Johnny Cash), and one Nick Lowe song I'll never get tired of- "What's So Funny 'Bout Peace Love and Understanding."
On Saturday, the big Songwriter's Circle took place, with this year's line-up featuring Steve Earle, Guy Clark, Billy Bragg, and Verlon Thompson. Steve Earle took the lead in this line-up, acknowledging the late Townes Van Zandt as the inspiration for this onstage collective of singer-songwriters, and starting off the set with a lively version of "F*** the F.C.C." that would have certainly driven the censors crazy had this thing actually been broadcast. Together with fellow progressive Billy Bragg, Steve integrated political consciousness into his set list. When it was Billy Bragg's turn at the microphone, one of the songs he did was an inventive re-write of "Bourgeois Blues ," transforming this Lead Belly standard into "Bush War Blues" which can actually be downloaded for FREE at Billy's own website. He also performed a few songs from one of my favorite albums of the past 10 years, "Mermaid Avenue," which was the album he did with Wilco based on the previously-unseen Woody Guthrie writings.
Compared to previous Hardly Strictly Bluegrass shows, there seemed to be an abundance of conscience-raising songs. While it was certainly no surprise that Steve Earle and Billy Bragg took the opportunity to sing some excellent songs about injustices, lying politicians and other topical concerns in the world, they were not alone in their sentiments. Richard Thompson discussed the use of wartime abbreviations. Just as soldiers in Vietnam shortened the name to "Nam," soldiers in Iraq shortened "Baghdad" to simply "Dad," which gave Richard Thompson the spark to write a witty little song called "Dad's Gonna Kill Me." Iris Dement did a couple of wonderful songs entitled "Wasteland of the Free' and "There's A Wall in Washington." Even Alejandro Escovedo made a little snipe at the current administration, reclaiming "Castanets," the song he formerly refused to play when he discovered that it was one of the Top 10 songs in the Presidential iPod.
It was wonderful to see Alejandro Escovedo back in action after his near-death experience with Hepatitis-C a few years ago. I used to see him perform with Rank and File, then performing solo at various shows in the San Francisco-San Jose region. It was especially poignant to see his mother at this show as he dedicated a song to her and his late father, singing of the love his parents shared.
One of the great bands that returned to this festival was the amazing trio of Kevin Welch & Kieran Kane & Fats Kaplin. Like so many of the bands that performed at this event, their music transcended the genres of country, bluegrass, rock, folk, and the various Americana labels that have been attached to their style of playing. Unfortunately, their set was cut short, and I didn't get a chance to hear my favorite song by these gents – a ditty known as "Everybody's Working for the Man Again…." In spite of this loss, their set was still a stellar performance. I even met a lady from their Australian fan club, who traveled around the world to attend this event.
The last performance I saw at this event was Robert Earl Keen, who was joined by special guest Danny Barnes, formerly of the Bad Livers. Closing off the set was the highly-appropriate song "The Road Goes On Forever," which was a good way to end Sunday, the last day of this event.
I do hope this event goes on forever. It's the time of event that makes me very proud to live in the San Francisco Bay Area. God bless Warren Hellman for being the type of billionaire that makes the world a better place than the one he came into with this wonderful celebration of the human spirit.
* * * * * *
For more write-ups on this event, be sure check out some of these articles:
San Francisco Chronicle article

San Jose Mercury News article
Austin American-Statesman article (??)
The Hardly Strictly MY SPACE page?

Emmylou.net forum chat