Once again, I'm amazed how quickly the summer is slipping by. Already it's August, and I've barely been able to attend to any summertime events. I've gone to a couple of outdoor concerts, but for the most part, I've been stuck in work mode, trying to finish off some projects. Here's a couple of interesting events that are well worth noting on the LOUIE REPORT blog: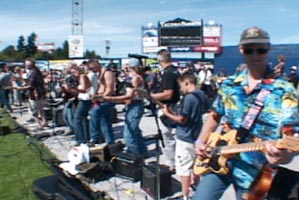 1) THE LOUIE FEST OF 2006
I attended the first LOUIE Fest that took place in 2003 at Tacoma, Washington. I had a lot of fun at that event, and I wish I could attend this one, but unfortunately, I've got another assignment that weekend. Shoot….!!
August 19, which is actually the anniversary of the event that pushed me into this LOUIE LOUIE research, is going to be the day this event returns to the Tacoma area. This is going to be the big one. It's going to be at this event that a world record will set with 1,000 guitars all playing LOUIE LOUIE, led by the Fabulous Wailers. All day long, there will be a lot of bands playing music (besides LOUIE), a classic car show, vendor booths, and a beer garden. If you're coming from out of town, you can get a deal at the Shilo Inn in Tacoma, just by mentioning the LOUIE Fest. The event itself is free to the public, and it will be a lot of fun for those that attend!
You can find more information about this by going to:
LouieFest.com
2) THE FOURTH ANNUAL ANIMAL HOUSE CELEBRATION
For the 4th year in a row, the Hysterical Society of Eugene, Oregon will be putting on a big Animal House Celebration. As Eugene was the primary location for filming the blockbuster hit movie "Animal House" starrring John Belushi, Tim Matheson, John Vernon, and a lot of other folks, the town of Eugene decided to embrace it's past a few years ago with an annual Annimal House celebration.
In the past, they've advertised this event as the "world's largest toga party," and it looks like they're going to try to break previous records. This will be taking place at the Eugene Hilton on September 23, 2006. It looks like there's also going to be a Animal House Look-a-Like and Toga Contest on September 3rd. Folks will be encouraged to dress up as their favorite Animal House character – Bluto, Flounder, D-Day, Sissy, Dean Wormer, Neidermeyer, Katy, Otter, Mandy, Otis, or Boone. There will be prizes judged by a panel of expert animals.
You read more about this big celebration at:
AnimalHouseCelebration.com
Hmm… I wonder if "September 3rd" is a typo, or if this is going to be 20 days of solid toga activity? More details as I get them….