Of all artists to ever perform the song "LOUIE LOUIE," no other artist has performed it in so many diverse variations as Mr. Frank Zappa. On one level, you get the feeling that he might have thought it to be the most ridiculous song ever written. On the other hand, he made references to it so many different times, he must have felt a great affinity towards the song. The love/hate relationship Frank Zappa had with the song was interesting and noteworthy. Here are a few selected references to the song made by Frank in interviews:
PART ONE: FRANK ZAPPA IN PRINT ABOUT "LOUIE LOUIE"
1) Starting with his very first album – "Freak Out" by the Mothers of Invention in 1966, Frank Zappa references LOUIE LOUIE in the liner notes.
There's a BIOGRAPHICAL TRIVIA section where Frank writes about his bandmate and drummer Jim Black (who would later be known as Jimmy Carl Black) – "Jim got fired from some idiot band in Kansas, forcing him to move to California. Lucky for us. Seems he just couldn't get turned on playing Louie Louie all night …"
There's also a section in the liner notes entitled "These People Have Contributed Materially in Many Ways to Make Our Music What it is. Please Do Not Hold it Against them," which features a list of 170 influential people. Richard Berry is listed between Donald Woods ("Death of An Angel") and Huggy Boy (Los Angeles DJ).
2) The second time Frank Zappa acknowledged the song in print was when he wrote "The Incredible History Of The Mothers" for Hit Parader magazine, dated June, 1968.
He discusses the origins of his first band….
I composed a composite, gap-filling product that fills most of the gaps between so called serious music and the so-called popular music. Next, I needed my own group to present this music to the public.

The group that was to become the Mothers was working in the Broadside, a little bar in Pomona, California.

Jim Black, the drummer, had just come to California from Kansas. He got together with Roy Estrada, the bass player. They'd been working terrible jobs in Orange County, which is a bad place to live unless you belong to the John Birch Society.

They got a band together with Ray Hunt on guitar, Dave Coronado on sax and Ray Collins as lead vocalist. They called themselves the Soul Giants and they were doing straight commercial rhythm and blues "Gloria," "Louie, Louie," you got it.
After ten months, the band evolved into a 4-piece band that would become the Mothers.
Then we decided we were going to the big city – Los Angeles – which was about thirty miles away.

We had added a girl to the group, Alice Stuart. She played guitar very well and sang well.

I had an idea for combining certain modal influences into our basically country blues sound. We were playing a lot of Muddy Waters, Howlin' Wolf-type stuff. Alice played good finger-style guitar, but she couldn't play LOUIE LOUIE, so I fired her.
3) His next LOUIE acknowledgement of the song in print was in DownBeat magazine, the prominent jazz publication. The issue was dated October 1969, and the following comment was on page 14.
Frank Zappa: I don't think the typical rock fan is smart enough to know he's been duped, so it doesn't make any difference … Those kids wouldn't know good music if it came up and bit them on the ass. Especially in terms of a live concert where the main element is visual. Kids go to see their favorite acts, not to hear them. We work on the premise that nobody really hears what we do anyway, so it doesn't make any difference if we play a place that's got ugly acoustics. The best responses we get from an audience are when we do our worst material.

Don Preston: Oh, how can you say that?

Zappa: It's true man. "Louie Louie" brings the house down every time.

Preston: People were booing the last time you played that. One guy wanted "Louie Louie", so you said "Okay, we'll play "Louie Louie""… "Boo!"

Zappa: Maybe they were booing because we didn't play Midnight Hour instead.
4) In 1986, Frank Zappa was interviewed by Keyboards, Computers & Software (the magazine for future music) for their April 1986 issue.
The primary focus on this article was Frank's Synclavier,
Zappa's impassive interview tone begins to thaw a little as he warms to his subject. "The Swap and Retro Tweezer," he continues, "will let you take the rhythm of one piece of music and swap it with the pitches of another piece of music. Or if you're doing serial music, you can play any kind of figure that you want on the keyboard, load in your row on the opposite side of the Swapper and push the button. What comes out is totally serialized tone row music. If you just want to be arbitrary, on the other hand, you can simply say: ' swap the melody line of "Mary Had A Little Lamb" with the notes of " Louie Louie ."' The software will do it."
In concluding this interview, Franks leaves us with one especially important concept..
Which brings us to one important final point. While Frank Zappa the Misanthrope Perfectionist is obviously seduced by the gleaming mechanical flawlessness of his Synclavier- and will no doubt be using it quite a bit in the future- he is still a long way from giving up entirely on human musicians.

"Believe me," he says reassuringly, "if I ever wanted to play 'Louie Louie,' I don' t think I'd waste the time to enter it into the Synclavier."
5) When Frank Zappa unleashed his autobiography, The Real Frank Zappa Book in 1989, he discussed his early years with the Soul Giants, which included a mention of LOUIE.
I played the gig [with the Soul Giants] for a while, and one night I suggested that we start doing original material so we could get a record contract. Davy [Coronado] didn't like the idea. He was worried that if we played original material we would get fired from all the nice bars we were working in. The only things club owners wanted bands to play then were Wooly Bully, "Louie Louie" and In The Midnight Hour, because if the band played anything original, nobody would dance to it, and when they don't dance, they don't drink.
…

When a guest conductor comes to town, he is not usually giving a performance of something by a living composer – because he can warm it up in one afternoon and make it sound okay. This makes the accountants happy, and allows the audience to concentrate on his choreography (which is really why they bought the tickets in the first place). Why is that any better than a bunch of guys in a bar band jamming on "Louie Louie" or Midnight Hour?
6) Frank Zappa acknowledged LOUIE in an interview with Denn Simms, Eric Buxton, and Rob Samler on December 22, 1989 for the Society Pages fanzine, issue #1, published April 1990 on page 24.
Denn Simms: There's a particular moment of [Jesus Thinks You're A Jerk] that really gets me off a lot, and that is that metamorphosis of, I think it's somethin' like Battle Hymn Of The Republic mixed with …

Zappa: Dixie.

Denn: … with Dixie, and Old Rugged Cross, and how that changes into "LOUIE LOUIE".

Zappa: (laughs)

Denn: That was really a sweet idea. Speaking of "Louie Louie", that seems like sort of a joke for you, and I'll just make the guess that that's because in your early days you were in bands where lots of people seriously said, "Play LOUIE LOUIE."

Zappa: Well, I was also in bands when "LOUIE LOUIE", before the Kingsmen made it into the joke that everybody recognizes now. "LOUIE LOUIE" used to be a really cool tune, the Richard Berry version of it. It had, y' know, a nice arrangement to it, and a whole different feel to it. It wasn't until The Kingsmen version that it became, y' know, the "Animal House" joke that it is right now.
7) Frank Zappa shared some great praise for "LOUIE LOUIE" in print during a 1987 interview with Paul Zollo that was published in 1994 in SongTalk (volume 2, issue 5), a trade journal for songwriters..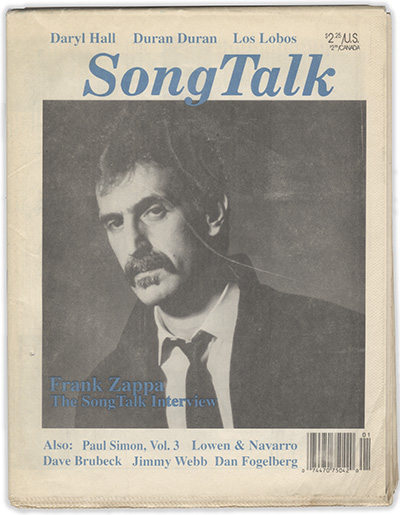 …Which was later republished as part of Paul Zollo's anthology of interviews- "Songwriters on Songwriting" – the expanded edition in 1997.
Paul Zollo: "If you had to name a few songs written by other people that you consider to be great, what would they be?"

Zappa: I liked 'Subterranean Homesick Blues' by Bob Dylan, I liked 'Paperback Writer' by the Beatles and 'I Am the Walrus.' And no one may not underestimate the impact of "LOUIE LOUIE" the original Richard Berry version.
8) In the liner notes of "Strictly Commercial," a greatest hits-type release that came out after Frank's death, director/comedian Terry Gilliam (member of Monty Python's Flying Circus, director of BRAZIL, BARON MUNCHAUSEN) acknowledges Frank Zappa & the Mothers "pounding out Louie Louie on that great Victorian organ" at the famous Albert Hall show that was recorded for the UNCLE MEAT album/film project.
PART TWO: KNOWN EXAMPLES OF "LOUIE LOUIE" IN THE RECORDINGS OF FRANK ZAPPA
Note: These examples are listed in the order of their release. Whenever possible time indications are noted to allow the reader to easily locate the LOUIE LOUIE references by using the time counter on their CD player.
1. FREAK OUT! (released in 1966)
There seems to be the vaguest (almost indiscernible) hint of a LOUIE LOUIE that is insinuated into the background of "The Return Of The Son Of The Monster Magnet" at about 7:30 into the track. Also, Richard Berry is acknowledged in the liner notes as one of the major influences on the Mothers of Invention ("Don't hold it against them"). This 1965 debut recording of Frank Zappa & the Mothers of Invention was quite revolutionary for its time. Even the Beatles acknowledged FREAK OUT as an inspiration for "SGT. PEPPER'S LONELY HEARTS CLUB BAND."
2. ABSOLUTELY FREE (released in 1967)
LOUIE LOUIE is a major part of "Plastic People," beginning with a near-identical opening. There is an obvious reference to LOUIE LOUIE in the line "Plastic people, oh baby, now you're such a drag," which replicates the musical phrasing "Louie Louie, (oh baby) me gotta go now." Much of rhythm is identical to LOUIE LOUIE, but this studio rendition deviates from the LOUIE sturcture to explore other musical territories. Other versions of "Plastic People" are closer to the LOUIE LOUIE structure.
3. ABSOLUTELY FREE (released in 1967)
I don't know how I initially forgot to mention "Son of Suzy Creamcheese" in previous versions of this article, but it's hard to ignore the influence of LOUIE in this song. From a melodic point, I'd estimate that LOUIE LOUIE comprises about 50% of the song. The main stanza in the song "Suzie Creamcheese, oh baby, what's got into you" would be a perfect musical match to the line "Louie Louie, (oh baby) me gotta go" if the phrase "oh baby" was actually a part of the original lyrics.
4. LUMPY GRAVY (released in 1968)
In the song"Lumpy Gravy Part 1, " the phrase "Louie Louie" is sung at 9:23. This would be considered Frank's first solo album.
5. UNCLE MEAT (released in 1969)
This is Frank's first actual cover version of "Louie Louie" (well, sort of). Recorded live at the Royal Albert Hall in London and featuring Don Preston at "the mighty, majestic Albert Hall pipe organ," the juxtaposition of the world's dumbest song, played on one of the biggest pipe organs in existence, is simply exquisite! This version is, of course, intentionally frivolous. UNCLE MEAT is also a film produced by Frank Zappa, available on home video.
6. ONE SIZE FITS ALL (released in 1975)
"Florentine Pogen" adds a LOUIE LOUIE riff (3:07-3:09) in the fourth verse, after the line "She didn't wanna stay home an' watch the pestle go mortar."
7. BONGO FURY (released in 1975)
This album is actually a collaboration between Frank Zappa and Captain Beefheart, recorded live in Austin, Texas. The LOUIE LOUIE riff (2:14-2:52) is thrown in behind Captain Beefheart's bizarre lyrics right after the words "Sam was a basket case!" in the song "Sam With The Showing Scalp Flat Top," with lyrics supplied by Beefheart.
8. STUDIO TAN (originally LÄTHER) (recorded between 1974-1976, released in 1978)
One cycle of the LOUIE LOUIE chord progression (12:17-12:19) can be heard in "The Adventures Of Greggery Peccary" after the line "They proceed to perform lewd acts." (This track has re-appeared on the recent re-assemblage of LÄTHER, the original collection of music that was dissected by record label executives, creating STUDIO TAN, and other records that were part of Frank's original plan.)
9. MYSTERY DISC (originally part of OLD MASTERS, BOX ONE) (recorded in 1964?, released in 1985)
This is one of the earliest recordings by Frank Zappa, and came about when Frank was just starting off at Studio Z. Appropriately, this track is called "Opening Night at Studio Z", which features someone stating the phrase "Louie Louie" at approximately 24 seconds. Much of this dialogue is reminscent of the tracks on the LUMPY GRAVY album.
10. MYSTERY DISC (originally part of OLD MASTERS, BOX ONE) (recorded in 1966, released in 1985)
On this typical concert version of "Plastic People," the LOUIE LOUIE structure is more pronounced than the original studio version on ABSOLUTELY FREE, particularly in the way that the verses (compared to the refrain) are sung. This version occurred at the Fillmore Auditorium on either June 24 or 25, 1966, when the Mothers opened for Lenny Bruce.
11. YOU CAN'T DO THAT ON STAGE ANYMORE, VOL. 1 (also appears on YCDTOSA – SAMPLER) (recorded in 1969, released in 1988)
This is another live version of "Plastic People" recorded on February 13, 1969 at a bar called The Factory in the Bronx, NYC. (It is more or less from the same era as the MYSTERY DISC version.) In this recording, Frank even lectures the audience about the similarities between "Plastic People" and "Louie Louie." This particular version is closer to the structure of LOUIE LOUIE and is an example of what we at LouieLouie.Net would label as a "LOUIE LOUIE clone." In fact, Richard Berry is given co-writer's credit in the sleeve notes.
12. YOU CAN'T DO THAT ON STAGE ANYMORE, VOL. 1 (recorded in 1974, released in 1988)
"Ruthie Ruthie" is an example of something that permeated the performances of this particular tour: musically improvised reports of the escapades of various musicians, roadies, managers, etc. things that later became part of the "folklore." In this case, the improvised words are those of Napoleon Murphy Brock, who receives credit in the album notes. The "report" pertains to Ruth barfing and kicking some poor, unfortunate guy in the nuts. This track was recorded at the Capitol Theater in Passaic, New Jersey on November 8 (not 18), 1974. Once again, as this track begins to segue into the next, Frank's words to the audience assert that this improvisation is derived from LOUIE LOUIE. To date, this is the only legitimate rendition of this song.
13. YOU CAN'T DO THAT ON STAGE ANYMORE, VOL. 2 (recorded in 1974, released in 1988)
It would take a percussionist to find the LOUIE LOUIE reference in this particular concert recording, and a drummer did indeed find the hidden moment. In the song "Dupree's Paradise," there is a "123-12-123-12 / LOUIE LOUIE" type rhythm at approximately 23:20 minutes. This particular recording took place on September 22, 1974 in Helsinki, Finland.
14. BROADWAY THE HARD WAY (released in 1989)
In the song "Jesus Thinks You're A Jerk," the last portion of the song transforms into something of a LOUIE LOUIE clone at 8:15 minutes. The names "Jim and Tammy" are substituted for "Louie Louie," and the phrase "we gotta go" is altered to become "they gotta go."
15 + 16. THE BEST BAND YOU NEVER HEARD IN YOUR LIFE (recorded in 1988, released in 1991)
As in the original version of "Florentine Pogen," this live track contains the LOUIE LOUIE riff in the fourth verse (2:52-2:54). Another LOUIE LOUIE reference from this 1988 concert recording can be heard in an inspired rendition of "When Irish Eyes Are Smiling." which clocks in at a brief :22-:24 mention.
17. UNMITIGATED AUDACITY (from BEAT THE BOOTS box set #1) (recorded in 1974, released in 1991)
Tired of seeing the bootleggers release rare recordings of his concerts, Frank Zappa teamed up with Rhino Records to put out a series of albums that replicated the original unauthorized releases. This quasi-officially released Zappa version of "Louie Louie" was recorded May 12, 1974 at Notre Dame University, South Bend, Indiana where LOUIE LOUIE was used as an instrumental accompaniment to Frank's band introductions as the show came to the end.
18. ANYWAY THE WIND BLOWS (from BEAT THE BOOTS box set #1) (recorded in 1979, released in 1991)
The song "Florentine Pogen", first heard on ONE SIZE FITS ALL, is performed live in Paris on February 24, 1979. The LOUIE LOUIE riff can be heard at 3:12.
19. TIS THE SEASON TO BE JELLY (from BEAT THE BOOTS box set #1) (released in 1991)
In the song "It Can't Happen Here" someone says "Louie Louie, me gotta go" around 1:31-1:35.
20. SAARBR¸CKEN 1978 (from BEAT THE BOOTS box set #1) (released in 1991)
LOUIE LOUIE is quoted in "Magic Fingers," performed in Saarbr¸cken, September 3, 1978.
21. YOU CAN'T DO THAT ON STAGE ANYMORE, VOL. 3 (recorded in 1973, released in 1991)
The audience asks for it before "Dickie's Such An Asshole," performed in Hollywood, December 9-12, 1973.
22. YOU CAN'T DO THAT ON STAGE ANYMORE, VOL. 4 (recorded in 1974, released in 1991)
In the song "Smell My Beard," a George Duke composition, there is a quick snippet of the LOUIE LOUIE riff at 4:10 minutes. This concert recording took place during the winter of 1974 at some undisclosed location in New Jersey.
23. ELECTRIC AUNT JEMIMA (from BEAT THE BOOTS box set #2) (recorded in 1968, released in 1992)
On this particular authorized bootleg, we are treated to another version of "Plastic People," Frank Zappa's most popular LOUIE LOUIE clone. This version, recorded live in Denver sometime in 1968, starts at 5:45 on track 7.
24. TENGO NA MINCHA TANTA (from BEAT THE BOOTS box set #2) (recorded in 1968, released in 1992)
On this marginally-authorized bootleg, LOUIE LOUIE is mentioned in the intro of "What Will This Morning Bring Me This Evening,"
25. YOU CAN'T DO THAT ON STAGE ANYMORE, VOL. 6 (recorded in 1980, released in 1992)
The LOUIE LOUIE riff is recycled in the song "Magic Fingers" at 1:46 minutes. This moment occurred in Santa Monica, California on December 11, 1980.
26. YELLOW SHARk (released in 1993)
On the last recording from Frank Zappa released during his lifetime, there is a brief stanza of LOUIE LOUIE within the composition entitled "Welcome to the United States." At 5:20 of track 14, "terrorist activities" are discussed, using the LOUIE LOUIE riff to tie into a sense of musical anarchy.
27. HALLOWEEN (recorded in 1978, released in 2003)
LOUIE LOUIE is quoted in "Magic Fingers," performed in NYC, October, 1978.
28. JOE's CORSAGE (recorded in 1965, released in 2004)
This was actually one of the earliest variations of a Zappa LOUIE LOUIE recording. It is believed that this version of "Plastic People" was recorded in 1965, the year before the release of FREAK OUT.
To date, these were the only authorized recordings of Frank Zappa that utilized the LOUIE LOUIE theme…. that we know of!
PART THREE: LIVE PERFORMANCES
1) Sometime in June 1966,Frank Zappa & the Mothers of Invention, opened for Lenny Bruce at the Fillmore Auditorium in San Francisco. The very first song of this set was "PLASTIC PEOPLE" – an inspired re-write of Richard Berry's immortal melody.
I spotted the YouTube recording of this concert on DangerousMinds.net, but it's no longer there. Perhaps someday it will be officially released.
2) On November 14, 1970, during the Mothers of Invention's late show at the Fillmore East, New York City, Frank Zappa asked the question.. "Do you want Grace Slick to sing LOUIE LOUIE?" (05:29)

3) Sometime in 1984 (or 1985), Frank did a live performance of LOUIE LOUIE with Howard Stern on The Howard Stern Show on WNBC-AM New York.
It's another one of those recordings that was online, and now missing. Perhaps we'll hear it again sometime…
4) Finally, there's Frank's last LOUIE LOUIE performance, albeit a minimalist but beautiful stab at the song.
Big thanks to Francis of France, who alerted me to a video of Frank Zappa conducting a performance of "Welcome to the United States" with Ensemble Modern in Frankfurt, Germany on September 19, 1992.
You can hear this lovely chunk of LOUIE LOUIE at the 5:15 mark.