2021 was a great year for music documentaries. For many of us, it felt like a godsend to find these treasures after the extremely difficult and challenging year of 2020.

Billie was the powerful film about Billie Holliday, built upon previously unheard audio interviews conducted by Linda Lipnack Kuehl, who was working on a comprehensive biography on Billie Holiday before her untimely death in 1978.


Tina was the gut-wrenching and life-affirming story of Tina Turner, tracing her turbulent life with Ike and her incredible rebirth.

Spark Brothers

 was the love letter for those of us that have loved the music of Sparks for many years. This documentary was a beautifully rendered reminder of the tenacity of Ron and Russsell Mael, two very creative brothers that are still generating great music in the 21st century.

Cool Daddio: The Second Youth of R. Stevie Moore is a documentary that was created a few years ago, but was finally made available to the public in 2021. Like Sparks, Mr. Moore has also been a very prolific musician that continues to create a wealth of engaging music in semi-obscurity, and this documentary provides a wonderful means of sharing his story

Paul McCartney 3, 2, 1 is the six-episode documentary series on the world's most popular living musician, as interviewed by producer Rick Rubin at a recording studio, often accessing the original multi-tracks of Paul's most famous recordings.

Somewhere You Feel Free – The Making of Wildflowers is an excellent documentary of Tom Petty's Wildflowers album, also produced by Rick Rubin in 1994, utilizing never-before-seen film footage.

The Velvet Underground is an amazing documentary of the iconic NY band.

The Beatles – Get Back documentary assembled by Peter Jackson is the proverbial 800 pound gorilla of 2021 music documentaries. 

This 8 hour documentary is the monster assembled from the 60+ hours of film footage and 150 hours of audio recorded for what became the LET IT BE album and documentary feature film of the same name, both released in May 1970.
There's a wealth of articles, columns and commentary on this particular project, as there should be. After all, it's an 8 hour documentary of the famous musicians in the world creating music before your eyes.
EIGHT FREAKIN' HOURS!!!
As with all artistic endeavors, there is no universal consensus on any of this, and especially this documentary.
Chris Willman of Variety believed this may be the "greatest, movie or series about rock 'n' roll," a review in The (UK) Guardian had a headline "eight hours of TV so aimless it threatens your sanity," and James Delingpole of The Spectator thought it was "more mesmerizing than it should be."
At a certain level, I can find serious agreement with each of these sentiments….
Here's some thoughts shared by Brian Fies that I completely agree with:
If you've ever dreamed of taking a time machine to watch Leonardo paint the Last Supper or Beethoven compose his Ninth Symphony, this is as close are you're going to get. Like most viewers, I was thrilled to see the Beatles (especially McCartney) carve gems out of the improvisation and chaos that comprised a Beatles rehearsal. One morning, bored while waiting for John Lennon to show up, Paul turns random strumming into the recognizable beat and lyrics of "Get Back." Chills up the spine. Something from nothing. A magic trick. A few days later, Paul sits down at the piano and plays "The Long and Winding Road" minus most of its lyrics. We know what Paul doesn't: the words will come, and they'll be great.

Some reviews have criticized the documentary as tedious and I understand why. There are long stretches where nothing really happens. For me those stretches feel like watching a rainstorm waiting for lightning to strike. The lads eat toast, drink beer, smoke a lot of cigarettes, read about themselves in the paper, and half-ass their performances. Paul pushes, John goofs (probably high), George sulks, and Ringo bless his heart shows up on time and does his job. Then, unexpectedly emerging from the churn: genius. "Get Back." "The Long and Winding Road." "Let It Be." "Something" ("in the way she moves, attracts me like a cauliflower…"). Joyful, inspired lightning.

What the reviewers miss is that the tedium is part of the genius. Goofing and noodling and doodling is the process. My very successful cartoonist pal Raina Telgemeier once wrote that she was starting work on a new book, which "very much resembles doing nothing," and I've always remembered and loved that. You don't get the brilliant lightning without the dull gray thunderclouds.
Collin Garbarino of World News Group:
When they're actually playing together, the Beatles exhibit bursts of joy, but Get Back also reveals the band's dysfunction. And it isn't for kids. The four drink and smoke incessantly as they work, using adult language and making crude jokes.

A world-weary melancholy hangs over the group, even though they're all still in their 20s. They long for the good old days—just 18 months earlier—before their manager Brian Epstein died, and Paul reminisces about how great it was when he and John lived and wrote together. Throughout the rehearsals, Paul acts as the professional, getting to work on time and trying to keep the others on task. George finds Paul too demanding, quitting the band for a few days before returning. John swings between detachment and silliness, with Yoko Ono never more than a few inches from his side. And Ringo, perhaps more aware of the camera than the others, remains watchful and quiet.
In this documentary, there's quite a few individuals besides the fab foursome that play a significant role in this story. I didn't expect Michael Lindsay-Hogg, the director of the original LET IT BE film to play such a major role in this expanded documentary of his unused raw footage, which ultimately became the documentary of the documentary.
Carl Wilson of MSN commented on Lindsay-Hogg's role.
Michael Lindsay-Hogg — who serves as a frequent onscreen goad and even antagonist in Get Back—Let It Be has long been remembered as a dour document of the band breaking up, which is part of why they let it go out of print. In fact, that film was mainly a string of song performances, interrupted occasionally by short exchanges among the members, a few bitchy and some buoyant. It came out only after the Beatles did break up in 1970, and as a result, a whole storyline was read into it retrospectively, one it actually had no time to tell.
I truly applaud the work of Michael Lindsay-Hogg, whose visionary direction was responsible for the creation of this wonderful content that captured a unique moment in musical history. I also understand he was likely facing some pressure to get his documentary completed on time to coincide with the release of the LET IT BE album, and may not have budgeted for proper post-production services to make his film really sparkle.
Mr. Lindsay-Hogg may have provided some truly absurd ideas within the context of his documented conversations with the Beatles, but nobody in their right mind could argue that he failed to deliver some incredible documentary footage… even if took 50 years for the proper showcase.
From a technical point, I was blown away by the video and audio restoration work that Peter Jackson and his team did with all of this footage. The difference between this restored footage and the original LET IT BE footage (via LaserDisk) is literally like night and day. That being said, the really exciting stuff came from the audio restoration, in which important vocal tracks were isolated from otherwise cluttered or noisy mono recordings.
Brian Hassett wrote some details about Jackson's audio restoration..
The new MAL technology Peter Jackson & company invented making this is revolutionary — turning single track tapes into multitrack. Not only is this documentary historic because of its Beatles reveal (and an unmitigated masterpiece of editing) but it's also gonna be known to history as the film that invented an audio ability to separate tracks.

Also, if you don't know — Peter Jackson and his co-creator named it MAL — for Mal Evans! but also cuz it's M-ultitrack A-rtifical intelligence, and rhymes with 2001's famous artificial intelligence machine HAL. They would say to each other as they were editing a new section, "Let's give this to Mal."
My favorite example of this was in a little unfinished song called "There Once Was a Beautiful Girl," which has been shared for years via bootleg trading circles. Check out the raw recording, shared by Beatle archivists via YouTube. It's definitely a bit ragged.
Next, compare this with the start of Episode 3 of GET BACK, where you can hear the revised version of this song as the opening music at the 00:40 mark with the Apple Corp Ltd logo that starts the third and final segment of this documentary. Pretty wild, eh?
(No, I'm not posting video of the revised audio – You'll just have to watch the *#$@& episode)
Why isn't this little song part of the wonderful new LET IT BE 5 CD box set that I bought? It would have been a wonderful addition, and it's about the same length as "Maggie Mae."
Truth be told, I loved all the other unfinished, unreleased songs that were part of this documentary including "Mad Man," "Suzie Parker," Too Bad About Sorrow," "I Told You Before," "I Had A Dream," I'd Like a Love That's Right," and "All I Want Is You" – which was written on the playlist as one of the songs intended for their rooftop concert. As I watched the end credits, I was tickled to see all of the full names of all these unreleased songs, all properties clearly claimed with proper publishing details.
Could there be a future compilation of MAL-extracted musical elements to create a brand new "Unfinished Music" album by the Beatles? Could this in turn, lead to an "Unfinished Music Imagined" project, recycling a theme or two from some solo Beatle recordings? That would be something….!!!
On the subject of unreleased recordings, as the dedicated archivist that happens to be producing a documentary on the world's most misunderstood rock 'n' roll song, I was hoping this documentary might have included their unreleased recording of that particular song, which I found on a rare archival CD shared within trading circles..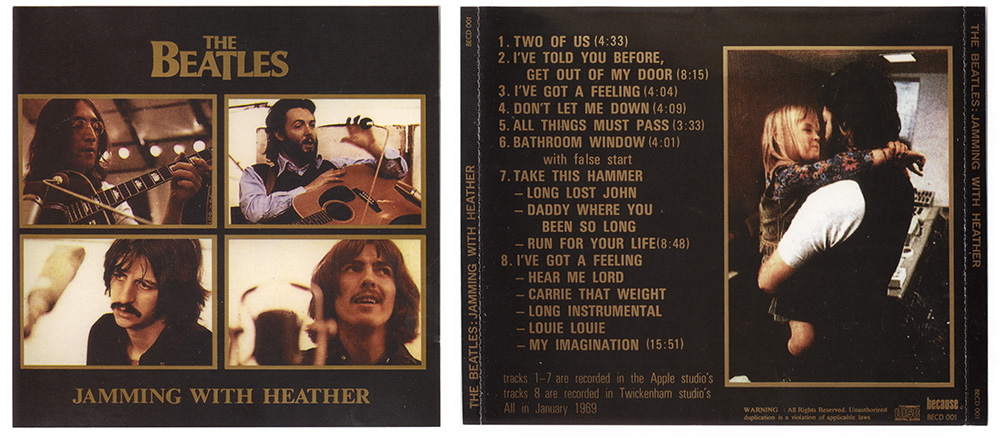 Yes, there is a version of LOUIE LOUIE by the Beatles on the bootleg CD "Jamming With Heather." It's an instrumental version that I believe might have taken place on Day 3, Monday, January 6 at Twickenham Film Studios.
In an interview with Variety, Peter Jackson discussed how his initial rough cut of GET BACK was 18 hours long, designed to be condensed into a 2.5 hour theatrical release, then reconfigured to a shorter version, while finding more great bits that were initially overlooked as they tried to shrink it down to a shorter "6 hour" program that turned out to be 8 hours.
I'm hoping somewhere in that 18+ hour cut, perhaps there might be film footage attached to their audio recording of LOUIE LOUIE.
Either way, I know I speak for a lot of people that would actually love to see Peter Jackson's original 18 hour cut. If the fans of Zack Snyder could push a campaign for the release of his original edit of the Justice League film, why not a similar campaign for the Jackson Cut?
Can we share the #ReleaseThe18hourJacksonCut hashtag?
So sayeth the guy whose life was changed by a 63 hour, 800 version LOUIE LOUIE marathon…
– E.P. of LouieLouie.nt
THREE QUESTIONS:
1) Who were all the camera operators for the day of the rooftop concert? This new documentary does credit the 1969 film crew, but it doesn't seem to identify all of the specific camera operators. Was director Michael Lindsay-Hogg also a camera operator? I thought I saw footage of him holding a film camera…
2) Whatever happened to critic Michael Housego?
3) Who were those guys that did that little jam session after the Beatles left their Savile studio?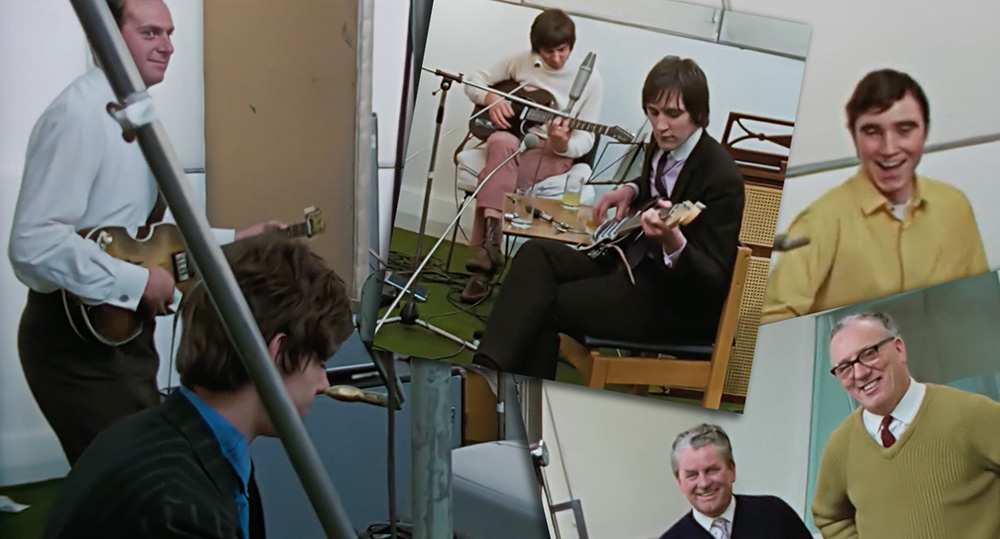 ________________
The larger-than-usual List of Reference links:
Sparks Brothers on Netflix and Official Store
Cool Daddio: The Second Youth of R. Stevie Moore
McCartney 3,2, 1- the Hulu link and the IMDb page
Tom Petty: Somewhere You Feel Free – The Making of Wildflowers
Brianland- The Beatles: Get Back — Time-Coded and Annotated – Brian Hassett's amazing reference guide!
Brian Fies on Get Back
Variety- Peter Jackson Reveals How Paul and Ringo Feel About 'Get Back – Chris Wellman
Variety – Why the Beatles' 'Get Back' May Stand as the Best Rock Doc Ever – Chris Willman
Variety- Peter Jackson Details How 'Get Back' Used Machine Learning to Restore the Beatles' Sound and Footage – Meredith Woerner
Variety- Director Michael Lindsay-Hogg on the Long and Winding Road From 'Let It Be' to 'Get Back' – Roy Trakin
Rock Cellar Magazine- The Beatles 'Let It Be' Remixed: Giles Martin, Kevin Harrington Q&As – Ken Sharp
The Guardian- The Beatles: Get Back review – Eight Hours of TV So Aimless it Threatens Your Sanity – Alexis Petridis
MSN- There's a Reason the New Beatles Doc Had to Be Eight Hours – Carl Wilson
The Spectator- Peter Jackson's Beatles Documentary Is More Mesmerizing Than It Should Be – James Delingpole
Washington Post- What I learned watching 'Get Back' – Daniel W. Drezner
World News Group- No going back – An Inside View of the Beginning of the End of the Beatles – Collin Garbarino
Guitar World – Beatles' Get Back gear: a guide to the guitars and amps seen in Peter Jackson's long-awaited documentary – Chris Gill
Things We Said Today #355 – Some Quality Time With Peter Jackson
Bootlegpedia- Jammin' With Heather
SPECIAL BONUS:
Here's a photo of the coolest Beatle bootleg I've ever seen – a beautiful 12″ album with an a special envelope that looks like it could have been an actual product sent by Apple Records!
I wonder if this was a real address?