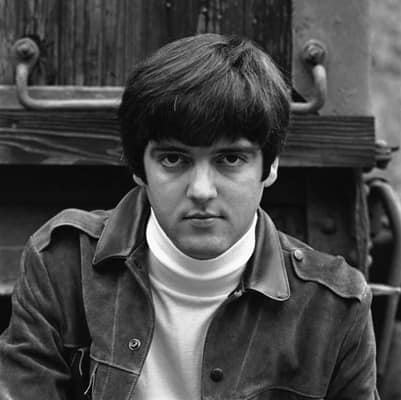 Last week we lost Keith Allison, formerly of Paul Revere & the Raiders. Like Gail Harris (of the Fabulous Wailers), I can't recall either one of them being involved with any specific LOUIE LOUIE recording, but as a member of their respective bands, I have no doubt they probably participated in some of the live performances of that song.
Here's the official word on Keith's passing, direct from his Facebook page:
Keith Allison
August 26, 1942 – November 17, 2021

It is with deep sadness we announce the untimely passing of Keith Allison on the evening of November 17, 2021, at home in Sherman Oaks, California.

Born Sydney Keith Allison on August 26, 1942, in Coleman, Texas, and raised in San Antonio. Keith Allison was a multi-talented songwriter, musician, singer and actor with a long list of credits. Keith knew everyone, and everyone loved Keith.

Keith Allison recorded and performed with some of the biggest names and acts such as Roy Orbison, Ringo Starr, Sonny & Cher, The Beach Boys, The Righteous Brothers, Chuck Berry, Paul Revere & The Raiders, The Monkees, Boyce & Hart, Harry Nilsson, Alice Cooper, Rick Nelson, The Crickets and Johnny Rivers just to name a few. He also appeared in many movies and TV shows as an actor and musician.

Keith Allison has been entertaining since the late 50's where he was in local bands and club performances with Clarence (Gatemouth) Brown, Doug Sahm, Augie Meyer performing in the Keith Allison Combo. Moving into the 60's Keith was Musical Director and Guitarist for Ray Peterson from 1962-1965. In 1964-65 Keith was a member of The Crickets along with his cousin drummer Jerry Allison.

Keith's success took off when he arrived in Los Angeles in the mid-sixties. It was at a taping for Dick Clark's "Where The Action Is" at the Whisky A-Go-Go that really put Keith on the map, when the camera panned catching him in the shot, and the audience swore Paul McCartney was at the taping. The phone rang off the hook at Dick Clark Productions, "if not McCartney, then who was that?". Keith was invited back to be a part of "Action" becoming a permanent cast member along with friends Paul Revere & The Raiders.

Keith contributed to a lot of memorable music including The Monkee's self-title debut, 'Headquarters', 'Head' and co-writing "Aunties Municipal Court" with fellow Texan Michael Nesmith on 'The Birds, The Bees, and The Monkees'. Keith played Guitar and Harmonica on Sonny & Cher's "The Beat Goes On". In 1967 Columbia Records signed and released the album Keith Allison 'In Action'.

Most notable, Keith was a member of Paul Revere & The Raiders from 1968 to 1975 on bass, guitar, organ, vocals and writing credits. Keith co-wrote with Mark Lindsay "Freeborn Man", considered one of the top bluegrass songs of all time, recorded and performed live by scores of artists.

In 1971 Keith scored the film "Where Does It Hurt?" starring Peter Sellers, as well as wrote and sung the title song. In 1974 and 1975 Keith toured with Johnny Rivers on bass and guitar. In 1976, recorded "Sail Away" with Harry Nilsson and played on Nilsson album produced by Steve Cropper.

From 1975 to 1977 Keith was on guitar and band leader for 'Dolenz, Jones, Boyce & Hart' and on Capitol Records album and live album "Live In Tokyo" while touring with them in Asia in 1976.

In 1977 Keith played Guitar on Ringo Starr's "Bad Boy" followed by 1978 as musical director for Ringo Starr's TV special "Ringo". In 1980, Keith wrote and recorded four songs for the film "The Night the Lights Went Out in Georgia" starring friend Dennis Quaid.

In the 90's Keith went on to act in several popular television shows such as "Blossom", "7th Heaven", and "The Wonder Years". In 2003 Keith played Captain James J. White in the film "Gods and Generals" starring another friend Robert Duvall.

In 2007, Keith was inducted as a member of Paul Revere & The Raiders into the Oregon Music Hall of Fame.

In 2015, Keith was inducted as an Ambassador of the Buddy Holly Foundation along with Don Everly, and was presented with a replica Buddy Holly J45 guitar presented by Jerry Allison.

In 2016, at the Surf Ballroom in Clear Lake, Iowa, Keith played guitar and sang with The Crickets for their final performance.

Since 2000, Keith has been a permanent guest member of the Waddy Wachtel Band.

Keith is survived by his wife Tina Stern of 40 years, Son Ryeland Allison, Daughters Allison Gonzalez (Husband Rob) and Brenda Meck (Husband Rich), Sister Cherri Hicks (Husband Don), Judith Allison & Don Reo, eight grandchildren Zephyr, Skyler, Gavin, Adrian, Madeline, Isabella, Makyla, Mercedes, and six great grandchildren.

A Celebration of Keith's Life will be announced at a future date.
_____
Keith was originally scheduled to appear at the Mike Mitchell memorial that took place on September 26, 2021 in Portland, Oregon. Unfortunately, he was not feeling well enough to attend this event, and sent a video message instead
This may have been the last video Keith ever shared before his untimely passing.
Here's the video of the Mike Mitchell memorial, cued up to Keith's special message at 16:34. This is actually an unlisted and not-quite-final version of the memorial that will soon be replaced, so please don't share the YouTube URL for this one, as it will be removed soon.
Our thoughts are with Keith's family and friends.
Reference Links:
Keith Allison – Facebook announcement