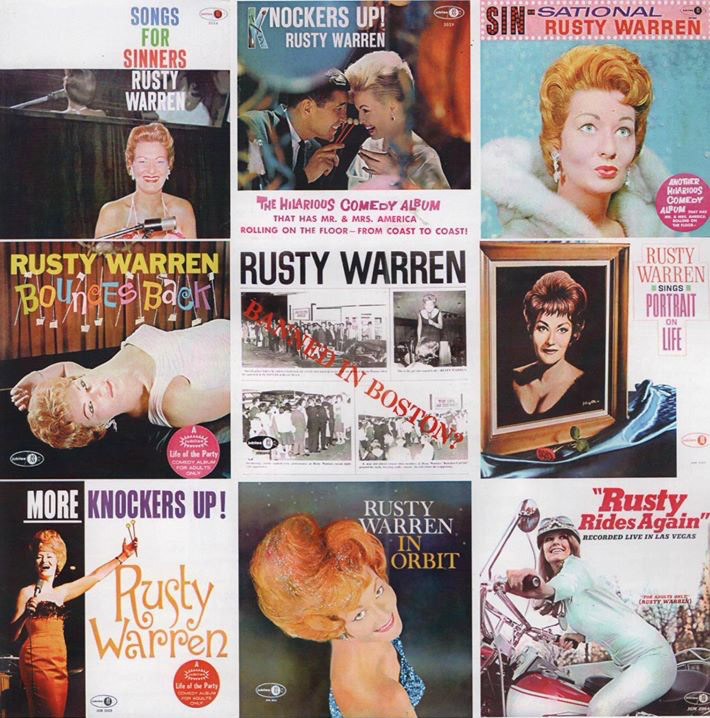 Rusty Warren, the groundbreaking bawdy female comic, died in her sleep on Tuesday morning at 91 years old.
Warren was a lounge and nightclub performer who released a bunch of comedy albums containing songs with naughty lyrics. At the height of her success, alongside such contemporaries as Lenny Bruce, Redd Foxx and others, she was breaking down comedic boundaries during the 1960s.
Like LOUIE LOUIE, Rusty Warren's success came from recordings considered naughty by the public.
Like LOUIE LOUIE, both can credit Boston for providing a proper nurturing ground.
LOUIE LOUIE became a national hit record in late 1963, thanks in part to Boston disc jockey Arnie Ginsburg, whose audience embraced the Kingsmen recording in a major way, reaching the #1 spot on the Cashbox Hit Singles chart and the #2 spot on the Billboard Hit Singles chart for a couple of weeks.
Rusty Warren grew up in Milton, Massachusetts, a suburb of Boston.
Rusty's first records were released by Jubilee Records, with such album titles as "Songs for Sinners" (1959), "Knockers Up!"(1960), "Sin-sational" (1961), "Rusty Warren Bounces Back" (1961), "Rusty Warren in Orbit" (1962) and "Banned in Boston?" (1963). Known as the "Knockers Up Gal", she has frequently been called the "mother of the sexual revolution"
To say she was part of a beautiful movement would be a serious understatement.
Reference Links:
Wikipedia- Rusty Warren