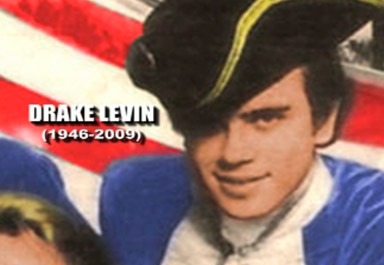 The past week has brought a lot of traffic to the website, with a lot of people paying respect to Drake Levin, guitarist with Paul Revere & Raiders that died on July 4th. Here's a few things I want to share about him:
1) Drake's widow, Sandra Levin is selling Drake's original guitar on eBay.
You can go to the eBay listing right now, and bid on this guitar, which is a vintage 1963 Epiphone Sheraton 335 guitar. This is the very same guitar Drake used during his Raiders days – on stage, on TV, and in the recording studio.
This was the guitar that Drake played with the Raiders when they played the Spanish Castle Ballroom, inspring a young Jimi Hendrix, who loved to see the Raiders, as well the Wailers play at this iconic Northwest establishment.
If are you are lucky enough to be able to purchase this guitar, you'd be owning a very special piece of rock and roll history, and all the money would go directly to his family. The auction ends on July 14th.
UPDATE: The highest bid for this guitar was $12,100.00, which did not meet the reserve, so the guitar still available.
2) There will be a memorial for Drake in San Francisco on Saturday, July 18 at the Hilton at 333 O' Farrrell Street, beginning at 6 pm. It's for family and friends, so if you knew Drake, please feel free to join us there.
3) On Monday, July 6th, there was a special tribute to Drake on the Late Show with David Letterman TV show, led by Paul Shaffer and his band. Here's what they did….
4) Finally, here's a nice little clip of Drake Levin peforming at the last full-fledged reunion of Paul Revere & the Raiders – the original core members that generated the big hits :
ALSO….
In midst of it all, I forgot to mention that Drake's dear friend and fellow Raider Phil "Fang" Volk has a webpage where you can leave comments at the guestbook. Go visit him at: