Today, April 7, 2021 is the 106th birthday of an extraordinary individual named Eleanora Fagan that became a jazz singer known as Billie Holiday. She was a music stylist unlike any other singer before her. In 1958, a year before she passed, Frank Sinatra referred to her as "unquestionably the most important influence on American popular singing in the last twenty years." Over sixty years after her passing, her legacy continues, where even rappers like Kanye West are sampling her music.
For the past few months, I've been thinking a lot about Billie Holiday. I've always been fascinated by her life and music, and was excited that she was the subject of two prominent movies that were recently released.
The first of the two films – "Billie" is a documentary built around some previously unheard audio interviews conducted by Linda Lipnack Kuehl, who was working on a comprehensive biography on Billie Holiday before her untimely death in 1978. Ms. Kuehl was a journalist and high school teacher that interviewed close to 200 people that knew Ms. Holliday. Sadly, Ms. Kuehl never finished her book, but she did some remarkable work, assembling a massive archive that included her raw interview audiotapes, as well as "police files, transcripts of court cases, royalty statements, shopping lists, hospital records, private letters, muddled transcripts and fragments of unfinished chapters." (NY Times June 15, 2005) When Ms. Kuehl died, it was under questionable circumstances. The police ruled it a suicide, but her family had reason to believe that was not the case.
Director James Erskine assembled a remarkable film with the Kuehl audiotapes, incorporating archival film and audio recordings of Billie Holiday, as well as interviews with Linda Kuehl's sister, Myra Luftman, as her sister's special journey to document Billie's life played an important role in this documentary. According to an article in The Guardian, these interview tapes were owned by a private collector, and documentary director Erskine bought the rights to these tapes, then set up with a production partnership with the Concord music group, which acquired the Billie Holiday Estate in 2012,
This film features some beautiful colorized versions of vintage black and white film footage, courtesy by reknown Brazilian colorist artist Marina Amaral, whose work was prominently featured in the best-selling book "The Colour of Time: A New History of the World, 1850-1960."
The second of the two films – "The United States vs. Billie Holiday" takes a different approach entirely, as a feature film, with totally invented dialogue and certain liberties with character development, as is the usual nature of all docudrama feature films.
It is a beautiful film. Great cinematography, superb music and excellent set design that feels historically accurate to my eyes. I'm also convinced that Audra Day, who won a Golden Globe for her acting, will likely receive an Academy Award for her role in channeling Billie. For an actress who's never done any acting before, I think she's done an extraordinary job.
I have to admit that the first time I watched this, I was frustrated by what I felt was a misrepresentation of Harry Anslinger. As someone that was somewhat familiar with his background, during the timeline of when this movie took place, he would have been a middle-aged man with over twenty years of service as the first commissioner of the U.S. Treasury Department's Federal Bureau of Narcotics. The actor playing this role did a fine job but he just seemed miscast to me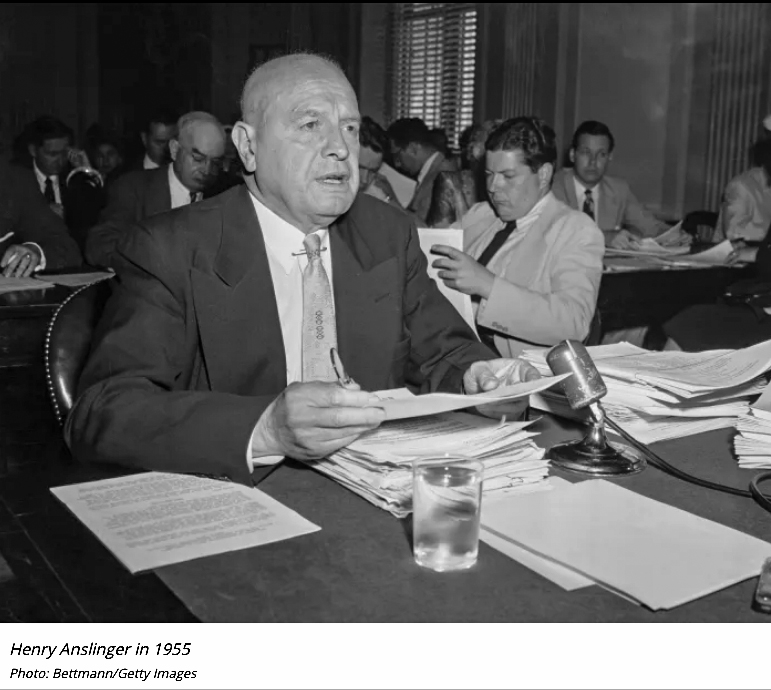 Both of these films provided powerful character studies of a woman that was both combative and vulnerable. Her childhood was a mess, as she was born into this world from an unwed teenager, raised by a cousin, raped when she was 11 years old, placed into protective custody for almost a full year as a state witness, wound up working in a brothel with her mother, before becoming a prostitute at the age of 14 years old.
Music provided her with an escape route out of that universe. She re-invented herself as Billie Holiday, borrowing the first part from Billie Dove, an actress she admired, and adding the surname of Clarence Halliday, her probable father, eventually simplified to Holiday.
She started off as a dancer that did singing, which led to a whole different career. As she played at different nightclubs in the early 1930s, her reputation grew larger and she would become lead vocalist with Fletcher Henderson's band, Count Basie and Artie Shaw before embarking as a solo career.
Billie lived a vibrant life. She had multiple lovers, 3 husbands (sometimes also functioning as managers), various recording contracts, motion picture appearances, an entourage of assistants, a handful of canines and in the course of her life, consumed a lot of drugs.
She dealt with a lot of drama in her life. She seemed to get involved with a lot of violent men. Apparently, she really wanted stability with a loving husband and children, neither of which she received.
Racism played an ugly part in her life story. At one point, she became the highest paid black female musician in the United States, but she still couldn't use public toilets at many restaurants, hotels and gas stations.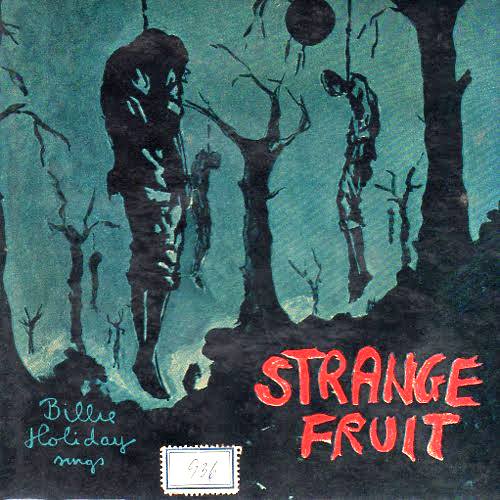 She found a song addressed the terrors of the racism that she felt as a black woman. She recorded a song called "Strange Fruit," which disturbed many of her white music fans, as well as government officials. Sometimes when she played this song in concert, she would get arrested and the audience would sometimes break out in riots.
Both of these films provide engaging stories about these aspects of Ms. Holiday's life story. Both of the films are designed for mature audiences that aren't offended by adult themes. Both of these films are highly recommended by yours truly.
At this point in time, some of you might be asking… "What does all this have to do with LOUIE LOUIE?"
Here's what I've got:
1) Both Billie Holiday and the song LOUIE LOUIE were investigated by the F.B.I.
You can read the FBI files on Billie Holiday by clicking here.
2) Both "Strange Fruit" and LOUIE LOUIE were named as the "Song of the Century"
In 1999, Time Magazine declared "Strange Fruit" by Billie Holiday as the "Song of the Century."
In 1999, Rhino Records produced a compilation entitled "20 Centuries of Hits," which I believe was the first collection that documented the most popular musical compositions of the past 20 centuries. LOUIE LOUIE was one of two songs representing the 20th century, with "Stardust" as the other song.
3) The Billie Holiday Discography is an amazing webpage
I'm in awe over the Billie Holiday Discography webpage created by Mike Lubbers. I appreciate the way this database is organized in a way that I can quickly figure how many recorded versions of "Strange Fruit" exist, with a easy means to purchase and download many of the out-of-print recordings. This webpage is an inspiration, and I hope to find a web developer that could put serious time into transforming the LOUIE LOUIE discography into something like this.
4) Billie Holiday and the Flairs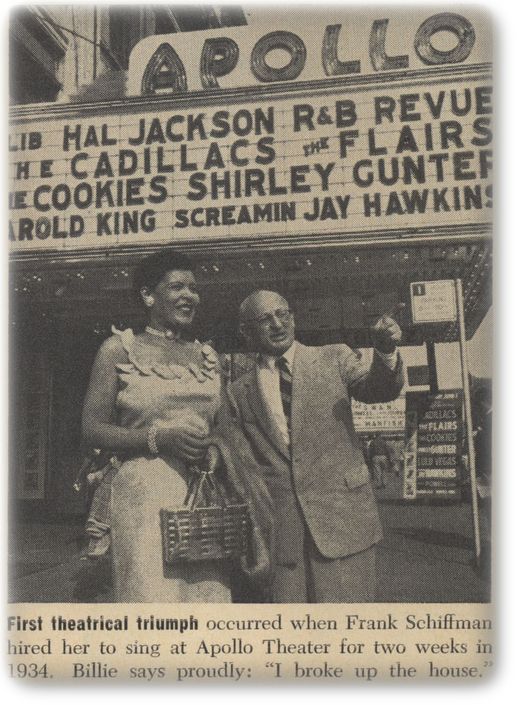 I found this interesting photo of Billie Holiday next to the Apollo Theater marquee that featured The Flairs as part of an R&B Revue. Richard Berry was a founding member of the Flairs, but had already left the band a few years before they had a week-long stay at New York's Apollo Theater in June 1956, when this photo was likely taken.
Anyways, it's been a fascinating journey as I've been discovering more about this great American musician – her adventurous life and a rich legacy of music. I'm including a larger-than-usual list of references, which includes a link to a documentary on the song "Strange Fruit," which can be viewed free of charge to anyone with a library card.
I leave you with this eerie 1939 first recording of the powerful song made famous by Ms. Holiday.
Happy Birthday Billie… wherever you are…
– E.P. of LouieLouie.net

Billie Holiday – Strange Fruit (original 1939 recording)
_________________________________________________
Reference Links:
The official Billie Holiday website
the Billie Holiday Discography- the awesome website by Mike Lubbers
Billie Holiday – Wikipedia
Billie (2019) – Wikipedia
The United States vs. Billie Holiday (2021) – Wikipedia
Strange Fruit: The Biography of a Song (a documentary by Joel Katz) – another great documentary
Collider – 'The United States vs. Billie Holiday': What's Fact vs. What's Fiction in Lee Daniels' New Biopic
Newsweek – The Story Behind 'Strange Fruit,' the Song That Inspired 'The United States Vs. Billie Holiday'
The Guardian – Singer, activist, sex machine, addict: the troubled brilliance of Billie Holiday
Vanity Fair- Good Morning Heartache: The Life and Blues of Billie Holiday – excerpts from Billie's 1956 autobiography
Politico- The Hunting of Billie Holiday– adapted excerpt from Johann Hari's book Chasing The Scream: The First and Last Days of the War on Drugs
Concord and Billie Holiday Estate Partner On James Erskine's Documentary Billie
The Estate of Billie Holiday — in many sad ways reflects her life
FBI Files on Billie Holiday
Time Magazine -The Best Of The Century (December 31, 1999)
AllMusic- 20 Centuries of Hits
_________________________________________________
* In accordance with the generous wishes of William Gottlieb, the photographs in the William P. Gottlieb Collection entered into the public domain on February 16, 2010. (as noted at the Official Billie Holiday Website- billieholiday.com)