It's the 11th day of the 12 days 'til LOUIE LOUIE 2020 Christmas celebration, and we've thinking about …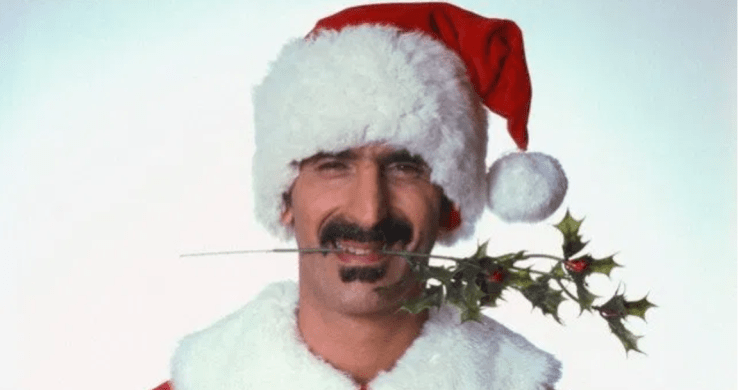 Frank Zappa
A diverse composer/performer/producer that was able to blend rock, pop, jazz fusion, doo-wop vocals and orchestral sounds into some beautifully unique music.
A brilliant cynical mind with a wicked sense of humor.
On Monday, December 21st, we celebrated his 80th birthday, wishing he didn't have to leave the party 27 years ago.
This year, we also celebrated the release of "Zappa" – the authorized documentary of Frank Zappa, directed by Alex Winter, the "Bill" of Bill & Ted's Excellent Adventures.
I really enjoyed this one – I found it to be one of the highlights of an otherwise difficult year.
Go visit thezappamovie.com for more details…
Regular visitors to the LouieLouie.net site understand the deep connection between Frank Zappa and LOUIE LOUIE…
This year, for the holidays, there's also been a brand new clip entitled "A Very Zappa Christmas" that's been assembled to celebrate Christmas!
I'll let Emily Reily of Riot Fest set the stage for this one…
As we near the blessed end of 2020, let's revisit the time Frank Zappa and the Mothers of Invention inspired some fans to combine the group's experimental music with a fragment of America's decaying pop-culture symbolism: Santa Claus. Gather 'round the computer and burn some incense—it's time to experience "Twas The Night Before Christmas" through the twisted mindset of Zappa's avant-garde song "Absolutely Free," thanks to one fan, his brother Bob, and a little help from the Yippies.

First, a little background: "Absolutely Free," from the Mothers album We're Only In It For the Money, just so happens to sync up nearly perfectly with a black-and-white short from 1946—a visual narration of the traditional Clement Clarke Moore poem "Twas The Night Before Christmas." The nine-minute short blends live action with animation, and features an uncharacteristically giddy moon, humanized eggs dancing over sleeping children's heads, and a mouse who looks more like a rat. The mashup itself—discovered nearly five decades ago—is the work of Zappa fan and Oakland, California resident Richard McQuillan (plus his brother, Bob). See it for yourself:
Reference Links:
The Zappa Movie.com
LOUIE Report – Frank Zappa and LOUIE LOUIE
YouTube – Frank Zappa Plays Louie Louie (thank you zember00!)
Riot Fest – That One Time a Frank Zappa Fan Mashed Up "Absolutely Free" and a Christmas Poem Perfectly