It's the 9th day of the 12 days 'til LOUIE LOUIE 2020 Christmas, and we're thinking about…
Rockin' Robin Roberts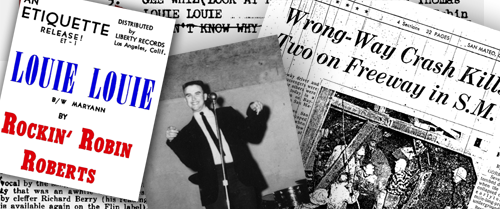 For many people, especially in the Pacific Northwest, Rockin' Robin Roberts provided the definitive version of LOUIE LOUIE in 1961. Backed by the (Fabulous) Wailers of Tacoma, Washington, this was THE version that transformed Richard Berry's composition into an extremely popular regional hit record that created the prototype for the Kingsmen and Paul Revere & the Raiders to follow.
Today is the 53rd anniversary of the tragic death of Rockin' Robin Roberts. He died in a terrible auto accident on December 22, 1967 in San Mateo, California three days before Christmas.
In 2006, I wrote a blog post entitled "Thinking about Rockin Robin, the holidaze, and lost ones," which discussed his passing and the sadness that so many of us face during the holiday season.
There's certainly been no shortage of tragedy in 2020, as so many of us have lost loved ones, and this truly has been a very challenging year.
Please remember that you are not alone in your sadness…. especially now… more than ever.
Thank you for reading this.
– E.P. of LouieLouie.net
P.S. I was reminded by my friend Stretch Riedle about our little road trip to Tacoma in August 1998. It was a day or two after our LOUIE panel at the NXNW Festival in Portland. We needed to pay a visit Robin's gravesite. It was quite a feeling to be standing in the presence of the man who helped put LOUIE LOUIE on the map forever. We honored his memory with a bottle of LOUIE LOUIE Wine Cooler, and raised a toast with our own impromptu, unrecorded rendition.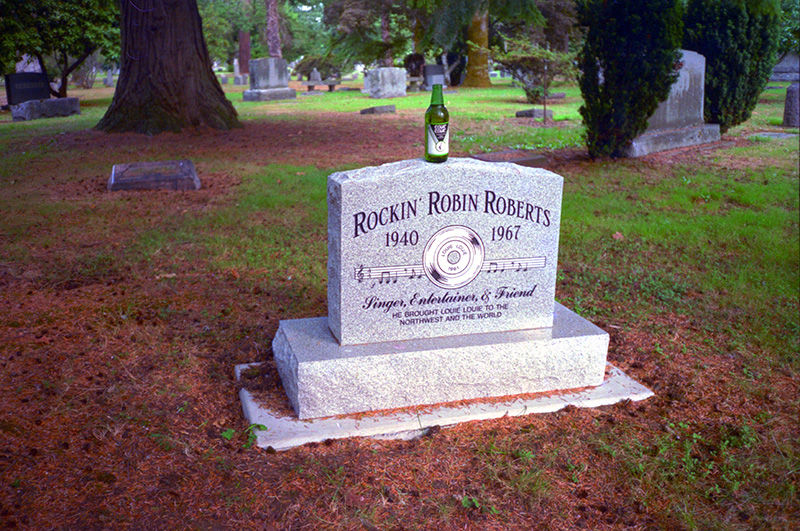 Reference Link:
"LOUIE REPORT- Thinking about Rockin Robin, the holidaze, and lost ones,"