On the third day of LOUIE LOUIE 2020 Christmas, someone gave to me…
BRYAN AND THE BRUNELLES
Bryan and The Brunelles were Barry 'Snip' Turner, Eddy Spence, Ray Goodship, John Bachini, and Bryan Burke.
A British band that recorded LOUIE LOUIE in 1965 at the legendary Abbey Road studio in London?
I had no idea such a band existed until recently…
The info-wingsofdream.blogspot.com website provided an excellent overview of Bryan and The Brunelles:
This Luton based band played lots of gigs between 1964 & 1966 covering the northern Home Counties, London and East Anglia.

The prize for winning a News of the World 'Beat Contest' was a session at Abbey Road where they recorded Jaqueline c/w Louie Louie.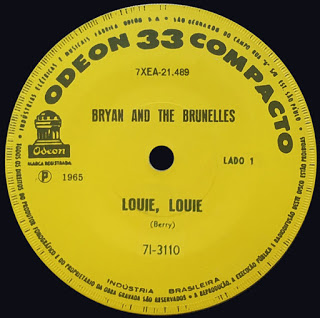 "If you want to get ahead, get a hatter', for Albert Burke, manager at one of the largest hat factories in the world at the time, became manager of his son's group, initially named Bryan And The Hangmen before settling on Bryan And The Brunelles.

After a few months, Mr. Burke decided to reorganise the instrumentation of the group – out went the rhythm guitar, in came the organ. In late 1964, Mr. Burke saw an advert in 'The News Of The World' for a beat group contest. Bryan and the boys had already made a taped demo disc, so Mr. Burke sent it off to the newspaper without telling anyone he had done it. By return post came an invitation to a recording test at E.M.I's St. John's Wood, London, studios. . ." ~ Mikey Dread
Here's a YouTube clip for their recording of LOUIE LOUIE..
… and here's a contemporary music video that was created for their flipside, "Jacqueline."
A big thanks once again goes out to my friend Zachary F. Lively, who's been posting some remarkable LOUIE LOUIEs on his Facebook page… which included this fine band!