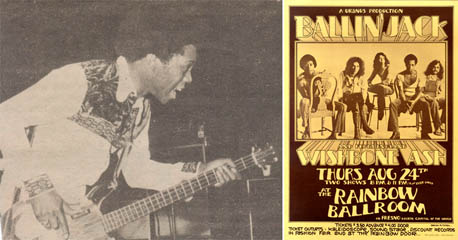 Last week, I got word that Luther Rabb, a musician who played with Jimi Hendrix in during his early Seattle days, has passed away. Luther played in the Velvetones, one of Jimi's early musical groups. Luther was also part of Emergency Exit, BallinJack (which recorded two albums for Columbia) and various other Seattle bands, later joining War and Santana.
In the book VOICES FROM HOME by Mary Willix, Luther talked about his upbringing, and his friendship with Jimmy (pre-Jimi) Hendrix:
"My father was a preacher. He also played the guitar and had some equipment. Sometimes I would sneak in and borrow his equipment. Matter of fact, one of the last times Jimmy and I talked, we were joking about how we left my father's amplifier on overnight and totally melted it. My father always joked about that."
One of Luther's childhood friends included musician Ron Hammon who moved with him to Los Angeles in the summer of 1969. The team of Luther on bass & Ronnie on drums was a solid line-up, and these two men spent the majority of their careers playing music together. Over the years they've been part of countless line-ups supporting headliners and providing a solid rhythm backbone to such legendry bands as Ballin'jack, Santana & War.
In 1986 Luther was in an auto accident that caused an injury requiring neck surgery. He recovered well and was on his feet but did suffer some lasting nerve damage resulting in minor tingling and a some loss of sensation down through his hands losing much of his ability to play bass. Life went on and he went into artist management and production work before, as fate would have it… Luther suffered a stroke and/or seizure that left him without any feeling or motion below his chest. Luther had been completely paralyzed. Seemingly simple things were impossible to do without assistance.
After four years of declining health, waiting for a miracle, Luther passed away on January 21 in Los Angeles. You can read all about his life, and order his music from the Luther Rabb tribute page created by Dancing Monica.
(thanks to Harry Blair for the intial information)