My friend Theo deGroot, owner of the the world's very first LOUIE LOUIE website, uncovered a great website about banned music, thanks to his friend Ed Pinnes.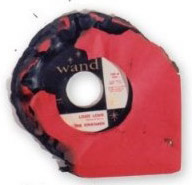 Brian Joseph Davis created a conceptual album of banned songs, providing another way to hear how the records would sound after they have actually been burned. When you go the BrianJosephDavis.com site, you can access the "Ten Banned Albums Burned" and hear these unique revisions, thanks to a really cool Flash interface.
LOUIE LOUIE by the Kingsmens is one of the featured song, and it's very unusual variation. If you can download this odd little re-mix directly as an MP3 from this page.
Here's a snippet from the website:
Celebrity semiotician Brian Joseph Davis , whose chapped book Portable Altamont offered philosophical odes to everyone from Don Knotts to Nicole Richie, offers an online gallery paying homage to 10 Banned Albums . The controversial vinyl records of yesteryear were burned by Davis, and then played, with the resulting audio available for download, or uneasy listening to accompany the original charred images. Those notorious sounds range from Stravinsky and Mahler, to "Louie, Louie" and "Me So Horny", plus mid-'80s political targets Prince and the Dead Kennedys, the thornier legacies of Muslim recluse Cat Stevens and JFK parodist recluse Vaughan Meader, and The Sex Pistols and The Beatles. Whether a Beatles LP that was only released in Canada actually made it to a Bible Belt bonfire in Longview, Texas is subject to discussion, but hopefully Davis' sacrificial torching of an ancient Long Tall Sally album, among the nine others, won't result in arrest by the copyright cops. 10 Banned Albums go on display starting Thursday (Jan. 12) for one month at the Diaz Contemporary (100 Niagara St.), part of the group show Untitled: Thoughts about sound, music, silence and confusion.