In the city of San Francisco, Geary is a major thoroughfare that runs almost 6 miles east–west, starting off downtown at Market Street, running westbound through the Civic Center area, cutting through what used to be the Fillmore district, with a majority of the street running through the predominantly residential Richmond District before transitioning itself into Point Lobos Avenue around 48th Avenue, which quickly intersects at the Great Highway, providing one of the most spectacular views ever seen of the Pacific Ocean.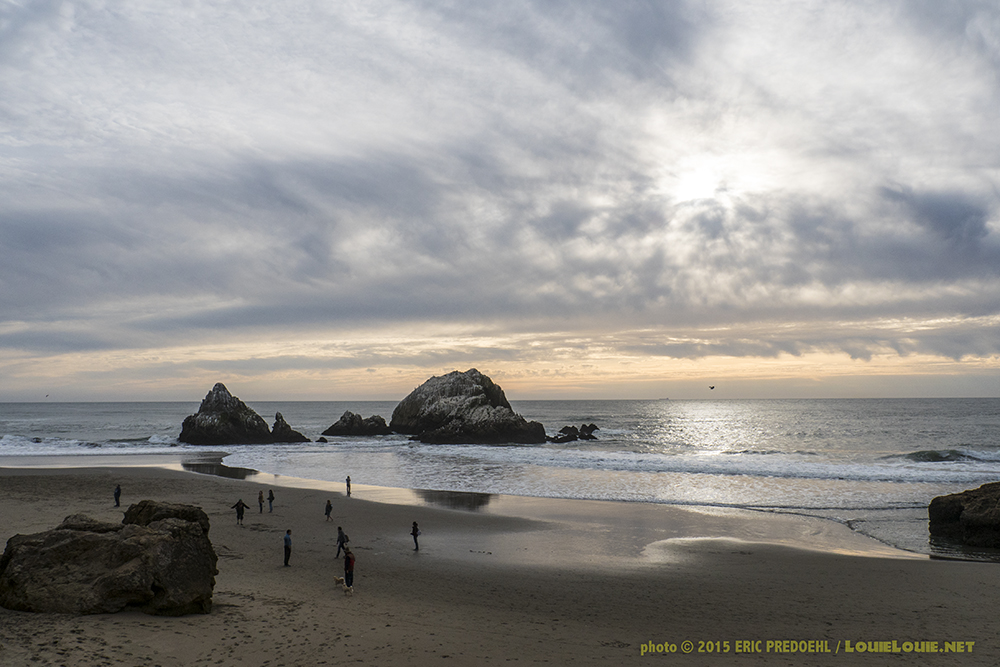 It's at this area where two iconic restaurants are located. One of the restaurants is the Cliff House, a spectacular looking building that had six major incarnations since its inception in 1858. The other restaurant is Louis' Restaurant, a rather casual diner that's been owned and operated by one family for 83 years.
Sadly, the corona virus and coordinated efforts to minimize the dangers of this mysterious disease have taken a toll on these restaurants and so many other things we hold precious.
On July 13, Louis' Restaurant announced it was shutting down permanently, having shut down on March 16th for what they thought would be a temporary closure. A few days later on July 20, the Cliff House also announced they would be shutting down, for what they hoped be a temporary measure.
This is the sort of thing that feels all too common these days, both nationally and internationally, as multitudes of businesses cannot afford to be shut down during this terrible pandemic. Nightclubs, theaters, record stores, bookstores, health clubs and so many other businesses are feeling the pain. In an environment where a business need to "swim or sink," way too many businesses are drowning.
Last year when I visited the Seattle-Tacoma area to follow up on the LOUIE documentary work, I made a point of visiting three prominent record stores. All three of those record stores – Golden Oldies of Tacoma, Rocket Records of Tacoma and Bop Street Records of Seattle have shut down within the past three months.
For many of us, record stores are the sanctuaries we visit to be amongst kindred spirits. We often find healing and inspiration in unlikely places, be it a vintage Bo Diddley 45 single or a brand new recording by some kid that just shared their masterpiece on a homemade CD being sold on consignment at a local store.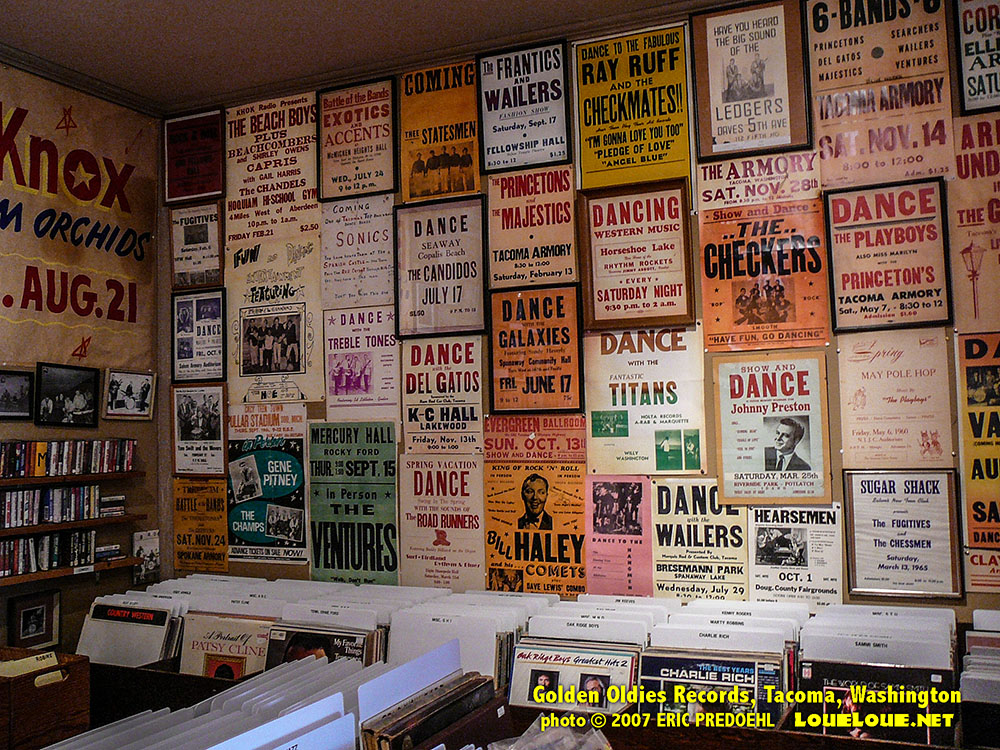 Losing Golden Oldies really hurts. Jeff's been a great friend, and has provide some solid support for the documentary project. in a perfect world i would have loved to have seen his store transformed into a museum. That being said, I'm glad he's got his eBay stores – one to sell music-related merchandise and another to sell cool pop culture kitsch.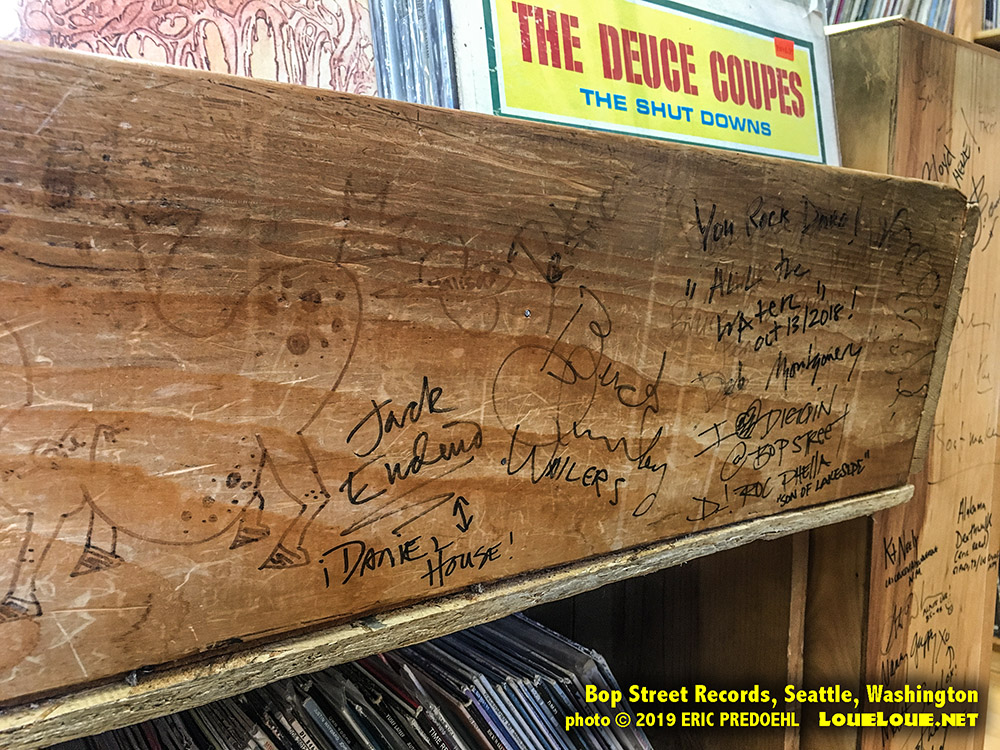 I wish I had visited this place sooner. It really was an amazing resource. My jaw more than a few times in this place.
My friend Ray Michelsen recommended this place, and I'm glad I visited it. Not did I find some wonderful quirky pop music I didn't have before, but after I told owner Steve Gaydich about my production, he donated some unique items for the project.
In addition to the restaurant workers and record stores, there's also the professional musicians, nightclub operators, and associated stagehands that we need to consider.
These folks just lost their livelihoods.
Dave Alvin shared some solid words on this very subject via his Facebook page:
In the late 60s, George Carlin had a comedy bit where he imitated a TV newsperson saying, "This just in…The big bands are coming back! Thats right folks, the big bands are coming back! There's NO PLACE for them to play but the big bands are coming back." Sadly, due to the Coronavirus, this joke could come to be a tragic reality. Not only for the remaining big bands but for rock and roll bands, blues blasters, punk shouters, singer-songwriters, psychedelic visionaries, folk strummers, honky tonk combos and just about any musical act playing whatever musical style. The huge concert arenas are owned by big corporations and they'll survive so eventually The Rolling Stones, U2, Beyonce or Springsteen will be back on stage doing what they do best. For the rest of us musicians, though, we depend mostly on small independent music venues. These threatened clubs are where the artist and audience come together in a true sense of shared community, where we can experiment, grow artistically, make mistakes or beautiful perfect noise and somehow survive doing what we love for the people we love in the venues we love. Please take a moment to check out this important group of independent venues who are fighting to keep their doors open so that when this pandemic is a thing of the past (not soon enough unfortunately) musicians can finally get back to work. Please don't let Mr. Carlin's joke become a reality for all of us.
On the NIVA – National Independent Venue Association Facebook page, there's a call for action.
The #SaveOurStages bill and the RESTART Act, if passed, would help preserve the music ecosystem in our local communities. Your favorite independent venues need your help RIGHT NOW! Help us survive, so we can once again thrive. Go to saveourstages.com and let your legislators know how important independent venues, promoters, and festivals are to you.
These are very difficult times we are living in. If you can reach out, and provide some support for those that are hurting, that would be a very good thing right now.
… and PLEASE, PLEASE PLEASE… wear a mask if you are mingling with the public.
Failing to wear mask in public merely EXTENDS the misery of this rotten pandemic.
______________________________________
Reference Links:
Louis' Restaurant – official webpage
Louis' Restaurant – official Facebook page
Cliff House – official Facebook page
Wikipedia – Cliff House
NIVA – National Independent Venue Association – Facebook page
SaveOurStages.com
Dave Alvin – Facebook message on #SaveOurStages bill and the RESTART Act