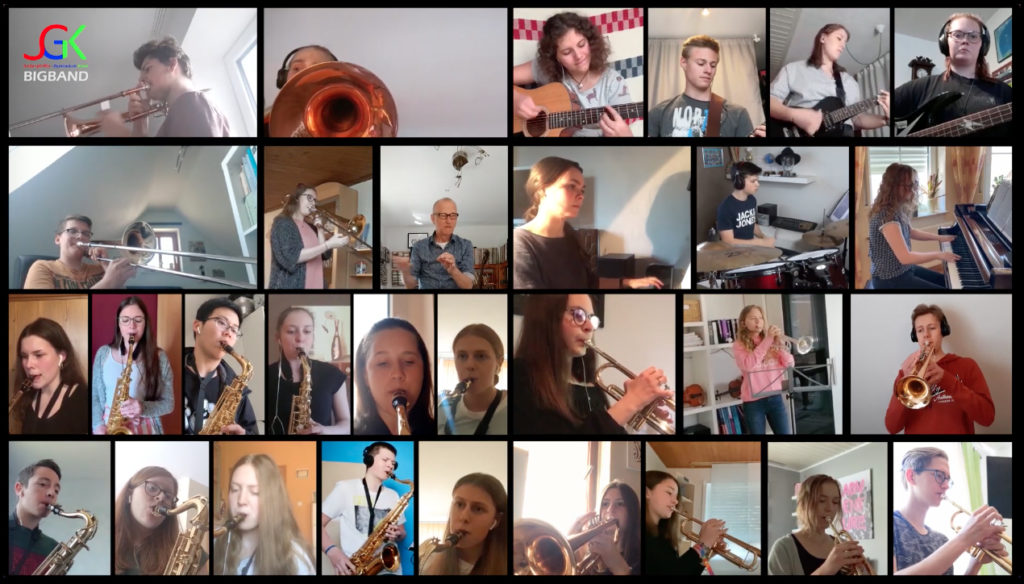 It's time for even more collaborative confinement LOUIE LOUIE recordings created during this special moment in history…
Recycled from our friend Clay Stabler's postings at the LOUE LOUIE Facebook Party, here's a follow up to last week's collection of collaborative confinement LOUIE LOUIE recordings…
____________
This first one's from Germany!
Originally posted to YouTube, Apr 27, 2020, I believe this may be the FIRST Covid-19 Confinement LOUIE!
Translated from German to English, here's their message to the world shared via the YouTube posting:
We, the BigBand of the Siebenpfeiffer-Gymnasium Kusel, are very sad that the school concert cannot take place in May as planned. In order to entertain you anyway, we have come up with something for you.

True to the motto #musicconnects #wehealthy together #stay at home
Filmfabrik Pascal Horbach ©2020
____________
Here's the second clip…

20200504 Louie Louie confi…
This one's by French group Eskirock, posted to YouTube on May 4, 2020
Here's their YouTube description, also translated to English:
We too can do like stones!
And Hop, a small confined rock …
Take care of yourself 😉
____________
The third and last one (for today) is also from France.
This one was posted on May 16, 2020
Once again, the translated YouTube description:
Collective video "at a distance" with Students of Trombone Classes from the Conservatory of the Pays de Laon, the Conservatoire du Grand Soissons and the Intercommunal School of Music of the Pays de la Serre

Charline RENARD
Érine MOREAU
Lison BRAEM
Méline DUMONT
Chloé POURRIER
Bastien BARON-ZIÉLINSKY
Eric BARBIER
Hugo GRASSET
Ivan CAREER
Julien LEGRAND
Léo DECROUY
Lorens MAUNIER
Marius MOGLIA
Nathan DESMOULIN
Nolhann JACQUELIN-DELEPORTE
Pierre-Louis PREVOT
Raphaël DELBÉ
Timéo LEROY

and their Professors
Didier BRÉVOT
Vincent RADIX

with the kind participation of
Nicolas SIMON
Conductor, Artistic Director of La Symphonie de Poche and founder of the Philharmonicoeur

Olivier DEVAURE
Bass Trombone solo of the National Orchestra of France & Professor at the C.N.S.M.D of Paris

Yohann PIOT
Percussion teacher at the Conservatoire du Grand Soissons