Lynn Easton, co-founder of the Kingsmen, whose performance of LOUIE LOUIE inspired countless toga parties, a gazillion re-recordings of the song, and an actual FBI investigation . . . passed away last week.
On Saturday, I received word via the Two Louies Facebook page that Lynn died in Toronto of a massive stroke.
The origins of the Kingmen band can be traced to Lynn Easton and Jack Ely, two kids whose parents became close friends. They met each other when they were 5-6 years old at a Christian Science church on the east side of Portland, Oregon. They lived in different neighborhoods, but spent a lot of time together, often sharing family vacations together at Jack's parents' summer cabin in Central Oregon or Lynn's family boat on the Columbia River.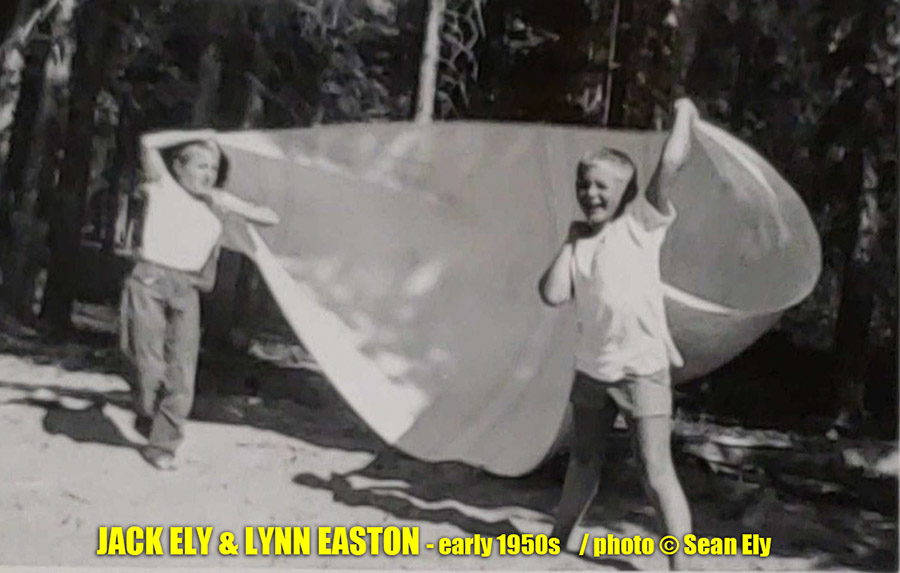 Both Lynn and Jack had strong musical inclinations. As young teenagers they were both members of children-based vaudeville groups. Jack was a member of the Young Oregonians, which was sponsored by The Oregonian newspaper and Lynn was a member of the Journal Juniors, which were sponsored by the Oregon Journal newspaper. They were both members of the bands that provided musical accompaniment for not only the singers, but also the baton twirlers, unicyclists, dancers and other assorted entertainers that were part of these vaudeville troupes.
They first began playing music together after Lynn's mom contacted Jack's mom to see if Jack was available to fill-in for a sick guitar player at an upcoming Journal Juniors performance at one of the local hotels. Jack sat in that night, playing rhythm guitar and singing on a couple of Elvis songs while Lynn played drums.
After this performance, Lynn and Jack realized they really enjoyed playing music together, and decided to start up their own band that would become the Kingsmen. Lynn enlisted his high school friend Mike Mitchell to play lead guitar, and soon afterwards, they brought in another classmate from Lynn's school (David Douglas High School), Bob Nordby, to play bass in the this new musical group.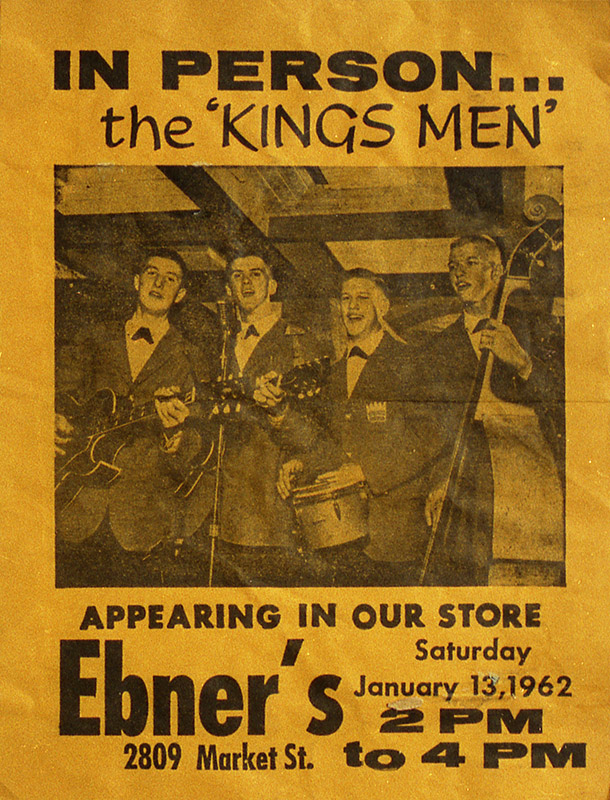 Borrowing a name from an after-shave lotion, this 4-piece band of teenage boys known as the Kingsmen came into existence in 1957. With repertoire of music that included popular melodies, Dixieland jazz and this new-fangled thing called "rock 'n' roll," the Kingsmen found themselves in a comfortable niche performing in their hometown of Portland. In an interview conducted for the upcoming documentary, Lynn described what it was like during that period.
"We were then picked up by a food brokerage to play supermarket openings and anniversaries, and our payment there was the use of an old Volkswagen van to haul our stuff, and a portable sound system, and a stage. And it was great. It was really a neat exposure for us, but… on the side of the truck, we were sponsored by… let's see… Flav-R-Pak Vegetables, Beg-Mor Dog Food, Hoody Peanut Butter, Hood River Apple Juice, and in small letters on the back it said the band… the Kingsmen. That was riding in high style. There were hardly any other bands that had a form of transportation. A couple of little tinny horns were up on top of the truck, so it was a sound truck too. It was a fun thing."
In 1962, the Kingsmen decided they wanted to add keyboards to the band, and enlisted Don Gallucci to become the fifth member of the band. At the time he joined the Kingsmen, Don was a freshman in high school, and had to quit his other band, the Royal Notes. Not long after joining the band, the Kingsmen took note of a catchy little song that was getting some serious attention in the Pacific Northwest. This special song was on a 45 single by a guy named Rockin Robin Roberts, backed by the Wailers of Tacoma, who had a previous hit record with "Tall Cool One."
That song was, of course, "LOUIE LOUIE," which the Kingsmen immediately added to their set list, which they would record, and eventually release as their first commercially available product. Between their discovery of this song, and their recording of their song, the Kingsmen became the house band at The Chase, a teenage nightclub near Portland run by Ken Chase (aka Mike Korgan), who was also a disc jockey at KISN Radio. Ken knew that the Kingsmen would be a more marketable commodity if they became recording artists, so he made plans so the Kingsmen could record that catchy little song for their first single.
The recording took place on April 6, 1963 at Northwestern Inc., a recording studio in downtown Portland owned and operated by Robert Lindahl. There was a certain degree of conflict that day, as Ken Chase wanted a certain type of sound that Robert Lindahl was not comfortable in providing. Jack Ely, as the only band member that could remember the lyrics, was the default singer of LOUIE LOUIE. By Ken's design, Jack's vocal microphone was placed on a boom pole, and Jack was forced to tilt his head, literally screaming towards the ceiling. After they finished their recording session, neither the Kingsmen or Robert Lindahl thought they had a decent recording. Ken Chase, on the other hand, was convinced he produced a great recording of the band, but still forced the band to pay for the recording fees.
A few months later, the Kingsmen met for a band rehearsal at The Chase, where they continued to perform as the house band. Some of the band members had previously talked about dissolving the band, as they were losing enthusiasm, and the crowds weren't as large as they used to be. Lynn announced that he was taking saxophone lessons and wanted to take over as the lead singer of the band. Lynn wanted Jack to become the drummer, which did not go over well with Jack. Lynn also announced that he had registered the trademark for the band in his name, rather than as a group ownership, as was originally discussed. Fed up with the big changes that Lynn installed, Jack Ely and Bob Nordby decided to pack up their equipment and quit the Kingsmen that night.
Unbeknownst to the Kingsmen, their recording was taking on a life of it's own. While their recording of LOUIE LOUIE, which was released by Jerden, a Seattle record label run by Jerry Dennon, had mediocre sales in Portland, this single found an unlikely audience on the other side of the United States. Prominent disc jockey Arnie Ginsburg of Boston, unveiled this recording on his "Worst Record of the Week" radio show, and his audience embraced the song in a major way, which in turn, trickled out to other radio markets across the county, which was acknowledged in both Billboard and Cash Box music industry publications.
Upon hearing this news, Jack approached Lynn about reuniting the Kingsmen. Lynn told his old childhood friend that the Kingsmen were still a band, and reminded Jack that he was no longer a member of the band, nor would he ever be a member of the Kingsmen. Their friendship was never the same after that incident, and for many decades, was non-existent.
As the song and the band became more popular, Lynn continued as the lead singer of the Kingsmen, which by default, put him in the virtual spotlight when the band did television appearances, which often included lip-synching to his old bandmate's lead vocals on their hit record. In response to all of this, Jack created his own version of the band, which was called "Jack Ely and the Kingsmen."
By 1968, neither Lynn or Jack were members of any musical band named the Kingsmen. After a series of lawsuits, Jack was forbidden to call his band "Jack Ely and the Kingsmen," and after touring with a band rechristened as the Courtmen, he was drafted into the U.S. Army. As part of the settlement, Lynn could no longer lip-sync to Jack Ely's vocals on any television appearances. Within a year after the legal headaches had been resolved, and the music market changed radically, Lynn decided to retire from active duty in the Kingsmen, leaving Mike Mitchell as the last original member of the Kingsmen, which is still an active band 50+ years later.
After his time with the Kingsmen, Lynn focused on a lot of other ventures, which included hosting a local TV show in Portland, working in the print industry, building special collectable clocks, and tending to his love of boating, sometimes participating as a volunteer for the U.S. Coast Guard.
My thoughts are with family and friends of Lynn Easton.
UPDATE (May 1st):
My friend Denise Lamkin sent me this cool photo of her with Lynn.
Reference Links:
Two Louies Facebook page – Lynn Easton passing
Lynn Easton's Pinterest page