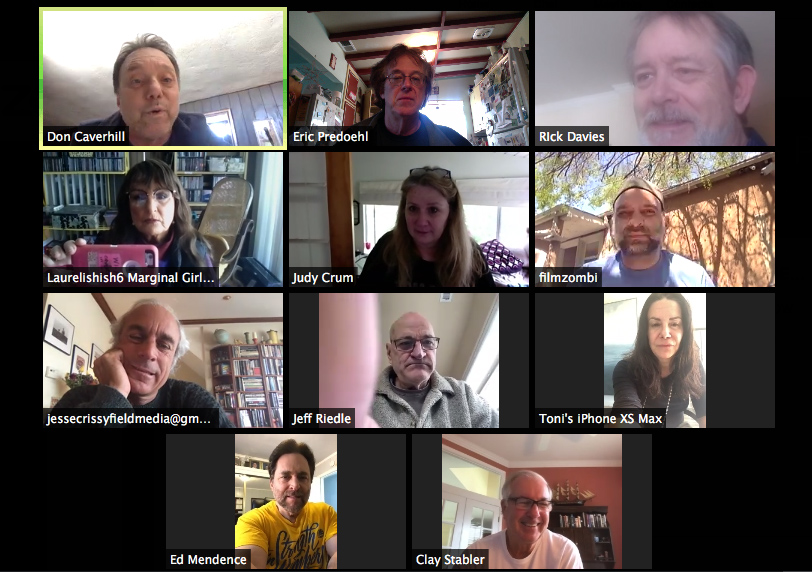 On Saturday, over at LouieLouie.net, we celebrated " International Louie Louie Day – the Quarantine Edition".. for hopefully the first and only time.
It was a challenge to find a way to celebrate this day with all the shelter restrictions in place, but we did manage to assemble a last minute Zoom teleconference / musical jam session. Having never used Zoom before, I'm grateful the software was relatively easy to figure out.
Among the participants, we had two of Richard Berry's grandkids and the original Kingsmen keyboardist.
It was a fun event, and we'll do it again sometime.
In the meantime, here's some other noted celebrations of International Louie Louie Day!
As I mentioned in previous posts, our friend Clay Stabler (who was part of this Zoom conference) has been sharing a lot of great pre-LL Day posts at the LOUIE LOUIE Party group at Facebook that I've recycled on these pages, so I'll use this opportunity to post the rest of them.
April 9 at 12:31 PM
International Louie Louie Day is coming soon! Time to count down the Top 10 "most international" versions. What defines the "most international" version? Not sure how to measure, so here's an arbitrary standard: The point of origin farthest from L.A. (where LL was created by Richard Berry) is the winner. Distance in miles to country center. Hope my geography is accurate! Here's the countdown:

10. Turkey – 6,861 (Düşgezginleri)
9. Georgia – 7,029 (Sophie Villy)
8. Israel – 7,605 (RPS Surfers)
7. Australia – 8,251 (many)
6. Thailand – 8,271 (Louis Guitar Boys, Madueli, Rats)

Countdown continues tomorrow. Here's Sophie Villy's interpretation of Iggy Pop (originally noted in The Louie Report 6/17/2014).

More on her at
https://en.wikipedia.org/wiki/Sophie_Villy
April 10 at 7:55 AM
Continuing the Most International LL countdown:
5. Indonesia – 8,359 mi (Antiseptic, HotDog, Jeruji)
4. India – 8,490 mi (Panch High – marginal)
3. Singapore – 8,769 mi (Five Boys, D'Starlights)
2. South Africa – 9,967 mi (In Crowd, Lunar 5, Mally)

Tune in tomorrow for #1.

Trivia: the point on the opposite side of the earth, the antipodal point, for every location in the continental US is in the Indian Ocean. This map shows the detail (and may give you a clue to the location of #1):
April 10 at 7:49am
And the "Most International Louie Louie" award (at 11,113 miles from South L.A.) goes to — The Dizzy Brains from Madagascar.

Their 2014 album Môla Kely has a LL version titled "Hiala Aho Zao" which translates from Malagasy as "I Will Leave" – pretty close to "Me Gotta Go" I would say.

More info on the album at

https://www.discogs.com/The-Dizzy-Brains-M%C3%B4la-Kely/release/7914021.

More info on the group at www.thedizzybrains.ml.

Here is a video of their performance at Transmusicales 2015 in Rennes, France.

.
.
.
Also celebrating LOUIE LOUIE Day was Adam Diddy Wah, who shared this post at the LOUIE LOUIE Party Facebook page on Friday:
It's INTERNATIONAL LOUIE LOUIE DAY tomorrow and y'all in for a treat! DJ Diddy Wah is doing a livestream set on Hipsville A Go Go GORILLA RADIO from 3pm-ish (GMT+1). Click on, tune in, go bananas!
hipsville.co.uk
Luckily, this livestream was recorded!
LOUIE kicks in at 4:42!
.
.
.