2019 has been a very good year for fans of Paul Revere & the Raiders music. With the recent release of Quentin Tarantino's latest feature film, "Once Upon a Time in Hollywood," which prominently features four songs by Revere & the Raiders, there's been a lot more interest in this great rock 'n roll band.
While I still haven't seen the film yet, I've been told that "Good Thing" is the song that that gets the most attention.
A few years ago during a "Record Store Day," I remember seeing a photo of Quentin Tarantino proudly holding a Paul Revere & the Raiders album.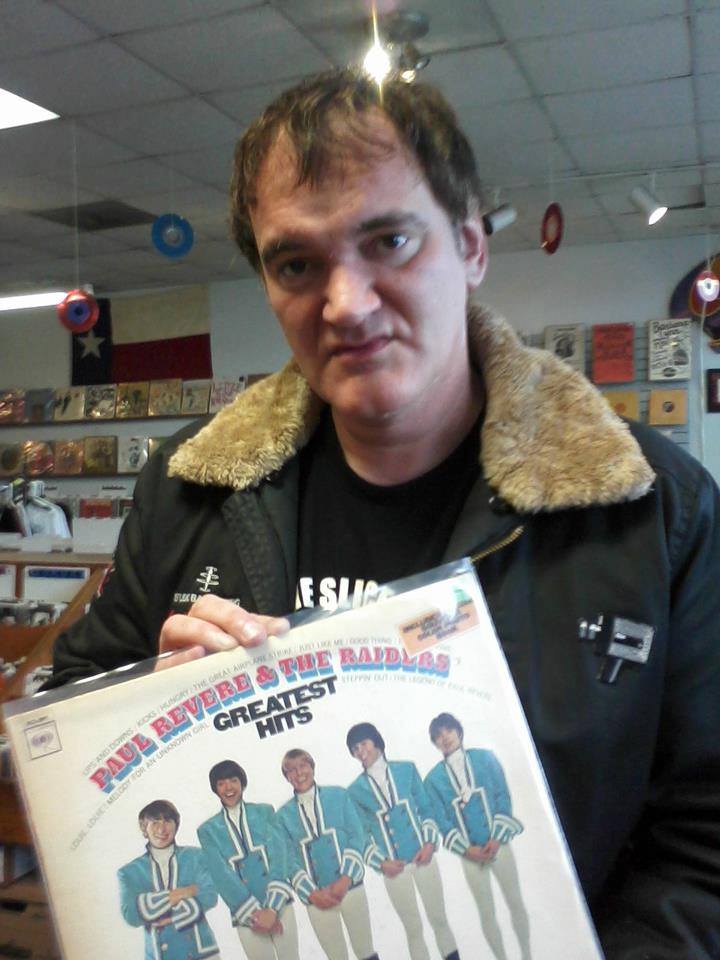 Antone's Record Shop of Austin shared that photo with an extra backstory..
Quentin Tarantino named us in his top 3 favorite record shops in the world! Thanks Tarantino, we like you too!

The soundtrack for his new movie Once Upon a Time in Hollywood features a track off of this Paul Revere and The Raiders album he bought from the shop a few years ago. How cool!
The film is a fictional film with a story line that incorporated the real life events of the tragic Manson murders of Sharon Tate and three other people in 1969. Sadly, there was a real life-connection to Paul Revere & the Raiders.
In the late 1960s, Mark Lindsay, lead singer of Paul Revere & the Raiders, shared a house with producer Terry Melcher at 10050 Cielo Drive, Benedict Canyon, CA, where they wrote a handful of songs that became hit records for Revere & Raiders. After both Lindsay and Melcher moved out of the house, director Roman Polanski and his wife Sharon Tate moved in.
Apparently, Charles Manson met up with Terry Melcher at this house, hoping to jump start his musical career. After Manson's music was rejected, He instructed some of his companions to go to Melcher's house, and kill him. When they found that Melcher no longer lived there, they decided to kill whoever was at that house at that time, which included Sharon Tate, Jay Sebring, Wojciech Frykowski, and Abigail Folger.
Mark Lindsay discussed this chain of events in a recent interview for Billboard magazine, which he described on his Facebook page as a "sobering interview" …. "about the good times and the bad times at 10050 Cielo Drive."
It was "Mr. Sun, Mr. Moon," as well as the aforementioned "Hungry" and "Good Thing," that Tarantino included in his film, which blends fact and fiction about the era, with the latter song grimly tied to the tragedy of the Manson murders. "We wrote 'Good Thing' under the beam where the rope was apparently thrown over Sharon and Jay's necks," says Lindsay, still astounded by the extreme violence. "When we heard about what occurred, it was the biggest shock of my life because that was the last place that I could ever think something bad could have happened." As a result of the murders, Lindsay notes the mood in Los Angeles was altered both drastically and permanently. "It was a pretty freaky time. Everybody was locking their doors, hiring bodyguards and getting guard dogs. It just changed the atmosphere overnight."
Mark's Facebook page shares a lot of interesting new articles about his band, which often includes updates, insights and corrections, including this little tidbit about a webpage that shared a brief history of the band:
This article was written sometime after 2014 and as these things go, is pretty accurate. If you're questioning that Paul had a partner in the Reed & Bell Drive In…it's kind of clunkily worded…but when Paul divorced Connie, she got the drive-in (her parents had lent them the money to start it)…she married "Moonie" from the band…so "Moonie" became co-owner of the Reed and Bell, but after Paul was out of it.
Both of those articles mention the Revere & Raiders recording of LOUIE LOUIE, which was a significant part of the band history.
Speaking of Raiders and LOUIE LOUIE, there actually is a brand new version of the song that was recently released by Paul Revere's Raiders – the authorized band that backed Paul Revere for over 40 years, and still going strong in 2019.
Click HERE to order the new CD. If that link doesn't work, go to PaulReveresRaiders.com and click the CONTACT button! .. or visit the official Facebook page for Paul Revere's Raiders!
______________________________
Reference Links:
Mark Lindsay's OFFICIAL (Facebook) Page For Fans
Paul Revere's Raiders official Facebook page!
Variety – Paul Revere & the Raiders' Mark Lindsay on Meeting Charles Manson, What He Thinks About Tarantino's Film
Way Back Attack (Michael Jack Kirby) – Paul Revere & the Raiders
Discogs Blog – Quentin Tarantino Is As Proud Of His Soundtracks As He Is Of His Films
The Revolutionary Hits of Paul Revere and The Raiders LIVE CD