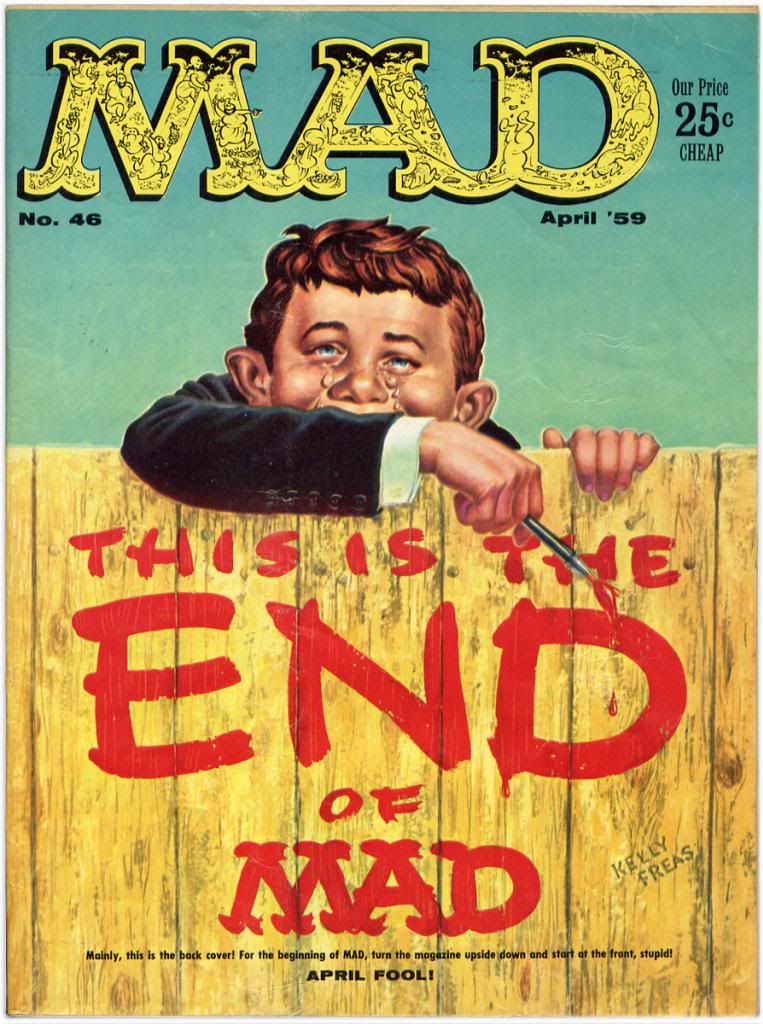 There's a lot of current affairs that have brought an excessive stream of sadness and anger, but the recent news regarding MAD Magazine really feels like a serious kick to the guts.
I've been reading all sorts of autopsy reports about the end of this iconic magazine, and it saddens me deeply. This is a magazine that I literally grew up with…. one of the things that turned me to a voracious reader.
At 1:19 am on July 4th, artist Bill Sienkiewicz shared his thoughts on this sad turn of events on his Facebook page, and I agree with every single word of this…
I hope people can understand what this means to us a nation; both as a culture and as a functioning critical society.

MAD wasn't JUST a humor magazine. It's not just the end of an era, it's the end of what constituted the perfect blend of words and pictures, of brilliance and irreverence, of some of the core aspects of what made the latter part of 20th century America great.

Some would ask, "what was so great about it?", but come on. A lot of amazing things happened during MAD's prime years, and a great great lot of awful. And a great deal of the awful – and the trippy weird euphoria- were the willing and unwilling target of MAD's legendary "gang of idiots' " barbed arrows.

MAD helped raise the GOOD Boomers. I'm absolutely serious. The ones you like and maybe even respect—MAD magazine is partly responsible: it was that important.

Print media seems to be struggling if not dying, and critical thinking has definitely gone missing at worst and online at best, albeit increasingly fractious and fragmented—If not outright suspect- by the very corporate and right wing interests that MAD used to lampoon mercilessly. (As well as, sadly- by an increasingly humorless segment of the Left.)

MAD offended -and entertained- everyone. On both-ALL- sides of the political/societal spectrum. It poked fun at our world, and made us not only think about— but ridicule and laugh at —our inherent hypocrisy , corruption , and flawed humanity. It did so brilliantly.

We need to learn the lessons MAD was teaching us. I'm not kidding. This isn't just about a magazine ceasing publication.

To paraphrase Alfred E. Neuman, " What, us worry?"

Yes.
MAD Magazine was recently relaunched with Bill Morrison as the new editor at their new brand-new Burbank office, having made the big transition from their longtime New York offices. I was really impressed with with the new direction, and had high hopes for the future of this magazine.
Then, the powers-that-be decided to fire Bill Morrison after 7 issues.
A few months after that decision, a decision was been made to kill the magazine, printing two more issues of original material, followed by a few more issues comprised of reprints to fulfill subscription obligations. After that, there will more reprints, and perhaps a few year-end retrospective annuals with some minor attention paid to current events.
I blame the clueless bean-counters of the company that recently bought out the Time-Warner empire. They clearly had no real appreciation for the legacy of this 67 year old publication.
It didn't have to end this way and I am rather angry over the recent turn of events.
I'm hoping some other company or a deep-pocketed individual with a real appreciation for this legacy will step up to the plate and liberate this iconic funny book. It really deserves better.
I really enjoyed John Carpenter's Twitter response to the current situation..
6.4 earthquake hits Southern California. God punishes us for the cancellation of Mad magazine.

— John Carpenter (@TheHorrorMaster) July 4, 2019
In the meantime, here's a LOUIE-centric except from a 1979 MAD Magazine movie parody.
This is from the Animal House parody printed in MAD magazine #19 (July 1978), featuring words by Arnie Kogen and art by Mort Drucker.
Here's an ironic in-house advertisement from an early issue of MAD, back when it was a comic book.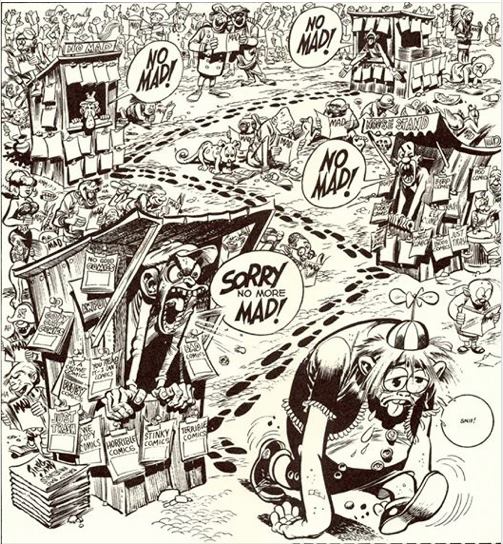 – E.P. of LouieLouie.net
________________________________
MORE ARTICLES YOU SHOULD READ…
ComicBook.com – MAD Magazine to Cease Publication
Mark Evanier – MAD Meanderings
NY Times – Mad Magazine, Irreverent Baby Boomer Humor Bible, Is All but Dead
CartoonBrew.com – Brad Bird, Weird Al, John Carpenter, Mark Hamill & Others React To End Of Original 'Mad' Content
The Daily Dot – Mad Magazine is going away, and everyone is in mourning
Rolling Stone – Mad Magazine Is Effectively Shutting Down
Wikipedia – List of film spoofs in MAD comics/magazines
Bill Sienkiewicz's 1:19am Facebook post=
Washington Post – Mad magazine's demise is part of the ending of a world
Smithsonian – In Its Heyday, Mad Magazine Was a Lot More Than Silly Jokes
AdAge – MAD Magazine To Stop Publishing After 67 Years
ComicBook.com – Mad Magazine Fans Turn to Petitions and Twitter in Last Ditch Effort to Save Publication
PLEASE SIGN THIS:
Petition · DC Comics: Save MAD Magazine · Change.org