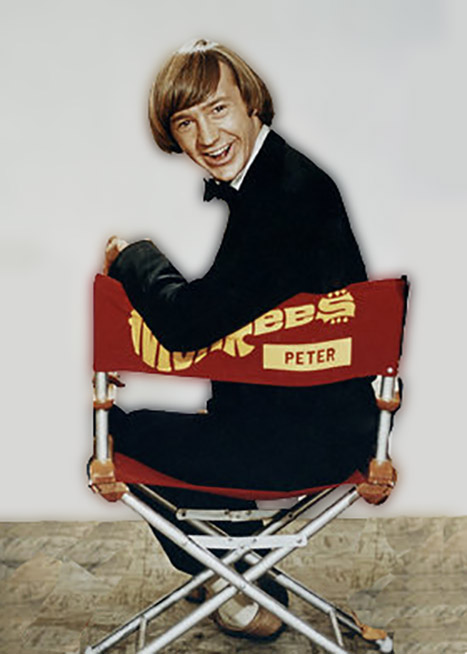 Last Thursday, we lost Peter Tork, actor/singer/songwriter of The Monkees. According to his website, he passed away after a 10 year bout with adinoid cystic carcenoma, a rare cancer of the salivary glands.
For those of us that were young 'uns growing up in the era when the Monkees ruled the airwaves, this hits close to home. We loved their goofy TV antics, and catchy pop songs that often fed some beautiful dreams. We also found empowerment with an unforgettable theme song…
Here we come
Walkin' down the street
We get the funniest looks from
Everyone we meet

Hey, hey, we're the Monkees
And people say we monkey around
But we're too busy singing
To put anybody down

We go wherever we want to
Do what we like to do
We don't have time to get restless
There's always something new

(Songwriters: Bobby Hart & Tommy Boyce)

While Micky Dolenz, Michael Nesmith, Davy Jones and Peter Tork may have originally been cast as simply "actors in a TV show," they become something much more than that.
Back in 1989, LOUIE documentary producers E.P. and J.B. did an extended road trip to witness the very first reunion show with all four Monkees at Universal Amphitheater and their Hollywood Walk of Fame induction that featured the unveiling of their official star on 6675 Hollywood Boulevard.
We shot some video of that special ceremony, and today we're sharing some of this previously-unreleased footage to pay tribute to Peter and the rest of the Monkees.
There actually is a special moment within this video that references LOUIE LOUIE, which may or may not be in the long-awaited documentary…
We're still working on that…
*
*
*
In the meantime, let's not forget the song played at the end of every episode of the Monkees TV show – "For Pete's Sake," written by Peter Tork and Joseph Richards.
Yes, the Monkees did write and perform some of their music….
Love is understanding
Don't you know that this is true?
Love is understanding
It's in everything we do

In this generation (in this generation)
In this lovin' time (in this lovin' time)
In this generation (in this generation)
We will make the world shine

We were born to love one another
This is something we all need
We were born to love one another
We must be what we're goin' to be
And what we have to be is free

(…more)
Songwriters: Joseph Richards & Peter Tork
(Both "(Theme From) The Monkees" and"For Pete's Sake" lyrics are © Sony/ATV Music Publishing LLC.