Another rock star has left the building…
Lux Interior, leader and singer of The Cramps died Wednesday morning (February 4) due to an existing heart condition, according to a statement from the band's publicist. He was 62 years old.
The Cramps were an American garage band that fused 70's punk rock with 50's rockabilly. Formed in 1973 in Sacramento, California by the husband-wife team of Lux Interior and guitarist Poison Ivy, this band moved to New York, where they became part of the CBGB early punk rock scene.
Among other things, they were considered one of pioneers of the "psychobilly" movement, performed at the Napa State Mental Hospital (released on video), provided some music for the movie "The Return of the Living Dead," and paved the way for others in the rock-horror-blues hybrid mix that also included Screamin' Jay Hawkins, the Sonics, the Dwarves, and the Fuzztones, to name but a few.
One of the songs the Cramps used to do was a song called "Garbage Man," which borrowed heavily from LOUIE LOUIE. Check out this clip, and you'll see what I mean…
One thing I loved about the Cramps was they way they embraced obscure 50's-60's rock music into their own, either as cover songs, or using a certain degree of artistic license to reinvent this type of music. I used to love to collect the "Born Bad" CD & LP series, subtitled as "Songs the Cramps Taught Us." I believe the CDs and LPs are long out-of-print, but sometimes still available via Amazon.
...
If you can find volume 4 of Born Bad, that's my favorite one of the bunch – Richard Berry's original "LOUIE LOUIE" is on this, as is Alfred E. Neuman's "It's a Gas," and a rockin' Bette Page cover graphic.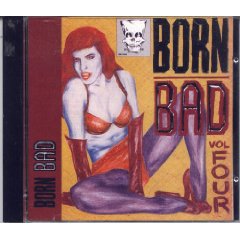 That being said, this Born Bad collection is for dedicated collectors only. You'll hear higher quality audio on compilations assembled by Ace and Rhino, which tend to use the original tape masters, as opposed to some guy with a great record collection.
Thank you, Lux Interior, for shaking things up in the music universe!
Here's some other links to explore on the subject of Lux Interior and the Cramps.
MTV News obit
Rolling Stone obit
Los Angeles Weekly obit
The Daily Swarm obit