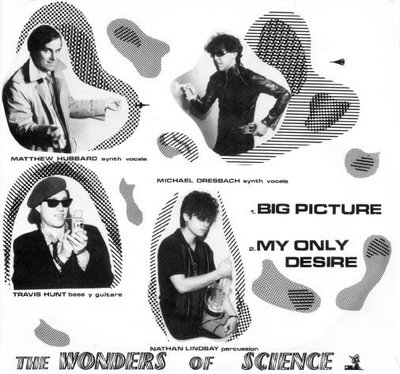 I am having some fun with this blog of mine. I get to write about what I want, and re-connect with old friends. Here's an email / comment that fell into the E.P. mailbox:
It's me, Michael Dresbach, formerly of The Wonders of Science and A Cruel Hoax. I came across your blog while looking for Louie Louie info.
I'm an Episcopal Priest living in Panama now.
Check in some time.
Hey, what ever happened to that Louie Louie documentary you were working on oh so many years ago? I remember shooting footage of me wandering down First Street singing Louie Louie after a gig at Marsugi's.
Alas, I don't remember shooting any footage of Michael walking down the First Street, singing LOUIE LOUIE. That doesn't mean that I didn't do it, or don't have the footage… I simply don't remember it. I do have a lot of video footage.
Michael was in a band that performed at the KFJC marathon, which Michael writes about it in his Padre Mickey's Dance Party blog:
Way back in August of 1983, Matty Boy and our band, The Wonders of Science participated in the Louie Louie Marathon at KFJC, the radio station at Foothill College in Los Altos Hill, CA. I produced three versions in the TWOS lab in my basement, and we performed this live medley on the air. My brother-in-law at that time, Uncle Kenny, was roadying for us. He plays the trumpet. At that time he was playing with the Oakland Symphony and the San Jose Symphony. He found someone with a trumpet and jammed with us. It is pretty much a Ska version of the World's Greatest Drunken Rock Song. I believe that this is on The Wonders of Science cd for sale at Matty Boy's blog Lotsa 'Splainin' 2 Do. All the Cool Kids have a copy of that cd.
So yes, there is a CD that you can order of this fine performance, courtesy of Matty Boy (aka Matthew Hubbard. Here's the official word from Matty's own Lotsa 'Splainin' 2 Do blog.
After the urging nearly dozens of people, (ten people is nearly a dozen, right?) your humble servant here at Lotsa 'Splainin' 2 Do, in cooperation with our foreign money mogul friends at Padre Mickey's Dance Party, present the kickoff of Shameless Commerce™! Yes, merchandise will be plugged here, and if it sounds interesting to you, you must send money to me, and I will give you said merchandise!

Yes, I found it an odd idea as well. But from what I hear, all the cool kids are doing it already!

The first available item: The Wonders of Science CD! You get fifteen original songs written by Matty Boy and/or Padre Mickey, and an extended live jam on Louie Louie (with verses of La Bamba and Twist and Shout thrown in for good measure) from the KFJC Louie Louie marathon. The original author of the song, Richard Berry, and the lead singer for the Kingsmen, Jack Ely, also were at this shindig, and they opened for us! (Facts true; timing coincidental.)
Yes, it is true…. Richard Berry & Jack Ely did indeed open for the Wonders of Science …. or something like that. Unfortunately I did not shoot any video footage of the Wonders of Science performing at the marathon because I was too busy yacking with Richard & Jack after the big 45 minute jam.
Anyways, it's great to see more folks come out of the woods to say "HIYA!" With any luck, maybe we'll be able to get some of the KFJC marathon survivors to help us figure out some of the Unknown LOUIE LOUIEs….