I'm exhausted from two days of the LOUIE FEST. I met a lot of old friends, and new friends, including many I've first met via the web. When I get more time, I'll be posting more photos, and possibly even some video links.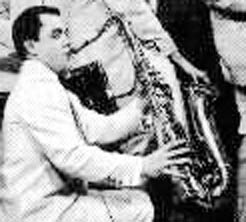 The sad news of the event was hearing that Mark Marush, the original saxophone player of the Wailers, passed away recently. I don't have a lot of information about his death, or even what he's been doing all these years, but I've been told that he died in Aberdeen, Washington.
I never had a chance to interview him, unfortunately. He was the original sax player on the 1961 version of THE SONG by Rockin' Robin Roberts and the Wailers, which was a major influence on The Kingsmen and Paul Revere & the Raiders.
By all means, if you have any Mark Marush memories, please feel free to leave comments on this blog as means of remembering him.