This month, there's going to be a lot of great activity in the LOUIE LOUIE universe. Anticipation is building for Wednesday, April 11- INTERNATIONAL LOUIE LOUIE DAY!
Over at LouieLouie.net central, we're brainstorming all sorts of different ways to celebrate LOUIE consciousness, have some fun, and maybe raise a few extra dollars to finish this monster-sized documentary that I'm trying to give birth to . One night in a moment of inspiration, I came up with the idea of offering special LOUIE LOUIE messages over the telephone, featuring a bona-fide LOUIE LOUIE celebrity!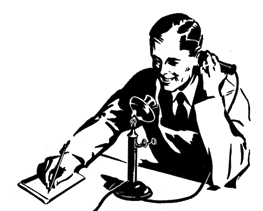 So, for the month of April, we're going to try a little experiment with this concept by offering special LOUIE-grams sung live by Jack Ely, the original vocalist for the Kingsmen. The voice that sold millions of LOUIE LOUIE records can be hired to deliver a very special message with an absolutely unique live greeting! Imagine the iconic voice of LOUIE LOUIE delivering a Happy Birthday greeting, a Get Well wish, a Happy Anniversary, a Happy Divorce celebration, or any other happy greeting!
This month, you will be able to order these LOUIE-grams at the price of $40, available to any adult with a Paypal account. Half of the proceeds from these LOUIE-grams would be used to finance the long-awaited documentary.
Here's the terms:
1) The greeting itself will be rather short, something along the lines of ….

"Hi, is —- there? This is Jack Ely, former vocalist of the Kingsmen, with a special LOUIE-Gram for you! Your friend — wanted me to wish you a Very Happy Birthday and sing you a little bit of LOUIE LOUIE!"
(Jack would sing LOUIE LOUIE for maybe 30 seconds)
"Thanks, —-! I hope you have a great day… me gotta go now!"

2) If the intended person is not home to personally receive the message, then the LOUIE-gram message shall be left on voice mail/ answering machine.

3) Messages would be scheduled at least 24 hours in advance, and would take place approximately between 4 pm -6 pm Pacific Time. Phone calls would take place within the United States, unless special arrangements are made.

4) All payments will made via PayPal.

5) LOUIE-Grams are not meant to be used for interviews about the history of the band, nor are they designed to provide complete renditions of the song. It's strictly designed for light entertainment.

6) Recordings of Jack's voice cannot be used for any other project other than the actual LOUIE-Gram without prior consent. Commercial uses of any recordings without written consent is strictly forbidden.

7) Jack has the right to refuse service to anyone for any reason, in which case the fee would be refunded.

8) Orders must include:
Name of person receiving LOUIE-Gram (tips for proper pronounciation would be appreciated)
Name of Giver
Phone number for the LOUIE-gram
Preferred time for LOUIE-gram

9) If someone has a special request for international calls, a complete rendition of the song, or LOUIE-Grams after April 2007, then special arrangements must be made.
By the way, I am having some problems with the PayPal interface, which keeps adding a $3.00 shipping charge that is unecessary. Bear with me as I figure out this PayPal shopping cart stuff. You can also send Paypal payments to "LOUIE" at LouieLouie.net.
If you have any questions about this very special offer, drop me an email.
Just to give folks an idea of what Jack Ely sounds like when he's not accompanied by a band, I've decided to post a video teaser from the upcoming documentary. Here's an exclusive video clip of Jack Ely singing LOUIE LOUIE… to one of his horses!
.
If you cannot see the YouTube preview image, click HERE.