SEPTEMBER 2001- PART THREE
by Eric Predoehl
first posted September 17, 2001 (all rights reserved)
THE TOP 11 AND MORE...
THE VOICE OF THE PINK FINKS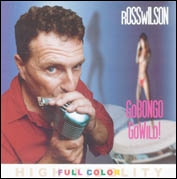 Before I bring up the top eleven LOUIEs of Mid-2001, I'd like to let you know about Ross Wilson. You might be asking yourself, "Just who is Ross Wilson, anyways?" In his press package, I quote:
"ROSS WILSON is probably the only person in Australian rock music who can't make a comeback - simply because he's never been away.

In a career that spans over 30 years, Ross has always been active. Either as a singer/performer, songwriter, or producer, Ross has managed to remain one of this country's most respected artists. ....."

"Ross Wilson has come a long way since 1964 when he fronted The Pink Finks, a schoolboy R&B band. They recorded 'Louie Louie' a bona fide garage record and possibly Australia's first independent single. The disc charted in Melbourne leading to a record deal & 3 more singles being released, while he was still at school!"
Ross just came out with a new CD entitled "Go Bongo Go Wild!" It's a catchy release, and I especially like the title cut, which mixes rock and roll with something of a bossa nova beat. While there is no new rendition of LOUIE LOUIE on this release, it's music worth hearing. And if, that weren't enough, a new retrospective 2CD collection 'Now Listen!' is scheduled for release Nov 5, featuring a re-mastered version of the Pink Finks 'Louie Louie.'
You read more about Ross Wilson at:
http://www.rosswilson.com.au/
http://www.chaosmusic.com/shop/artist.asp?artistID=223397
http://www.cdbaby.com/rosswilson
The TOP 11 LOUIE RUNDOWN of Mid-2001
Like clockwork, I continue to find new recordings of LOUIE LOUIE, or in some cases, they seem to find me. I suppose when someone dedicates a big part of their life researching information for a comprehensive documentary on the song, and then creates a titled "LouieLouie.net," it would be perfectly natural to stumble across new recordings on a fairly regular basis. Here are the Top 11 recordings of LOUIE LOUIE that I've stumbled across, or somehow re-embraced within the last 12 months.
Why 11 versions? It's better than 10! This one goes to 11.
#1 DAFFY DAVE- GIT DOWN & FUNNY!
How I discovered the Daffy Dave CD is yet another example of goofball synchronicity in the LOUIE universe. My friend Stretch Riedle, one of the original orchestraters of the KFJC 63 hour "Maximum Louie Louie" marathon that inspired me to produce the ever-challenging LOUIE LOUIE documentary, happens to be an owner of a record store in Palo Alto, California. Now, Stretch usually has a very precise eye for LOUIE LOUIE related items, as he continues to expand on his collection, the largest known assortment of LOUIE LOUIE recordings in the world. Every used record, CD, and cassette that comes into the store is carefully scrutinized for performances of the song "LOUIE LOUIE." He's discovered some truly amazing renditions, and is the only person I know of that actually has a tattoo on his body with the phrase "LOUIE LOUIE." How I pulled one over on him in his own store is truly amazing!
CD Land is a modest little store in Palo Alto, located a few miles from Stanford University. One day, I happened to be browsing around areas in the store that I don't normally visit. I don't know why I looked in the children's section, as I have no children (that I know of), but I happened to be in that area, and I found a CD by a guy named "Daffy Dave." Thinking that this CD might be a tribute to the talents of the late, great Mel Blanc, I take a look at the song list, and find a song called "Pharaoh Pharaoh." Sure enough, my intellectual antenna goes off, as I recall some correspondence that mentions a religious re-write of LOUIE LOUIE to embrace Christian theology. Up until now, I've never seen a recording of "Pharaoh Pharaoh," and I'm thinking "This can't possibly be what I'm thinking it is, certainly not in Stretch's store?"
So, I ask Stretch if there's an open copy of this release by this guy, who's actually a local performer, and luckily, there's one behind the counter for in-store-play. I plop the little silver disc into a listening station, and sure enough, I hear a familiar set of three chords. Credited as a traditional song by "Richard Perry," I've stumbled onto yet another version, completely by accident. While some folks have written to tell me of "Pharaoh Pharaoh," this is the first time I've ever heard an audio recording of this inspired rewrite.
This release by Daffy Dave, entitled "Git Down & Funny!" is an eclectic assortment of songs and stories for children of all ages. In addition to the new variation of LOUIE LOUIE, there's also a rendition of the Talking Heads' "Psycho Chicken," Lead Belly's "Cottonfields," and some songs about twinkies, candy bars, nursery rhymes, and Elvis. You can get your copy by accessing Dave's at http://www.daffydave.com.
#2 THE BLUESCASTERS- BANNED IN SOHO
How I discovered this recording is one of those goofball moments in time where everything in the universe just seems to make perfect sense. In October 2000, I was in London with MEANING OF LOUIE co-producer Jesse Block as part of a video production team for the "Next 20 Years" technology conference. After we finished our assignment, we spent a few days exploring this wonderful city that neither of us knew. While we were in town, I made a point of contacting Ace Records, as I had been in contact with that company to set up an arrangement where they might be able to pick up the Flip Records catalog, and I would be able to use the original recordings in my documentary. On October 4th, we visited the offices of Ace Records, and discovered that they did indeed complete the deal to purchase the Flip Records estate. As luck would have it, I was able to inspect the original tape master of Richard Berry's original recording of the song that changed the world. Who would have ever guessed that I'd be in London, holding the original master for this song, some thousands of miles from the recording session in Los Angeles? Certainly not me!
That evening, Jesse and I wandered the streets of Soho, and stumbled across a little nightclub known as "Jazz After Dark." The band for the evening was a local group called The Bluescasters. We decided to pay a modest admission to see what type of talent was at work in the heart of London. As the band had just taken a break, I decided to take a look at what type of product the band might be selling. I'm looking at the song selections on their CD product, and I happen to discover LOUIE LOUIE as track #10, wedged between songs by B.B. King, Otis Rush, Peter Green, and Jimi Hendrix! I'm absolutely amazed at this synchronicity, and I strike up a conversation with Ray Nash, the lead singer and guitarist for the band. As it turns out, he actually discovered my webpage while preparing for this CD, and decided to record the song soon after! As the band returns to the stage, they perform a special selection, dedicated to their new friends from America! That night, I continue to pinch myself, and confirm that indeed, I wasn't dreaming after all.
The CD is actually pretty good. You can order the CD at http://www.thebluescasters.com, and get your own copy. Those embarrassed by the sexy cover can order the plain cover edition.
#3 THE ALARM CLOCKS- YEAH!
Norton Records is truly an oasis of great sounds amidst the sea of mediocre product masquerading as music. Created by Billy Miller and Miriam Linna, publishers of the late, great KICKS magazine, Norton Records has provided a safe haven for obscure rhythm & blues, forgotten garage rock, and greasy love ballads. Digging into the past, Norton has uncovered another treasure chest of golden garage gemstones with the release of The Alarm Clocks "Yeah!" album on both compact disc and precious 12" vinyl. Labeled as "savage 1966 Ohio garage raunch," this collection features 12 great tracks, including one inspired rendition of THAT SONG. While you really should be able to obtain this recording at your friendly neighborhood record store, it might be easier to order it directly from Norton, whose website is at http://www.nortonrecords.com.
#4 SUB-MERSIANS- RAW LOVE SONGS FROM MY GARAGE....etc, etc...
My friend Stretch is truly a LOUIE-aholic, and this CD reaffirms this addiction. Not satisfied with merely collecting LOUIE recordings, he often records the song with different bands. In 1987(?), he was a member of The Shockwaves, a popular San Francisco Bay Area surf band that appeared on Rhino Record's "Best of Louie Louie- Volume 2." Returning to the scene of the crime, so to speak, he's got a new surf band known as the Sub-Mersians that continues the tradition with a new rendition of the song. On a CD with the rather lengthy title of "Raw Love Songs From My Garage to Your Bedroom to Save the Cave Train," is a recording of that song, with the altered title of "Crack Louie." Don't ask me why he retitled this way he did, but if you act now, you'll be able to obtain a copy of this rather limited CD release. Available exclusively at his CD LAND retail store and local performances, you could probably order a copy from Stretch if you ask him nicely by sending an email: [email protected]
#5 SEASONAL FAVORITES- VOLUME 1 (EBENEZER SCROOGE APPRECIATION SOCIETY)
There aren't too many Christmas songs that utilize the LOUIE LOUIE melody, and until this one came out, the only other one I could think of was "Christmas Christmas" by Mojo Nixon, which appeared on the Rhino Records collection "Punk Rock Christmas." On a Christmas compilation from Double Crown Records, entitled "SEASONAL FAVORITES- VOLUME 1," there's a hodge-podge surf medley combining "Hang On Sloopy," "Louie Louie" and "Rudolph the Red-Nosed Reindeer." The end result is something called "Hang On Rudolph," credited to a band known as the EBENEZER SCROOGE APPRECIATION SOCIETY. Those that like their LOUIEs shaken AND stirred, will love this mutant mix of songs. Some of the other bands on this compilation include Girl Trouble, Jon & the Nightriders, The Neptunas, The Boss Martians, and a bunch of talented rockers. You pick this one up by logging onto the record label site at http://www.dblcrown.com.
#6 SPECTRUM- PLAYS THE BLUES (aka "SPILL")
From the other side of the world, we were treated once again to yet another rendering of the song. For over thirty years, Mike Rudd & Bill Putt have been a part of the musical heritage of Australia, performing in such bands as Spectrum, The Indelible Murtceps, and Ariel. Reuniting in 1995, after a ten-year hiatus, Mike Rudd & Bill Putt re-assembled as a duo, which led to a reunion of their original band, Spectrum. Revisiting the music that inspired them, they released an album entitled "Spectrum Plays the Blues," aka "Spill." With guest appearances by other famous Australians, including Colin Hay of Men At Work, Spectrum assembled an album of originals, blues classics by Wilie Dixon, Robert Johnson, Howlin' Wolf, and one very popular party song known as "LOUIE LOUIE." Like the Bluescasters, this rendition of the song treats the song as a blues song, performed with non-American dialect. You can order their CD directly from the band by sending an email to: [email protected] or [email protected].
#7 THE GEL CAPS- TAKE TWO
When Richard Berry began his recording career, he started off in a little vocal group that was formed at Jefferson High School in Los Angeles, California. The year was 1953, and all five members were 16 years old, attending their third year in high school. That group became the Flairs, which also featured Cornelius Gunther, Obie Jessie, Thomas Fox, and Beverly Thompson, which turned into one of the successful DooWop groups from the Central Avenue region. Four years later, Richard decided to stretch beyond his DooWop roots with a Calypso-inspired rocker that he put on the flip side of his release of "You Are My Sunshine." That song was, of course, "LOUIE LOUIE."
Over 40 years later, a Michigan acapella group known as The Gel Caps decided to bring "LOUIE LOUIE" back to it's DooWop roots with the release of their album "TAKE TWO." Embracing the spirit of DooWop music, The Gel Caps recorded their version of Richard's famous LOUIE, along with some inspired renderings of songs by the Beatles, Frank Zappa, and Clarence Carter, among others. You can order a copy of this charming release by logging onto their website at: http://www.thegelcaps.com.
#8 JOHN RENO- TOTAL RENNOVATION
It's always nice when someone sends me new LOUIE, and I'll have to thank Art Perry of WKHS FM <http://www.toad.net/~wkhs> for providing me with some info about John Reno. John Reno is a musician that works in Calypso/Limbo/Jimmy-Buffet-style of rock, and was actually named as "One of America's Hottest Acts" by Campus Activities Today, an important organization, I'm sure. He put out a CD titled "TOTAL RENNOVATION" that features THAT SONG, and other great party songs. As with most of the artists mentioned, John also has a website which is simply: http://www.johnreno.com.
#9 THE NEW ORIGINAL SONIC SOUND
When I attended the pre-grand opening of the Experience Music Project of Seattle last year, I was blown away by a cover band known as The New Strychinies. Embracing the hard-edged sound of the original Sonics, this group is a who's-who of later-day Northwest Rock, featuring Scott McCaughey of The Young Fresh Fellows, Bill Henderson of Girl Trouble, Tom Price of Gas Huffer, and Steve, Mark and Dan of Mudhoney. As the Sonics will probably never reunite for any public performances, this group provided a nice tribute that embraced the raw sound of the originals. According to Barry Curtis of the Kingsmen, who I ran into that night, these guys sounded just like the real thing.
I wish I could tell you that The New Strychinies would be embarking on a major tour to bring "The Witch"," Psycho," "Boss Hoss," and other great Sonics songs to the masses, but I'd be a liar if I said so. This particular band is pretty much a Seattle-based band created just for fun. Luckily, these guys did record a superb CD that captures the essence of their rather limited engagements, produced by Kurt Bloch of The Fastbacks. The final song on their CD, entitled "The New Original Sonic Sound," is of course, "LOUIE LOUIE." On this particular rendition, the spirit of the Sonics is recycled, with some extra lyrics borrowed from the Black Flag rendition that asks the rhetorical question "Who needs love if you got a gun?" This CD was released by the BOOK RECORD Company, which claims to use the www.bookrecords.com webpage, but I had absolutely no luck accessing this site.
#10 PHIL MILSTEIN on AMERICA THE BEAUTIFUL
My friend Phil Milstein is a man that loves music of an unusual nature, and his interpretation of the song, titled simply "LOUIE," is a very creative rendition that defies most of the normal rules of music. Some folks would probably think that Phil's version isn't really music, but noise personified. I, on the other hand, absolutely love his mutant mix of the song that lumps a bunch of LOUIE LOUIEs into a dense wall of orchestrated chaos. In 1994, RR Records was assembling a compilation that celebrated the theme of "America the Beautiful," and they asked Phil, as well as Negativland, Neil Hamburger, Lee Renaldo, Goosewind, Vampire Rodents, and various other audio artists to contribute compositions that reflected on the question "What does America mean to you?" Using one of the great icons of American music as a starting point, Phil created an amazing piece that reflects on the complicated country that is America. If you would like to get a copy of the 2 CD set from RR Records entitled "America the Beautiful," you should drop a line to RR Records, 151 Paige Street, Lowell, MA 01852, and ask if this collection is still available. Otherwise, you can pester Phil at his own website (www.aspma.com), to see if he might offer this recording separately.
I wrote up this little review before the insanity on 9/11, and I'm a little nervous about mentioning it. This is not a compilation that would appeal to most Amercan consumers. Nonetheless, I still think the 2-CD collection is a significant compilation, and I do recommend it.
By the way, you might want to keep your eyes open for Roctober magazine. In the latest issue, they print Phil's interview with Arthur Lee Maye, who was a very good friend to Richard Berry. Arthur Lee Maye had a fascinating career as both a musician and major league baseball player. Check out the Roctober at www.roctober.com/roctober.
#11 TONY WORSLEY AND THE FABULOUS BLUE JAYS
A tip of the hat goes out to Ross Wilson for pointing out another great version of this song from his homeland of Australia. The Blue Jays were another great rock band from Australia during the 1960's that was pretty much unknown outside of their country. Tony Worsley was a transplanted Brit with a talent that led some folks to call him "Brisbane's Beatle." On the 2-CD collection, "Ready, Steady, Go!" we hear a cross section of music from this dynamic Australian band that existed from 1959 until 1969. This collection includes their version of "LOUIE LOUIE" which was actually sung by Paul Shannon, the sax player. You can order this CD directly from Tony Worsley, whose email address is: [email protected].
Continue on with more LOUIE NEWS. Check it out.....
Backtrack with the LOUIE NEWS. go back....

All images & words copyright 1999-2003 Eric Predoehl / OCTALOUIE, LLC, except as noted. All rights reserved. The term "LOUIE LOUIE" is a registered trademark of RMB, Inc, a company owned by The Kingsmen, the band recognized for turning the song into the monster icon heard all over the world.

Send an email to LouieLouie.Net