November 1999 (#9.2)
by Eric Predoehl
Last updated November 28, 1999 (all rights reserved)
(spot the typos, win a prize!!)
Welcome to the latest update from LOUIELOUIE.NET, the information source also known as THE LOUIE REPORT! It's been quite a few months since my last update to the LOUIE REPORT, and I figured it was time to change that. I am still waiting for certain things to happen that are beyond my control, yet the documentary continues to be produced, and the quest continues.
SEASIDE REVISITED
In the last LOUIE LOUIE.NET news update, I reported the upcoming reunion of Jack Ely & the Courtmen in Seaside, Oregon. Jack Ely was the original vocalist for the Kingsmen, providing the lead vocals for their most successful recording. When he parted ways with the original Kingsmen, as led by Lynn Easton, it wasn't exactly on amicable terms. As the recording became more popular, Jack was convinced by a music promoter to create an alternative group called "Jack Ely & the Kingsmen" to cash in on the new success. At the time, there had been other groups named "The Kingsmen," and who would have guessed that Lynn Easton had actually registered the title? Needless to say, there were two groups on the road in the early 1960's with the name "The Kingsmen," both claiming to be the band that sang "Louie Louie." After a lawsuit stopped Jack Ely from ever using the Kingsmen title again, Jack renamed his group "Jack Ely & The Courtmen," and continued to tour across the country until Jack and half of his band was drafted into armed service in 1967. Up until a few months ago, the last time Jack Ely & the Courtmen ever performed in public was at a UC Santa Barbara music show that featured Jefferson Airplane, Spirit, and the Seeds. Immediately after that show, Jack Ely entered the US Army, and the Courtmen disappeared into garage rock obscurity.
This year, John Thoennes of Seaside, Oregon, fulfilled one of his great ambitions. As a young teenager working part-time at the local dance club known as the Pypo Club during the early 1960's, John saw a lot of bands pass through this venue, and many years later, he dreamed about putting together a show that would reunite the best of these groups. This year, he had such an opportunity when he joined the Seaside High School Reunion Committee. As a member of the class of 1969, he wanted to create a celebration that embraced the spirit of those times. Earlier in March of this year, there was a tragedy in Africa that made national headlines. Rob Haubner, the 1968 class president of Seaside High School, and his wife Susan Miller, two senior executives with Intel, were killed by Rwandan rebels during a violent uprising in Uganda. At the time, they were on a special photographic excursion to view rare mountain gorillas in the eastern African country. Those that knew Rob and Susan were completely shocked by this tragic turn of events.
If there was ever a time to assemble a reunion of old high school friends, this would be the moment. John Thoennes thought this would be a worthy occasion to assemble a cavalcade of old Northwest bands, creating an opportunity for new reunions on various levels. Altogether, John arranged for 11 bands to perform at this event, with such performers as James Henry & the Olympics, Disraeli, George Barner, United Flight, Washington MerryGoRound, Fox, Teddy & the Rough Riders, Syncopated Sound, Crystal Green, Whatever's Fair, and the grand finale act to end it all, Jack Ely & the Courtmen. Working around the clock for this special show, John Thoennes logged insane hours to produce this very special event, providing what he called "a second chance at a memory."
For those that made it to this event, it was certainly a memorable occasion that could never be forgotten. In my case, I flew up to Oregon from San Francisco with my co-producer, Jesse Block, and we came back with many hours of great material that will make THE MEANING OF LOUIE that much more amazing as a documentary. There was a certain magic in the air seeing Jack Ely and his old bandmates- Gordon Hirsch, Wally Todd and Billy Truitt, together for the first time since 1967, sharing laughs, memories, and great music. Playing this special event, their reunion was not for the big money, but merely to celebrate their friendship, something that could never be bought.
While I was at this event, I had the pleasure of meeting George Barner, one of the former politicians behind the Washington state initiative to make LOUIE LOUIE a state song; Jack's son Sean Ely, who shared memories of his father; and my old friend Pat Mason, a legendary music promoter in the Northwest, a virtual reservoir of musical history.
To commemorate this very special occasion, John Thoennes is in the process of assembling a videotape that will highlight every band that performed at this event. Proceeds from this videotape will benefit the Robert Haubner Seaside High School Scholarship Fund. For more information, please write to: John Thoennes, 221 Avenue i, Seaside, OR 97138.
Seaside, Oregon was certainly a site for lots of LOUIE LOUIE activity, and in my last LOUIE REPORT, I mentioned the legendary Seaside Riots of early 1960s. Buck Ormsby of the Wailers sent me some feedback:
"In reference to the Seaside riots. The Wailers were playing the roller rink in Seaside, Ore when the riots started about 8:00/9:00 that evening. The promoter was Terry Bassett. The police asked us to shut down our dance which we did. We escaped to the hotel across the street from the Pypo Club, which was at the ocean end of the street, and viewed the rioting mess from our 2nd floor rooms. Since the riots went on all night and didn't seem to be getting quelled by any means the next morning, Bassett and The Wailers came up with a plan. The Oregon Lt. Governor was in attendance at our meeting and thought our plan of playing on the roof of the Pypo Club pointing all sound equipment toward the beach, while the police and firemen began pushing everyone on the main street towards the ocean beach and onto the sand was a good idea and may help calm them down."

"We moved our equipment up to the roof and started playing. With the officials' help everyone began heading toward the beach and started dancing in the sand. This can have a pretty tiring affect on the body. Once they were all dancing, hundreds of people, they became more docile, and seemed content. The Lt. Governor made a speech, we kept rockin' & rollin', they kept dancin', and the riot was over. The Lt. Governor or another official even asked the crowd to pass the hat, since the actions of the riot caused us to cancel our gig. The crowd obliged and everything was fun from that point on."
AND THE OTHER KINGSMEN....
While visiting in Portland, Oregon, homebase for the Kingsmen, the band that Jack Ely was once a part of, I had an opportunity to shoot some video footage with Bill Bounds, their road manager, and auto mechanic extraordinaire. Up until recently, Bill was the guy who ran the merchandising division of the group, responsible for mailing out all the t-shirts, kazoos, CDs, watches, and other licensed Kingsmen goodies. With the expansion of the Official Kingsmen Fan Club out of Arizona, all mail-order sales will now be handled by that organization, run by Ms. Millie Besey, who recently obtained the LOUIELOUIE.ORG website. Look for their official launch party any day now! My sincere thanks again to Bill for fixing my car in time of need! What a great guy!
The Kingsmen recently created a massive singalong at a show in Portland, Oregon, with some 10,000 people singing the song that drove J. Edgar Hoover to launch an investigation. There was talk that they might have 60,000 people singing the song in Houston, but the details are unclear at this point. Either way, expect to see an all-new CD from the Kingsmen in the year 2000, featuring an all-new recording of THAT SONG.
Ken Chase, the man who produced that wonderful recording by the Kingsmen, was recently inducted as "record producer" into the Oregon Music Hall of Fame. Norm Sunholm, bass player for the Kingsmen, and his brother Conrad Sunholm, were both inducted under the "music instrument" category for their work as founders of Sunn Amplifiers, one of the pioneers in electric guitar amplification. The Sunholm brothers did sell this company to Fender Musical Instruments Corporation sometime in the 1970's, and this year, Sunn was recently revived by Fender as an active division of the company.
THREE AMIGOS
To bring LOUIE LOUIE into the modern age of tech music, three DJ/mixmasters from Europe named The Three Amigos created an all-new mix of the legendary Kingsmen recording. It's a catchy little re-arrangement, and it's worth checking out if you can find it. As it turns out, their logo looks remarkably like the official Kingsmen logo. Big thanks go to Theo de Grood, Frank Sabadin Jr, and some others whose names escape me for alerting me to this new recording.
LOUIE LOUIE 2000?
In an earlier LOUIE REPORT, I mentioned my half-hearted efforts to push for a goal of "LOUIE LOUIE 2000," a collection of 2,000 different recordings of Richard Berry's song. At the time, there were some 1,200 confirmed recordings of the song, and in all honesty, I don't really have the time or resources to follow up on all the different recordings of LOUIE LOUIE unless they happen to fall in my lap. Until I can get the sponsorship I need to complete this ambitious documentary, and could hire someone to help me fine-tune the massive LOUIE LOUIE database, it's not going to happen in the immediate future. "LOUIE LOUIE 2001"- maybe, but "LOUIE LOUIE 2000"- probably not.
Luckily, I've got some good spies that have alerted me to some great recordings of the song that I would have otherwise missed. Phil Milstein of American Song-Poem Music Archives, has sent me some rather obscure versions, including one particularly odd one by a 1970's band known as Faust. Jeff "Stretch" Riedle continues to provide me with a ton of different renditions, including a recent live performance by his band The Shockwaves, who played live at Bonnie Dunes beach in Santa Cruz, California. Both Phil & Jeff alerted me to a CD by John the Postman, a strange little post-punk recording of a rather silly Englishman that fluctuates between psychedelia, folk-punk, and rather insane ranting. Tom Yeates, noted comic book illustrator for Tarzan, Zorro, and some other fine projects, also sent me a version of the song featuring his own band, Goat Rockefeller, who performed the song at a special birthday party.
The Beatgrinders, from Eskilstuna, Sweden provided me with a nice little MP3 file, which I was able to download, and bump to a CD-R. If you'd like to check out this nice little recording, and some other great garage recordings, jump over to their site at: http://members.xoom.com/garagefuzz/sound.htm. After you've had the chance to enjoy this FREE recording, be sure to tell Mikke Holmberg "thank you for this recording" at [email protected].
Anyone else with MP3 files of rare LOUIE LOUIE recordings should let me know of their existence, and I'll be glad to acknowledge them in the complete LOUIE LOUIE DISCOGRAPHY, which has been recently updated. This discography is in the Adobe Acrobat format, which can be read for free with the proper software.
By the way, PLEASE DO NOT SEND ME UNSOLICITED ATTACHMENTS. If you would like to share photos, music files, or other documents, please let me know which website I can retrieve them from at my leisure, rather than sending me attachments that tie up my email.
On the topic of "LOUIE LOUIE 2000," you might want to note which "LOUIE LOUIE" bands are playing at the end of the millennium, and make your New Year's Eve plans accordingly.
The Wailers are performing at The Kitsap County Fairgrounds Pavilion in Washington as part of a giant New Years "Wailers House Party". Go to their website for more information about this show, and how you can purchase a "Special Wailers Millennium Time Capsule."
Paul Revere & the Raiders are performing at the Center on the Grove in Boise, Idaho.
Mark Lindsay will be performing at the Global Millennium Celebration, Hilton Head Island Beach and Tennis Resort in South Carolina.
The Kingsmen may still be available for bookings. Go to their website for the latest updates, or contact T-E-I, their booking agent.
While Jack Ely & the Courtmen aren't actively pursuing the musical careers they once had, they might be willing to perform at select venues, if the situations sound like fun, and the promoters aren't total slimeballs. If you are interested in booking the man whose voice launched the most popular garage rock anthem of the world, you can contact Billy Truitt at (702) 594 -7132 or email [email protected]. If you're lucky, you might be able to book this band for your turn-of-the-century party.
The Legendary Beachcombers will be playing New Years Eve at the Shilo Inn Resort located right on the beach in the city of Ocean Shores, Washington.
Stretch Riedle, owner of the world's largest collection of LOUIE LOUIE recordings, is performing with his band The Sub-Mersians at the First Night Celebration in Santa Cruz, California.
If your band is planning on performing "LOUIE LOUIE" on New Year's Eve 1999/2000, please contact me, and I'll be happy to list you on this website.
RICHARD BERRY LIVES!
Those that knew Richard Berry will never forget him. The long-awaited Richard Berry recordings haven't quite made it to the legitimate CD market yet, but not for lack of trying. There are some interesting developments regarding his old FLIP recordings, the sessions he did with Gary Paxton (and Kim Fowley), and the 1996 reunion with the original Pharaohs, but unfortunately, things are still in the process of negotiation, and it's best to say nothing until things are completely settled. Rest assured, that when all is confirmed, subscribers to the LOUIE LOUIE REPORT will receive the first word.
In the meantime, I've discovered some great tracks by Richard Berry that I never knew about. When Richard was alive, he couldn't remember all of his recordings, and it was a real treat when someone found something he'd forgotten about long ago.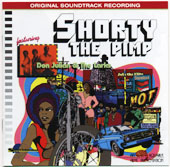 Joe Vincent introduced me to a great little song recorded by Don Julian & the Larks, entitled "Shorty the Pimp." Don Julian was a great friend to Richard, and acted as one of the pallbearers at Richard's funeral. In this song, originally released in 1973, Richard does a great little spoken word intro, reminiscent of Issac Hayes. "Shorty the Pimp" was the title song for a Blaxploitation movie of the same name that never got released. Described as a "Monkees-meet-Shaft extravaganza," this production ran out of money before it was completely edited, and all efforts to find even a rough cut have been unsuccessful. The soundtrack album, featuring Don Julian & the Larks, originally slated to be released in conjunction with the film, was scrapped, and the various tracks were released in different forms. In 1998, Ace Records sorted through the original analog tape masters, and released the soundtrack as it was originally intended. Years after the 1973 release of the original single, rap artist Too Short sampled this song for his own, retaining some of Richard's original vocals. Surprisingly, I could find no written acknowledgment of Richard's vocals in these recordings in the liner notes of this semi-recent Ace release, but listening to this recording, there can be no doubt that this is indeed Richard Berry, creator of "Louie Louie," and original vocalist for the Robins/Coasters hit "Riot in Cell Block Number Nine."
Incidentally, there is a rumor that Quentin Tarrantino may own a rough cut of "Shorty the Pimp." If anybody close to Mr. Tarrantino could confirm or deny this, that would be greatly appreciated.
As with the LOUIE LOUIE DISCOGRAPHY, I've recently updated the RICHARD BERRY DISCOGRAPHY. Once part of the RICHARD BERRY WEBSITE, I've decided to treat this as a separate document.
When you read this Acrobat file, you'll see some new listings, including some obscure jazz recordings he did under the name of "the Soul Senders."
My thanks to all the people that brought the rare Soul Senders singles to my attention. As always, if you happen to run across any Richard Berry records, including cameos on other artists' records, please drop me a line to see if I own a copy, as there are many that I still seek for my collection. Naturally, I'll try to make it worth your while.
LOUIE LETTER OF THE MONTH
Here's an nice little letter I got from Kiki of Germany involving LOUIE LOUIE and a murder attempt:
"I just discovered your wonderful louie page, congratulations! If I had the money I would love to fund your documentary, but I haven't. I would like to ask you one question: did you ever hear of the story that louie louie was playing on the radio while a crazy woman shot through a stack of marilyn monroe canvases in andy warhol's factory? I read this somewhere and I would be glad to have it verified. Or do you know any other stories connecting the song with "fatal events"? and a little story for you to show you how important your project is: a few months ago, in the Suddeutsche Zeitung (something like the "NY Times" of southern Germany) Louie Louie was listed as 'this famous song by Iggy Pop'. Horrible, isn't it? ...and speaking of Iggy: you know this quote? 'If all else fails, do "Louie Louie", right? Just play "Louie Louie", and it will always get you outta anything' (sayeth Iggy after telling the story of the last ever Stooges gig where he was beaten up onstage by a big fat biker who didn't like his ballerina costume) That's the story behind the Louie on the Metallic KO-tapes. But I guess you know this already."
Actually, I didn't know about either story, and I thank Kiki for providing me with this new nuggets of information. I know there was a murder attempt years ago on Andy Warhol's life by the woman who wrote the SCUM MANIFESTO book, Ms. Valerie Solanis, and that particular incident became the basis for a movie that I haven't seen yet. Does anyone out there in the internet-land have any additional light they'd care to share on either incident?

HAND-MADE WILD MAN
I'm hesitant to let everyone know about what I'm about to write about, as I don't want this thing to get too popular, but as a reader of THE LOUIE REPORT, I'm assuming you have very good taste in music, and would want to know about a great new development for collectors of fine music.
The world of record collecting would be a different universe indeed if not for the amazing influence of Larry "WildMan" Fischer. You see, if Larry never existed, there probably wouldn't be a RHINO Records as we know today, and we'd probably be stuck with an abundance of painfully generic record reissues, if any at all. The art of reissuing music from the past would probably be neglected by the major record labels, and we'd be stuck with ugly little CDs with very boring packages.
In 1975, Rhino Records was just a modest little record store near UCLA when owners Richard Foos & Harold Bronstein decided to press a little 45 featuring the music of Larry "Wildman" Fischer. A few years earlier, Frank Zappa had produced an album entitled "AN EVENING WITH WILD MAN FISCHER," an eclectic little recording that had miserable sales, but elevated Larry's notoriety to a cult status among certain record collectors. When Larry happened to walk into the Rhino Records store one day, the owners had a brainstorm, and talked Larry into recording a quick little ditty on a cheap little cassette recorder in the back room of the record store. "Go To Rhino Records" was the first record ever released by Rhino Records, and was initially just a give-away for the loyal customers of the store. Based on the success they had with this little experiment, Rhino Records decided to launch their own record label, which grew into the most successful American reissue label, and was later acquired by the Time-Warner Empire.
This year, Rhino decided to step back into their old roots by creating a off-shoot label titled RHINO HANDMADE. The idea would be that certain releases will probably never sell more than a few thousand, but should still be made available to the public. These RHINO HANDMADE releases, individually numbered, would not be sold in regular stores, and could only be purchased through their special website. And what was the first ---release from this company? A comprehensive 2-CD collection of recordings by Larry "Wildman" Fischer titled "The Fischer King." Other releases since this initial offering include some rare recordings by Devo, Tim Buckley, Sonny Bono, Sweetwater, the first band to ever play Woodstock (also the subject of the first VH-1 television movie), and a comprehensive 7 CD box set (??) dedicated to the quasi-classic punk album FUN HOUSE by Iggy Pop's old band The Stooges, originally produced by Don Gallucci, the original keyboard player for the Kingsmen.
What does this have to do LOUIE LOUIE? Hardly anything, other than the fact that I love the idea of reissuing music that deserves to be heard, and WILD MAN FISCHER's music in particular. I just ordered this collection, and it's great! Rhino, of course, assembled the "20 Centuries of Hits" collection, featuring the most important songs for the past 2,000 Years. There were only two songs to represent the 20th Century, and one of them ended with the catch phrase "let's go!" Check it out if you dare! It's also a fine addition to your library.
My thanks to everyone that's ever written to me with LOUIE LOUIE information. I wish I could acknowledge everyone that's ever provided me with some wonderful tidbits, but unfortunately, if I were to do so, this webpage would be a full-time job. I do appreciate all sincere comments, and words of support. I was hoping that I'd be able to finish this documentary by the end of 1999, but considering certain roadblocks that I'm still dealing with, it seems rather unlikely. In the meantime, I've been rather busy with a new assignment, as a writer for a new television show called BLUES EXPRESS, which has taken up quite a bit of my time these days. Sometime in the year 2000, you should be able to see this show!
Keep those emails coming!
me gotta go now.....
ERIC PREDOEHL


All images & words copyright 1999-2004 Eric Predoehl / OCTALOUIE, LLC, except as noted. All rights reserved. The term "LOUIE LOUIE" is a registered trademark of RMB, Inc, a company owned by The Kingsmen, the band recognized for turning the song into the monster icon heard all over the world.

Send an email to LouieLouie.Net