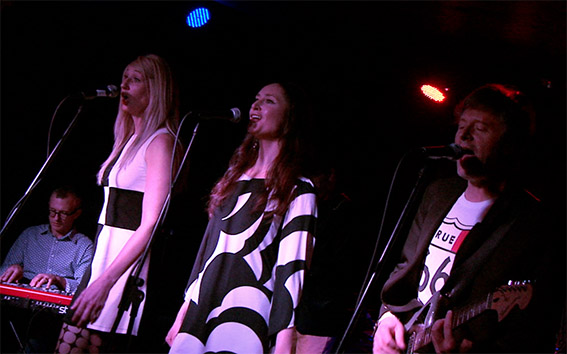 This week, we point the LOUIE spotlight at what my fellow LOUIE enthusiasts in the LLAMAS community refer to as a "LOUIE Mutant" or a "LOUIE Clone" – a song that isn't technically LOUIE, but one contains so much in common with LOUIE LOUIE that it feels like a blood relative.
The song is a Serge Gainsbourg composition entitled "Roller Girl" and it's performed by Rue '66 – a San Francisco-based band that specializes in peforming French pop songs.
The event was a big benefit show for Norton Records, a record label that suffered some damages with Hurricane Sandy. Rue '66 was one of the bands that performed at the Elbo Room on December 16, 2012, along with Roy Loney & the Phantom Movers, Overwhelming Colorfast, The Chuckleberrys, The Tomorrowmen, The Devil-ettes, and The Dirty Robbers.
Cyril Jordan of the Flamin' Groovies was a special guest that night, sitting in with Rue '66, Overwhelming Colorfast, and his old bandmate Roy Loney. In this clip, you can see him playing guitar on "Roller Girl."
This particular video was actually produced by yours truly – the team responsible for the LouieLouie.net experience- Eric Predoehl and Jesse Block. Our friend Ken "Easy Ed" Edwards provided audio recording for this video, and our pal Ken Kaffke provided some assistance with cameras.

http://www.youtube.com/watch?v=6J87JtClCdM
The original version of "Roller Girl" was sung by actress Anna Karina in the 1967 French TV musical comedy "Anna," directed by Pierre Koralnik. An accompanying soundtrack LP of the same name was released by the Phillips record company.