Steve Mackay, a super talented sax player and all-around nice guy, died two weeks ago on October 10th.
Last year, I had an opportunity to interview Steve for the LOUIE documentary project, which turned into a wonderful day for everyone involved. As one of last surviving members of The Stooges, he had a unique history with Iggy Pop, and had some fond memories of recording "Fun House" with producer Don Gallucci, who was also the original keyboardist with the Kingsmen.
Steve also talked about some of his other musical collaborations including some of the early bands in Michigan before he hooked up with before the Stooges.
Iggy Pop wrote these words about his old bandmate:
"Steve was a classic '60s American guy, full of generosity and love for anyone he met. Every time he put his sax to his lips and honked, he lightened my road and brightened the whole world. He was a credit to his group and his generation. To know him was to love him." – Iggy
Looking through my own photo archives, I actually found some images of Steve that I didn't even realize I had.
In 1983, I was a big fan of Snakefinger and the band he often played with – The Residents. He had a new project that was all about celebrating the history of blues music and Steve Mackay was part of that.
For the first time ever, here's some previously unreleased images of the Snakefinger Blues Band, featuring Steve on saxophone. I think the venue might have been the Old Waldorf in San Francisco.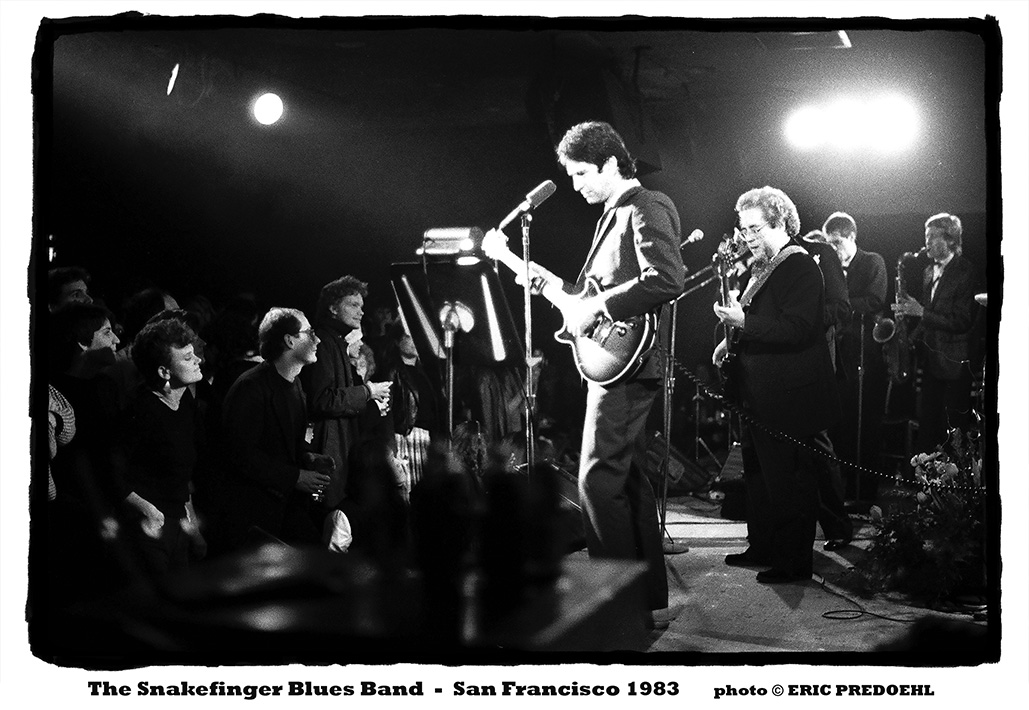 This second photo is interesting – my focus was Steve, even though I had no idea who he was..
Fast forward to July 1, 2014. Steve was playing a little show with some guy named Dick Deluxe at Winters, a comfy little divebar in Pacifica, slightly south of San Francisco. Even though I'd been at various shows that Steve appeared at, I had never really had a chance with chat with him before.. and so I went…
As fate would have it, this guy Dick Deluxe was also part of the Snakefinger Blues Band, and that particular night was the 27th anniversary of Snakefinger's passing.
Had I known such a thing, I would certainly would invited some of my friends that were also big Snakefinger fans!!
Needless to say, I had a great time yacking with Steve, and we wound up shooting an interview at his home a few weeks later.
Here's a few videos I've shot over the years that feature Steve…
For the first time in 35 years, James Williamson, returned to the stage to perform the songs he used to perform with Iggy & the Stooges. The Careless Hearts are his backup band, and Steve is one of the special guests. The venue is the Blank Club in San Jose, the date is September 5, 2009 and the song is "I Got Nothing."
A few years later, James Williamson is now part of a reunited Iggy & the Stooges, featuring Steve again on sax. The venue is the Warfield in San Francisco on December 6, 2011, and the song is "LOUIE LOUIE." According to my experts, this performance is the FIRST time Iggy & the Stooges have played the song since 1974.. and I was there.
Then, there's the final performance of Iggy & the Stooges that I witnessed, live at the C2SV event at St. James Park in San Jose on September 28, 2013… doing their final song ever… which is….
Needless to say, there will be more videos of Steve Mackay shared in the not-too-distant future. Stay tuned for future details..
In the meantime, here's a few other things on Steve that i thought deserved a second look…
Craig Englund shared this photo of Steve with these memories on Facebook: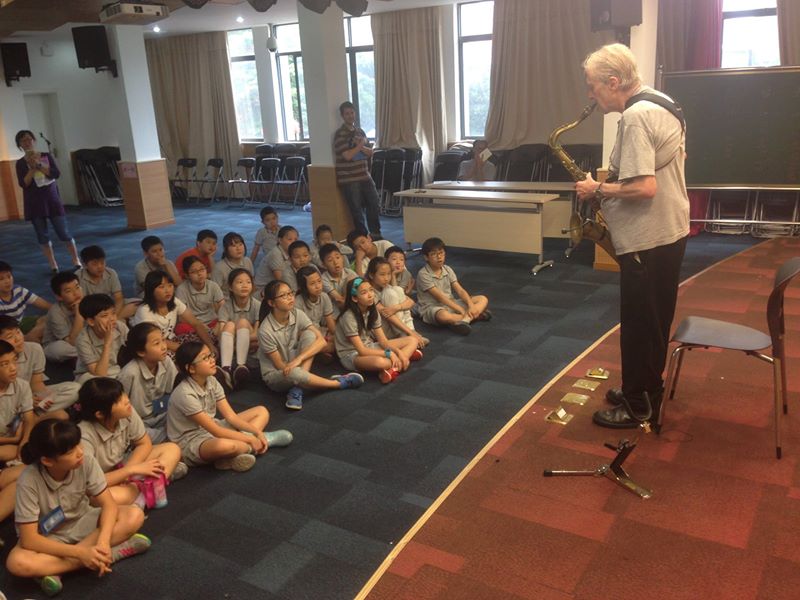 "Hi Chachy, just want to let you know that you've made yourself a star among parents and we are absolutely thrilled with your superstar performance and feel privileged that you teach our kids. Thanks a lot." – from a parent today after I performed for the kids a couple nights ago. Sometimes an email like this is all it takes to pull me out of a sad mood.

The pic was taken during Steve's trip to my school in Shanghai. The kids were blown away (plenty of pun). It's always a pleasure to see kids react to something as powerful as rock n roll and have the opportunity to meet it face to face and ask questions. Steve was such an approachable guy to them; they asked him everything from what kind of music did he like, how did he get so old, and finally how many bands had he been in (with this question he had to sit down to think a bit haha). Life certainly does go on but damn Steve Mackay you certainly put a profound dent in mine and I will forever wear it as a badge of honor. Love ya man and happy trails through the unknown.
Here's a video clip of Steve Mackay with the Third Thursday Band, performing at the Riptide, a fine little San Francisco nightclub that is currently getting rebuilt after a nasty fire accident a month ago. This is a performance of a song called "Go To Hell" that took place on March 20. 2010.
Here's a video clip of Steve playing with Vacuum Tree Head, a band fronted by my old friend Jason Berry. This is a performance of "Cushion Fortress" performed at Night Light in Oakland on Januaary 18, 2014. I've been informed that Peter Conheim from Negativland is responsible for this clip.
Would you believe my friend La-Ni, daughter of Snakefinger, got me a free pass into this one?
– E.P.