Eleven days ago, we lost Dick Dale, an innovative guitarist that inspired a generation of musicians. He was called the "King of the Surf Guitar," as he somehow created a music genre that celebrated two things that he truly loved – surfing and guitar playing.
He was born Richard Monsour in Boston, Massachusetts in 1937, and learned how to play various musical instruments at an early age, including piano, trumpet, tarabaki (drums), and guitar. His Lebanese father taught him the Middle Eastern scales that would provide the foundation of what we now call "surf music."
When his father, a machinist, took a job working for Hughes Aircraft Company in the Southern California aerospace industry, the family moved to El Segundo, California in 1954, and Dick's senior year in high school took place in Southern California.
Richard originally had dreams of becoming a country music singer, and played at some of the local country western bars where he met a guy by the name of Texas Tiny, who gave him the name "Dick Dale" because he thought it was a good name for a country singer.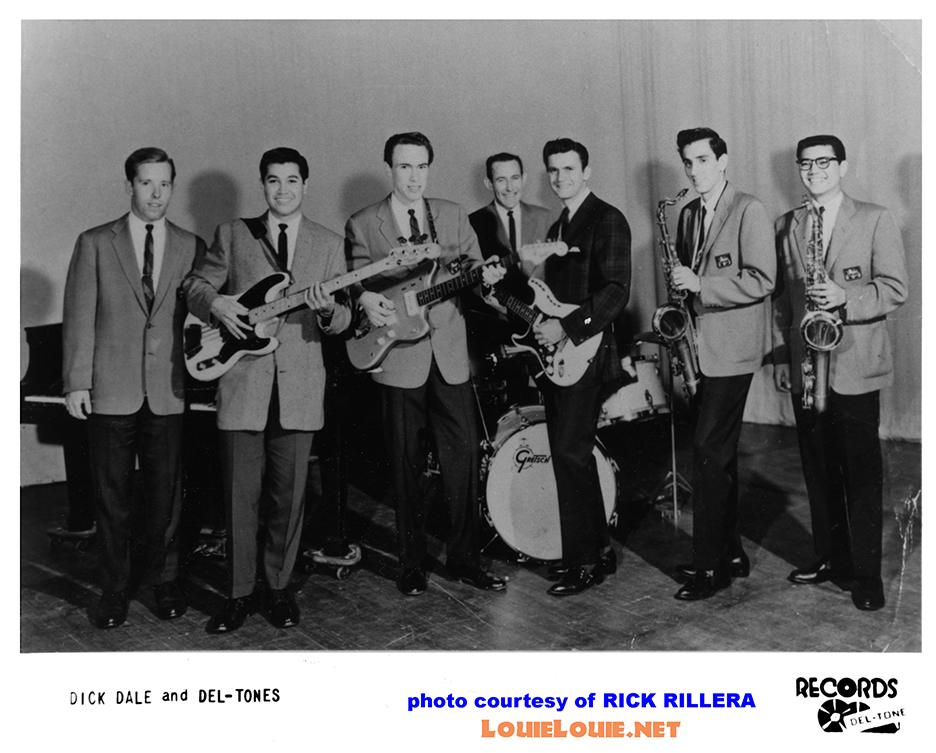 Fast forward to 1962, and Dick Dale and The Del-Tones are playing almost every Friday and Saturday night at the Harmony Park Ballroom in Anaheim. The year before, Dick Dale and The Del-Tones had some breakthrough performances at the Rendezvous Ballroom in Balboa and released their first single- "Let's Go Trippin.'" During this period, Dick was also collaborating with Leo Fender and Freddie Tavares to develop new musical equipment that could handle Dick's guitar playing. As Leo Fender stated to the various media outlets, "When it can withstand the barrage of punishment from Dick Dale, then it is fit for the human consumption."
Seven years prior to that, Richard Berry was working at the very same venue – the Harmony Park Ballroom, working with the Rillera Brothers in a band known as the Rhythm Rockers, some of who would also work with Dick Dale as members of the Del-Tones. It was at this venue with this band, that Richard wrote his most famous composition in 1955 (LL), which would be released on Flip Records two years later.
In 1992, I was visiting Anaheim for the Rock Bottom Remainders premiere performance in conjunction with the ABA convention and Dave Marsh's LL book, hoping I could sweet talk Richard into shooting a segment with me at the old Harmony Ballroom location, but the timing just didn't work out.
The next time I visited the location, the building had already been bulldozed, and the land was about to be converted into space for apartment buildings.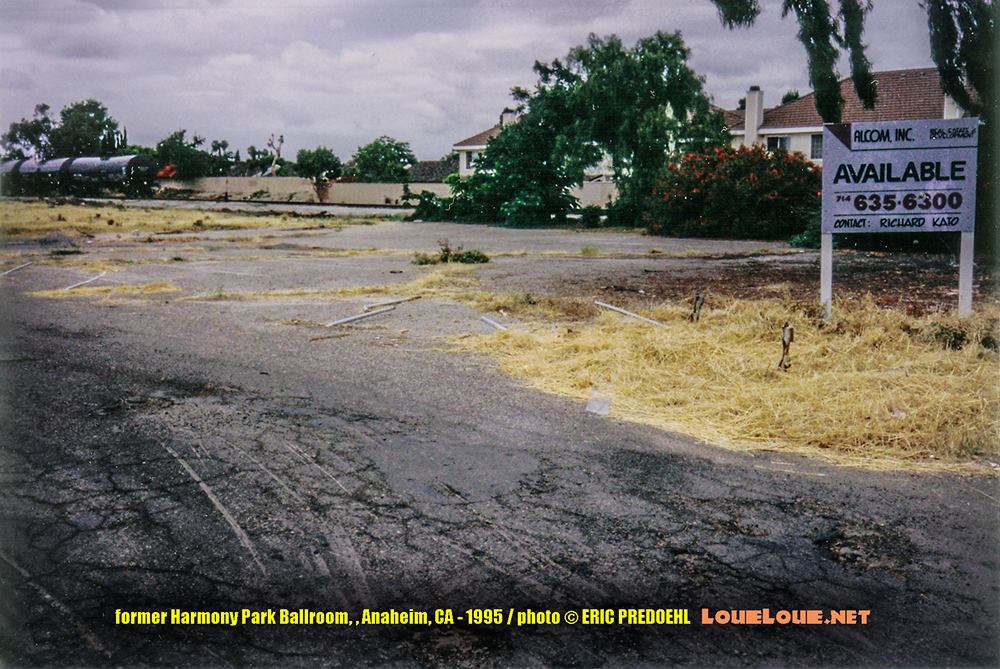 In 1995, James MacLeod and I did a special road trip to Southern California. James had family out in Joshua Tree area, as his grandfather William "Bill" Keys maintained a homestead there for sixty years, which all became part of the designated national park in 1994. James had talked to Dick about this family history, and was invited to visit and shoot some video at Dick's ranch in the nearby community of Twentynine Palms.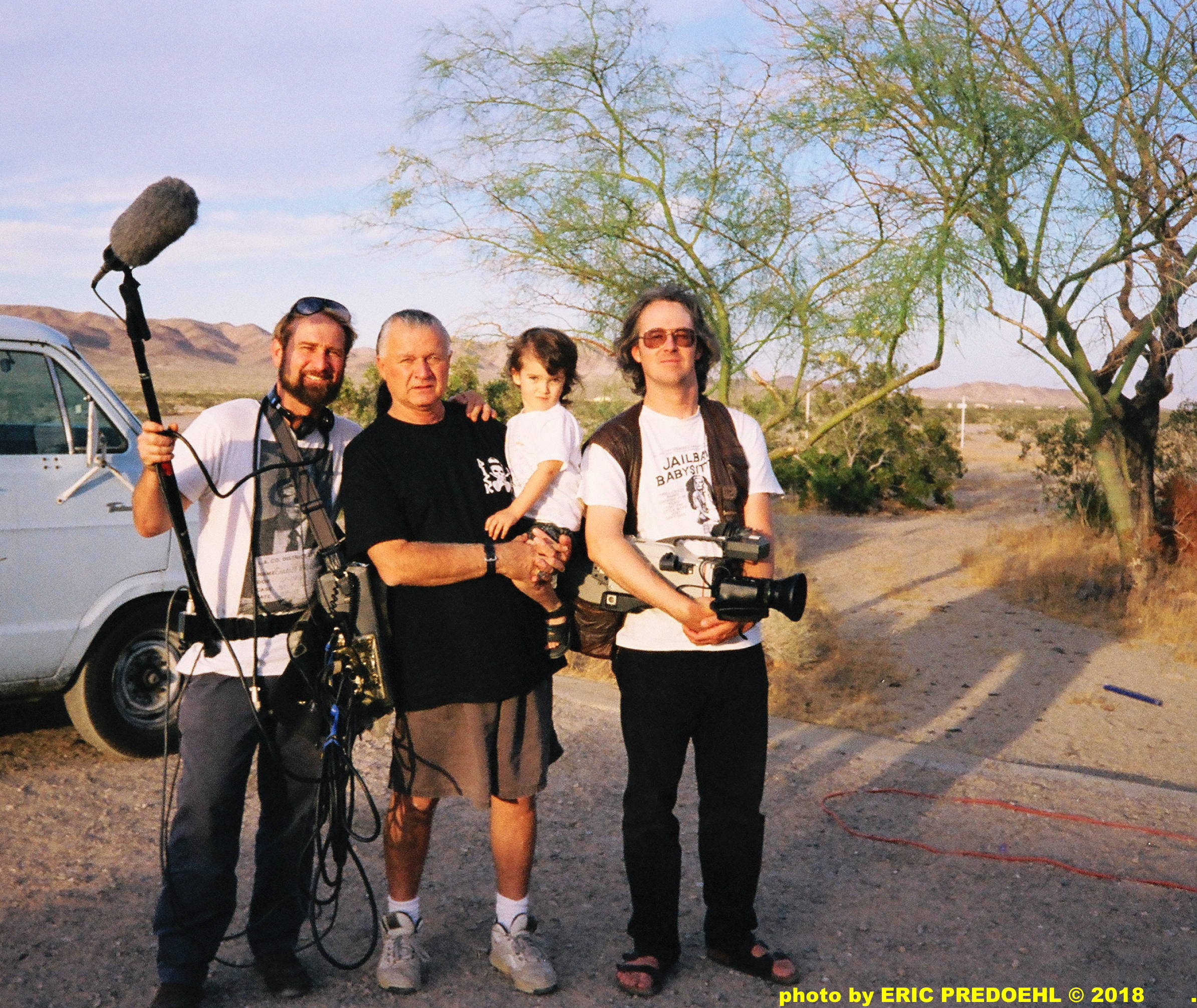 On June 14th, James and I spent the afternoon visiting with Dick, capturing some footage of Dick discussing his colorful career, his time with the Rillera brothers at the Harmony Park Ballroom, the politics of a certain plant (the subject of James' documentary) and an appreciation of a certain song I've been documenting.
I had heard about Dick Dale's animal sanctuary at his home in the desert, but at that point in time, the animals were long gone, and the only critter left was a scrawny parrot that was missing a lot of feathers.
Dick was especially proud of his first and only gold record award, which he received for the soundtrack of the feature film Pulp Fiction directed by Quentin Tarantino. I distinctly remember a very spirited conversation with Dick about this film, which he believed was a non-violent comedy. That being said, we were in full agreement that it was a great film that really boosted Dick's career.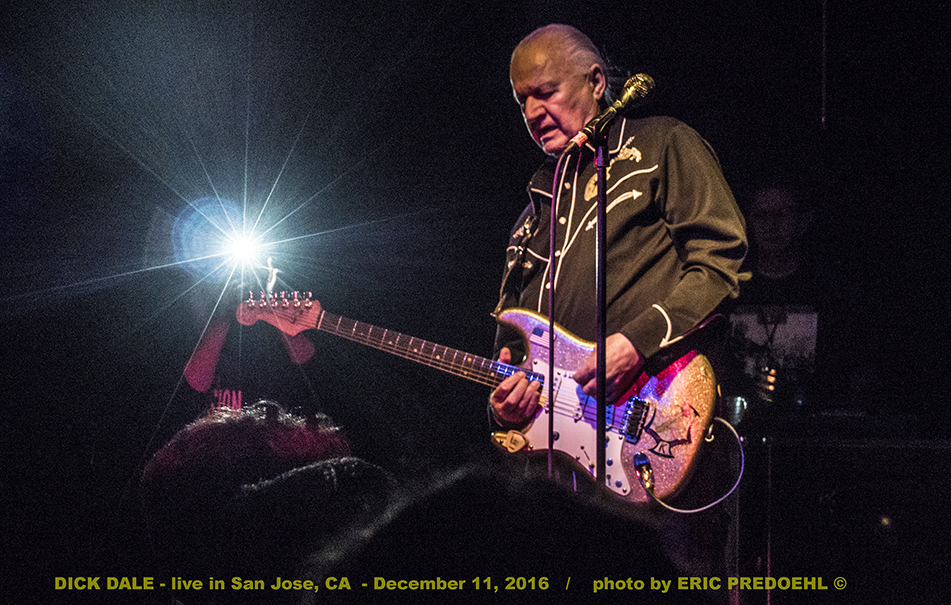 I don't remember discussing his health, but it certainly became a bigger issue in the last ten years. I didn't realize he developed rectal cancer in the 1960s, which was treated, but then came back to haunt him. At various points of his life, he had been told he had a few years to live, but he somehow defied the odds, and continued to live his life as he chose, playing rock and roll for a massive fanbase that seemed to keep growing each year.
Dick's health situation continued to get worse. Not only did he suffer from diabetes, but he also refused to go on dialysis. Part of his stomach + intestines had been removed, he was attached to a colostomy bag and the pain from his vertebrae that were so damaged that he remarked "every time I stand up it's like a double-edge sword going into my spine."
According to the obituaries I've read, there was no definitive cause of his death, but it was mentioned that he was treated for heart failure and kidney failure prior to his demise. I have a feeling it was a combination of various factors that contributed to his passing.
I remember being blown away by the last performance I saw of him a few years ago. For a guy dealing with excruciating pains, he continued to put on an incredible performance, amongst some of the best shows I've ever seen him do and I'd already witnessed at least six, maybe ten Dick Dale concerts.
With the passing of Dick Dale, the family is left with a lot of expenses from his old hospital bills and his funeral. A GoFundMe account has been set up for donations. Dick's wife Lana shared this message:
As many of Dick's fans now know, Dale passed away late Saturday night, coincidentally about the same time he would have been ending one of the thousands of shows he performed at since 1955.

Because of laws that govern burials, I was left with a limited amount of time (days-not weeks) to find a suitable place for Dick's new home.

On Sunday afternoon, Joey and I found just the place where Dick Dale music lovers could visit, sit under the shade of a tree and strum their guitars, strike up a conversation, but to fund that site I was faced with an expense of over $55,000.00 and that does not even cover medical expenses.

Dick was hospitalized for the past thirty days, often under intensive care.

Like many performers from the mid fifties, when Dick began his career, travel expenses touring consumes most of the pay received, so, at this time in Dick's career, being very sill, he was unable to tour much.

Compounding that predicament, because of the advent of Napster and other media where people can upload music for free, entertainers royalties from music composed was reduced to pennies.

As stated above, I am not only devastated by my husbands death, but I am faced with a very short period of time to obtain funds which I do not have, to purchase the grave site mentioned above, a place Dick deserves for all the joy he brought to thousands of fans since 1955, the past fifteen years while he was severely ill.

I am personally reaching out to you for help. I need to complete this campaign in days not weeks. Please, please help Dick.

I will personally thank every person who contributes to this fund, no matter the amount.
Today, I'm sharing an excerpt from the 1995 interview with Dick, which had never been shared before.
Rest in peace, Dick. You shall not be forgotten.
– Eric Predoehl of LouieLouie.net
P.S. Jim Washburn shared an excellent send-off for Dick Dale in OC Weekly which include some wonderful memories of visiting Dick Dale with Jonathan Richman, some of which involved Dick discussing his never-made movie of a superstar guitar player, and how he taught his dog to surf in the swimming pool. It's a keeper!
___________________
REFERENCE LINKS:
GoFundMe – Dick Dale Funeral-Medical Expenses Fund
Wikipedia – Dick Dale
Pittsburgh City Paper – At 78 and with myriad health issues, surf-rock legend Dick Dale plays through the pain (July 2015)
Dick Dale – LOUIE of the Week (2009)
Barry Rillera, Bobby Kennedy, Demi Moore + Five Degrees of LOUIE – LOUIE of Week
LOUIE LOUIE and Surf Music
OC Weekly – Rock in Peace, Dick Dale and Greg Topper by Jim Washburn