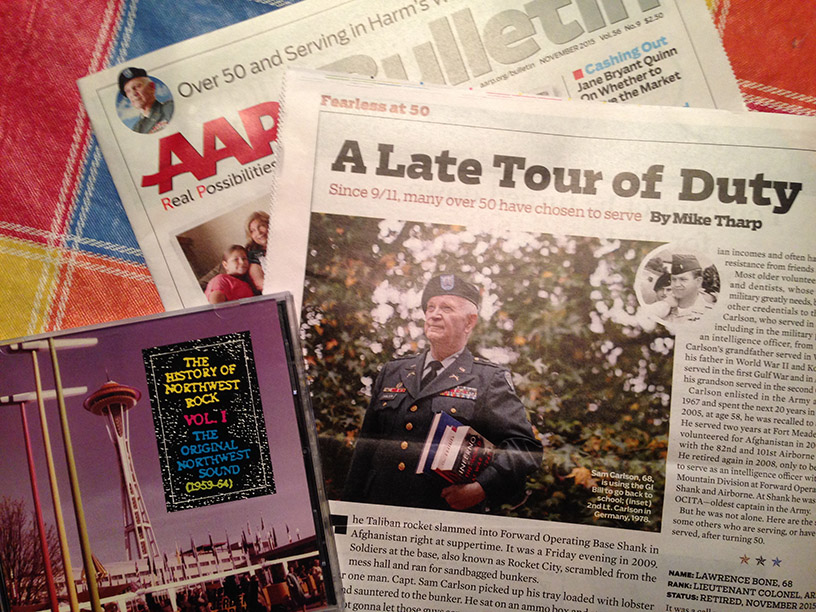 If you've ever done any kind of online research on the music of the Pacific Northwest, you've probably seen the work of my friend Sam Carlson.
The pnwbands.com page is an amazing resource that Sam assembled. It's a virtual encyclopedia of information documenting the various rock 'n' roll groups that existed in Washington, Oregon, Idaho and British Columbia, mostly focusing on the 1950s-1970s era. Not only is it a wealth of information detailing the histories of these bands, it also documents the various venues where so many these bands performed – the armories, dance halls, auditoriums, theaters and music-friendly restaurants.
Sam was a bass player with the Regents, a rock band from Tacoma that existed from 1963 to 1967. He created this webpage not only to acknowledge his band, but also to pay tribute to the rich legacy of the music that came out of this region.
Today, I want to pay tribute to Sam for not only creating this wonderful resource, but also for his service to his country on this very special day = Veterans Day.
Sam enlisted in the US Army in 1967 at the age of 20, and spent the next 20 years in the service. His grandfather served in World War I, his father in World War II + Korea, his son in the first Gulf War + Afghanistan and his grandson served in the second Gulf War. In 2005, at the age of 58 years old, he chose to return back to active duty, serving two years at Fort Mead, MD, then volunteered for Afghanistan in 2007, where he served with the 82nd + 101st Airborne Divisions. He retired again in 2008, only to be called back to serve as an intelligence officer with the 10th Mountain Division at Forward Operating Bases Shank + Airborne. He was considered the oldest captain in the US Army until he finally retired for good a few years ago.
This month, Sam was featured in article entitled "A Late Tour of Duty" for the November 2015 issue of the AARP Bulletin. Not only was his photograph used as the primary photograph for this article, but it was also featured on the cover of this publication.
Thank you, Sam, for all that you do. You are indeed awesome, and I, for one, am very grateful for your service.
Facebook users should also check out Sam's Pacific Northwest Bands Facebook page.
To get a copy of the November 2015 AARP Bulletin with the article featuring Sam, please visit aarp.org/bulletin.