July 7th is a big day in rock and roll, both in history past tense and history about to be written. For some of you, July 7th is very important because Al Gore will be using that day to present the big LIVE EARTH event that brings attention to the issue of global warming. I think it's a worthwhile event, and I'm glad so people are bringing attention to a problem that needs to be addressed.
For me, July 7th represents something more important. It's a day where some very special history happened 51 years ago, and it's also a day where history is about to be made. As it turns out, both events are based in San Jose, California, the area I call my home base.

Sly Stone was once a massive talent in the musical industry. As the leader of Sly and the Family Stone, he created some unforgettable music that broke a lot of barriers of rock, soul, gospel, psychedelia, and all that racial nonsense. He blended great melodies with lyrics that often spoke of a higher idealism. "Dance to the Music" and "Everyday People" are still getting airplay all over the world. He did a lot of outrageous things, including a big wedding at Madison Square Garden. Like a fiery comet, he ignited the world with the power of music. Then, he simply vanished…
For many years, the whereabouts of Sly Stone were an absolute mystery. People didn't know if he was dead, living high on the hog in some Howard Hughes type existence, or roaming the streets as some crazy homeless guy.
Then, we heard he was going to show up at the 2006 Grammy Awards. Many people didn't think he was going to be there. He had a reputation for not showing up at events he was scheduled to be at. On February 8, 2006, the legendary Sly Stone showed up at the Grammy Awards to perform on live television with a reunited Family Stone, sporting a wild looking mohawk. His performance was minimal, his appearance was freaky, and he cut out quickly as soon as he was off the stage. It was pure Sly Stone.
This Saturday, July 7th marks the first public performance of Sly and the Family Stone. He is scheduled to perform at a "Back in the Day" concert in San Jose that also features the Average White Band, the Latin Sensations, and Masada featuring Pete and Juan Escovedo. Franco Presents is producing this show, which is also a fundraiser for orphaned children. According to the official press release, this show marks the first show of Sly's mini-tour that includes Italy, Switzerland, France, the UK, and Spain. The August issue of Vanity Fair is scheduled to run an interview with a series of recent photographs.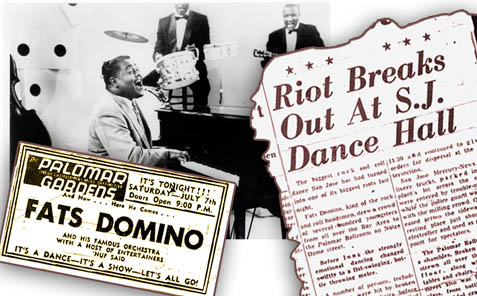 The other big rock and roll event for San Jose on July 7th, occurred 51 years ago. Fats Domino performed at the Palomar Gardens Ballroom on Saturday, July 7, 1956 for what turned out to be one of the earliest rock and riots in the history of America. 3,500 tickets were sold. Lines of people wrapped around six blocks. Beer bottles were thrown, windows were broken, clothes were ripped, teeth were broken, and a lot of people were taken to the hospital. Nothing of this scale ever happened in America, and it set off a tidal wave of reactions from concerned parents, politicians, psychiatrists, and journalists that were concerned about the dangers of this explosive music called "rock and roll."
Two of my dear friends were at this event, which I never knew about until I got them both together in the same room. Richard Berry, author of LOUIE LOUIE, met my friend Bob Sidebottom at Bob's store, the Comic Collector Shop. Although Richard wasn't listed on the bill, he was part of the big show. Both of these guys saw the chaos up close, with beer bottles flying all over the place. I wish I brought a video camera to record their conversations that night, but luckily I did capture some of it on a little micro cassette recorder. Both of these men are no longer with us, so I do feel very fortunate to have been there when they shared their stories. I may incorporate some of this material into the MEANING OF LOUIE, or another project entirely. We'll see…
Who would have guessed that San Jose would be the place where this type of history occurred? On Saturday, history will continue to written as the site where Sly Stone is scheduled to appear after all these years of hibernation.
Will I be at this event? You betcha. I wouldn't miss it! Maybe I'll see some of you there…
UPDATE: I no longer consider the San Jose riot of 1956 to be the "First Rock & Roll Riot of America," but merely the "Second Rock & Roll Riot of America."
Click here for the updated information.