We just lost another one.
Jud Cost just passed away on March 17. Jud was a dedicated music historian / journalist that wrote about music that he loved.
Jud was truly a kindred spirit. For many of us, he was a local treasure that supported and documented the rich rock 'n' roll legacy of the San Francisco / San Jose Bay Area.
In the early 1990s, Jud collaborated with Alec Palao to create "Cream Puff War," a highly influential publication that provided some detailed, well-researched articles on such bands as Great Society, Mystery Trend, Flamin' Groovies, The Charlatans, Syndicate of Sound, Chocolate Watchband, the Vejtables & Mojo Men, William Penn and his Pals, among others. They published two issues, and split off to work on other projects.
Jud wound up writing a lot of music articles and a ton of liner notes. He also was responsible for getting a lot of music reissued, and wound up working with Sundazed Music. Jud has a long list of credits that you can view at Discogs.com and AllMusic.com.
Some of Jud's friends have paid tribute to his memory…
Longtime MAGNET contributing editor Jud Cost has passed away. His nickname was Professor, partly because he looked like one, but mostly due to his vast knowledge of the history of not only rock 'n' roll, but also jazz. We used to brag to people that we had someone on our staff who saw both John Coltrane and the Sex Pistols live. …. (more) ….
– MAGNET magazine.
"A very sad loss indeed. Jud was the spark plug that generated so much of the contact for San Jose Rocks."
– Dan Orloff of San Jose Rocks
Here's some of the great articles that Jud wrote for San Jose Rocks:
Count Five
"Psychotic Reaction," a searing slice of garage rock, was the song that punched Count Five's ticket to immortality. Credited to all five members, the tune was played as an instrumental for six months, reveals Ellner, before Sol Ellner, Kenn's dad (and the band's relentless manager), suggested that Byrne write some lyrics for it.
Syndicate of Sound
If any one song summed up the swaggering teenage spirit of 1966-the year revered by rock historians as the fountain head of what is now called "garage rock", it was "Little Girl" by the Syndicate of Sound – hitting #8 on Billboard.
Paul Catalana, music promoter
Savvy enough to book red-hot young pop juggernauts like the Beatles, Rolling Stones, Herman's Hermits and the Dave Clark 5 during the 1964-65 height of the British Invasion, Paul Catalana was the man calling all the shots from his San Jose office, just as Bill Graham was beginning to establish his own empire in San Francisco.
Santa Clara County Fairgrounds
The most star-studded shows ever presented at the Santa Clara County Fairgrounds must have been the pair of Northern California Folk-Rock Festivals of 1968 and 1969. The musical glories of Woodstock and the Monterey Pop Festival are indisputable!
Paul Kantner
As a founding member and integral element of Jefferson Airplane, San Francisco's first great rock 'n' roll band-then as the main cog in Jefferson Starship, the aggregation spawned in the mid-'70s when the Airplane rolled into the hangar for the last time, Kantner helped create a sound that will say "San Francisco" to generations of music lovers long after we're all gone. And yet, some of his formative, pre-Airplane years were spent in the South Bay, attending local colleges as well as helping to run a San Jose folk club.
Here's a photo of Jud amongst some Rock'n'Roll Royalty in front of KFJC Radio station right after a special Myke Destiny show. From left to right, we've got Jud, Sam Andrews (of Big Brother and the Holding Company), Boots Hughston (San Francisco music promoter), KFJC DJ Big Myke Destiny and Chet Helms (San Francisco music promoter, band manager and one of the organizers of the 1967 Love-In).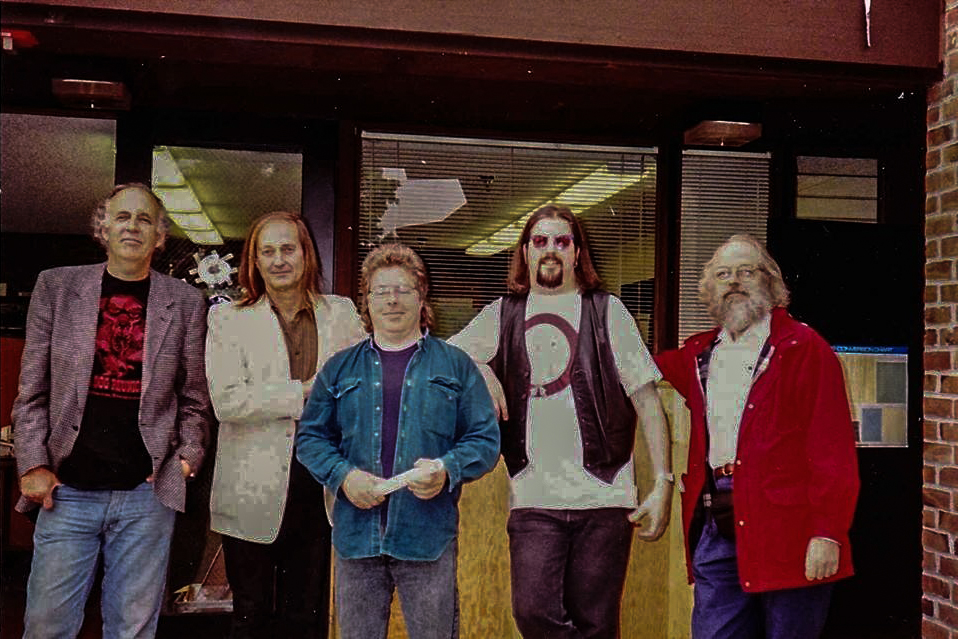 .
In remembrance of his dear friend, Myke is sharing some audio recordings of his "Cream Puff War Special," in which both Jud and Alec participated in a KFJC "Mayhem" program on May 29, 1993 where they had an opportunity to discuss their publication, chat about the various musicians featured in these articles and play a lot of really great music. For a limited time, these recordings can be easily downloaded via Dropbox.
KFJC Radio – Cream Puff War Special – part 1 (DropBox)
KFJC Radio – Cream Puff War Special – part 2 (DropBox)
Here's a photo of Jud, captured for posterity with our trusted LOUIE advisor, evangelist and recovering ex-KFJC DJ Jeff Stretch Riedle on August 15, 2015 at Lou's BBQ in Los Gatos.
This would be the last time we would see Jud.
Of course we need to acknowledge Jud (and Alec) for initiating the world premiere of the ultra-rare 1965 live recording of LOUIE LOUIE by Syndicate of Sound, which was unveiled as a bonus blue flexi-disc for the first 100 copies of Cream Puff War magazine #2.
Big thanks go out to Syndicate of Sound for allowing this recording to be shared on flexi-disc and YouTube.
There will not be a funeral for Jud, but his wife Jenifer mentioned "if you feel like sending a donation to your local school district's music program in his memory, please do so."
Reference Links:
Jud Cost – Discogs credits
Jud Cost – AllMusic credits
Jud Cost obituary at Magnet magazine
SanJoseRocks.org – home of many Jud Cost articles
RIP: Don Baskin of Syndicate of Sound (w/ rare LOUIE recording)