Two months ago, we lost our friend Scott Long.


Scott was a larger-than-life kinda guy that made some truly wonderful things happen.
Some of you may remember Scott as one of the primary architects and ringleader for "First Strike," an alliance of motivated San Jose (CA) musicians in the late 1980s that wanted some attention for their creative endeavors. Others might remember Scott as the New York music promoter that managed Wetlands, the Knitting Factory before becoming the co-founder of the Scenic Presents agency, which orchestrated the first US appearance in 20 years of Throbbing Gristle and the final concert of Big Star, among other things.


Then there were the other paths that Scott also pursued before and after such things – operating a store in the Haight Ashbury; partnering with his First Strike comrades to launch the Petroleum By-Products record label; studying Culinary Arts at Natural Gourmet Institute which led to a career as chef and caterer; and assorted assignments as an energy consultant for a solar company.


On his LinkedIn page, he listed his specialties as "Concert and event production, hyperbole, subliminal messages, public spectacles, and ballyhoo.

"
Considering all the vast talents that Scott had, I've always felt that his music, as a singer-songwriter, was the field where he truly excelled.


One of his earliest musical endeavors, before I met him, was a band called the Suburban Kids. As fate would have it, this band submitted a version of LOUIE LOUIE for the KFJC Maximum LOUIE LOUIE marathon (version #609 of the 880+ versions), which was of course, ground zero for this LOUIE documentary project.


Some time after the Suburban Kids, I met Scott when he was part of another band known as Big Hair, a rocking Americana band (before such a label was invented), which I happened to capture on video back in 1985 at the KFJC-IBS sponsored show at the Works Gallery in San Jose.
Here's a clip of Scott singing lead vocals on their version of "Wild Thing."


After Big Hair, the Frontier Wives was Scott's primary musical vehicle for the next few decades.

It was with Frontier Wives where Scott really found his voice, writing some highly original songs with catchy hooks.


Folks offended by rough language would probably hate the Frontier Wives (aka the Frontier F-in' Wives). They swore like salty pirates, and they drank heavily. If they had to be categorized into any particular genres, they would probably be either "cow-punk" or "country-metal." Or maybe a bit of both?
Here's a little warning label I created for some of their videos..
One of my favorite songs by the Frontier F-in' Wives was "Louis Pasteur," an absurd revisionist history of the legendary microbiologist, pre-dating the "Drunk History" TV show concept by a few decades where any resemblance of truth would be purely coincidental.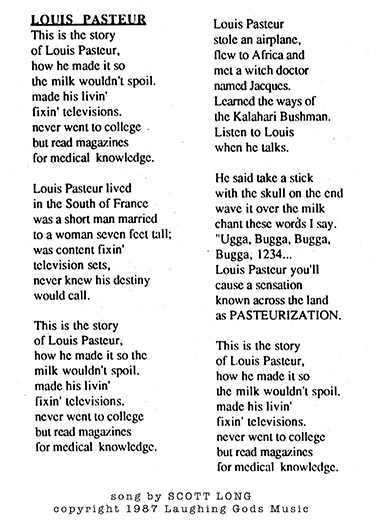 When I spotted my clip of the Frontier Wives 1981 performance of that song on an actual encyclopedia.com page about Louis Pasteur (since removed), Scott was overjoyed by this little aberration and happily mentioned this at all the future Frontier Wives shows


As an appreciator of songs that reference a "LOUIE" theme without sounding like LOUIE LOUIE, this was the type of the song that would join the likes of Louie Go Home, Brother Louie, Louie Quatorze, Meet Me in St. Louis, and St. Louis Blues


Here's the 1981 clip that appeared in the 'pedia page..
Here's a 2010 performance of that song from the Laundry Works reunion show.
Another great Scott Long masterpiece along the same lines was "Elvis Was A Spy," which Scott and I talked about turning into a proper music video, featuring fast cars, wild women, crazy chase scenes, and of course, an Elvis impersonator…. which sadly never materialized.
… but here's one I just assembled using footage I've shot over the years…
"Ace Frehley" was a catchy little tribute to the original Kiss guitar player.
'Happy" is just that.


After Scott died, I discovered that I had more previously unseen footage of his band than I realized. I decided to assemble and unveil some concert videos to pay tribute to Scott's musical legacy.
One of the songs that emerged from these videos was a track that was never properly recorded in the studio, or apparently on any other videos.
That song was a track called "Never," a beautiful song that's very different than the other Frontier Wives songs.
This is a version of the song from their final concert.
Here's another beautiful song that Scott wrote.

It feels like the perfect send-off from a life that he lived …. his way.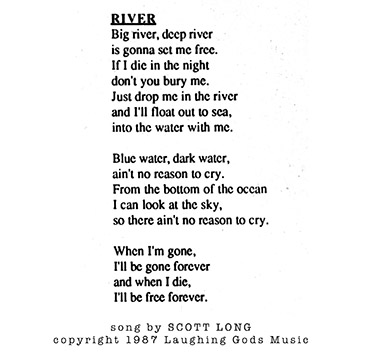 We're gonna miss you a lot, Scott.
The Frontier F-in' Wives (2011 Final Concerts- part 1 of 2 – Blank Club)
The Frontier F-in' Wives (2011 Final Concerts- part 2 of 2 – Catalyst)
primary photo by Gary Brewster
________________
Reference Links


:
The Suburban Kids – LOUIE of the Week
Theresa McClure & Big Hair – LOUIE relative of the Week

Frontier Wives (2008 Unplugged Barbershop Quartet)

Frontier Wives (2009 full concert at Blank Club, San Jose)

Frontier Wives (2010 full concert Laundry Works Reunion)




Metro – Votes From the Underground (San Jose Rocks) – Gary Singh (Nov 14, 2007 cover story)

Metro – Frontier Days – Gary Singh (Dec 24, 2008)




SantaCruz.com/GoodTimes- The Wild Frontier – Aaron Carnes (June 1, 2011)
Scott Long's Linkedin page